This August Bank Holiday Weekend 2015 I returned to Creamfields for the first time in over a decade to see the "cream" of international DJs perform to tens of thousands of revellers a day.
I arrived fashionably late on the Friday evening and was pleased to see the hospitality campsite still had plenty of space for me to pitch my tent.
I soon made my way out into the festival arena.  Not every arena was open on the Friday but the ones that were were very busy.
Rebel Sound (also known as David Rodigan, Chase & Status, Shy FX and MC Rage) headlined one of the numerous big top arenas that night.  The predominantly young and very lively crowd lapped up the old skool jungle vibes.
Over in the Mega Arena trance God Armin Van Buuren headlined with his first set of the weekend (he was playing on Saturday too).  He played a mix of new and old tracks, closing the night with his new tune featuring Mr Probz, Another You.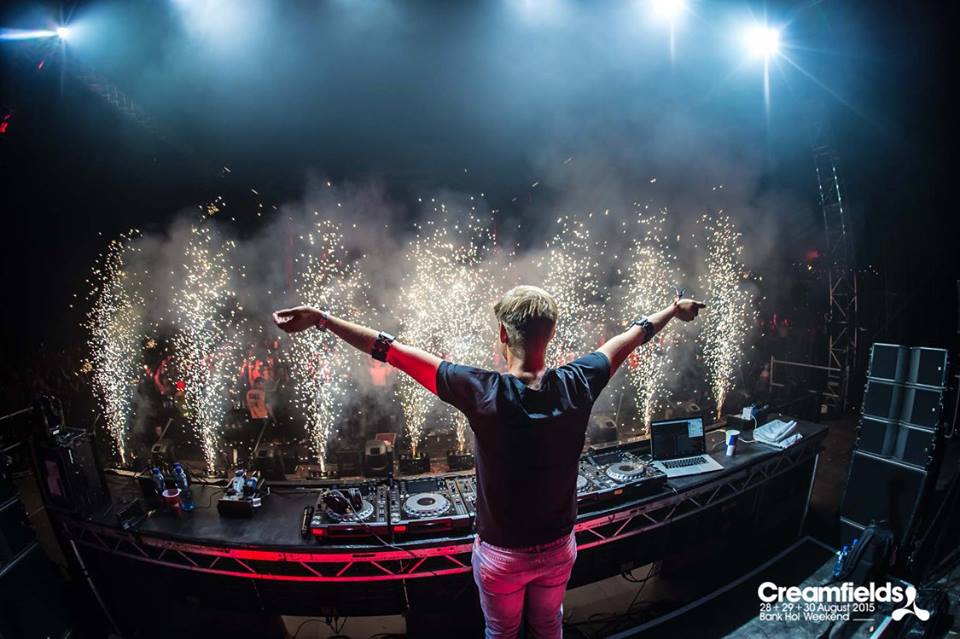 Photo courtesy of Creamfields
Saturday for me was all about the Chemical Brothers, in my opinion the greatest live dance act on the circuit.  They headlined the North Stage with a sound and vision extravaganza featuring amongst other things a giant robot and big bouncy balls.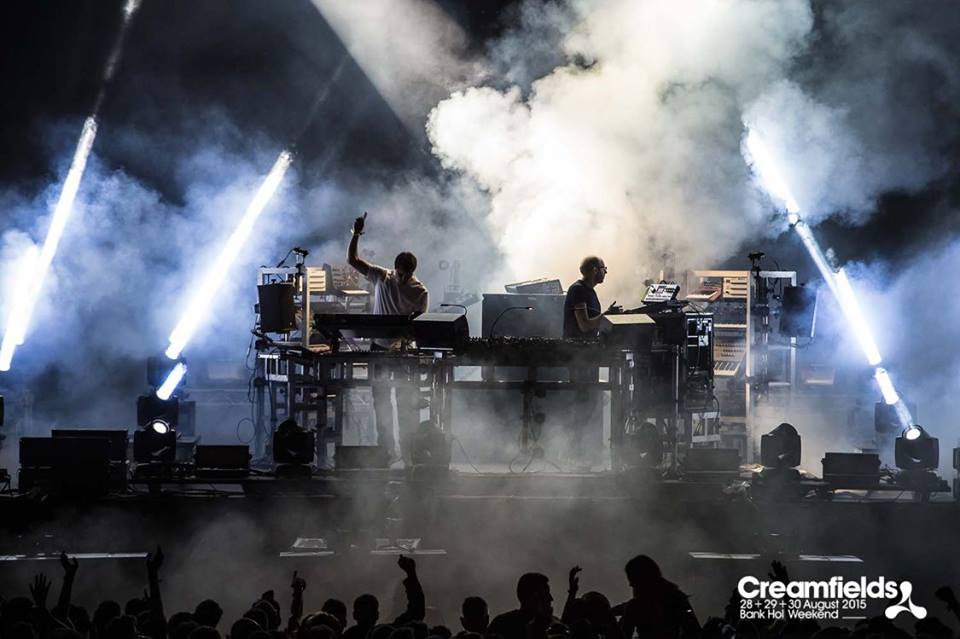 Photo courtesy of Creamfields
Earlier in the day I'd spent some time in the Smirnoff House for Ben Pearce's disco set which included Todd Terje's Inspector Norse.  Mistajam played a garage classics set and the young ravers enjoyed being up close and personal with the Radio 1Xtra star.  A party set from him followed which started with Ghostbusters (yes really!).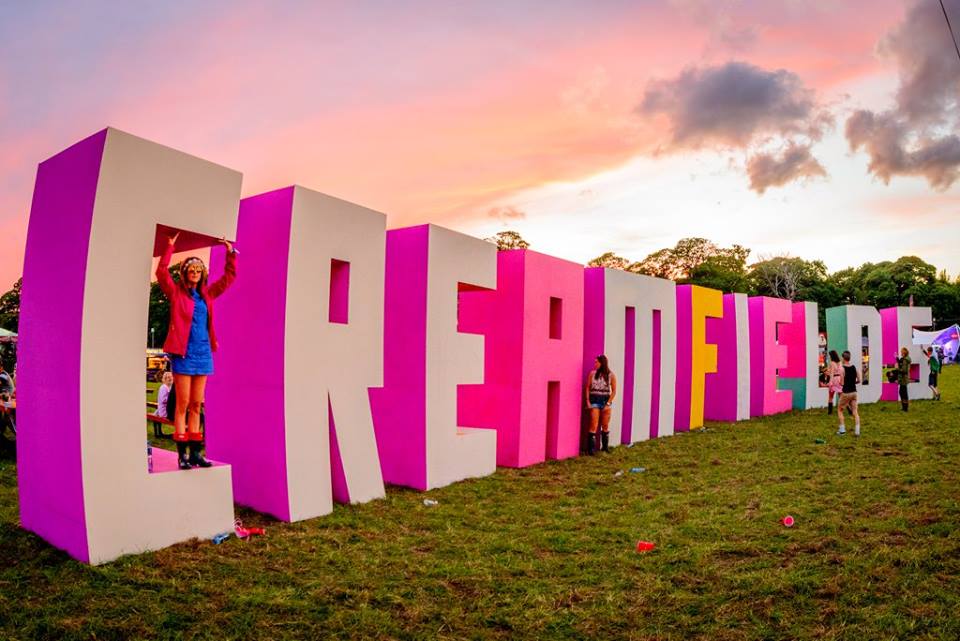 Photo courtesy of Creamfields
The highlight of Sunday for me came very early when I, a few hundred others and Fatboy Slim met up at the South Stage at 9am.  We were all given black caps and rain ponchos and were instructed to lie on the pre-drawn white lines on the grass in the shape of a smiley face in an attempt to break a UK record.  Now this might sound like an easy task but when you take into account that most of the group were a little worse for wear and hadn't been to sleep all night you might get an idea of what really went down.
Fatboy Slim was extremely friendly and hung around for photos, hugs and kisses with anyone who wanted them after the helicopter had passed overhead to take photos.  It was a lot of fun and well worth getting up early for.
Sunday ended up as clash central for me with legendary DJs in almost every tent including Paul Oakenfold, Sasha and Paul Van Dyk.  Along with the slightly older DJs came the slightly older crowd.
The Pepsi Max Arena on the Sunday became the trance tent where Ferry Corsten pleased the arms aloft crowd with gems such as Rank 1's Airwave.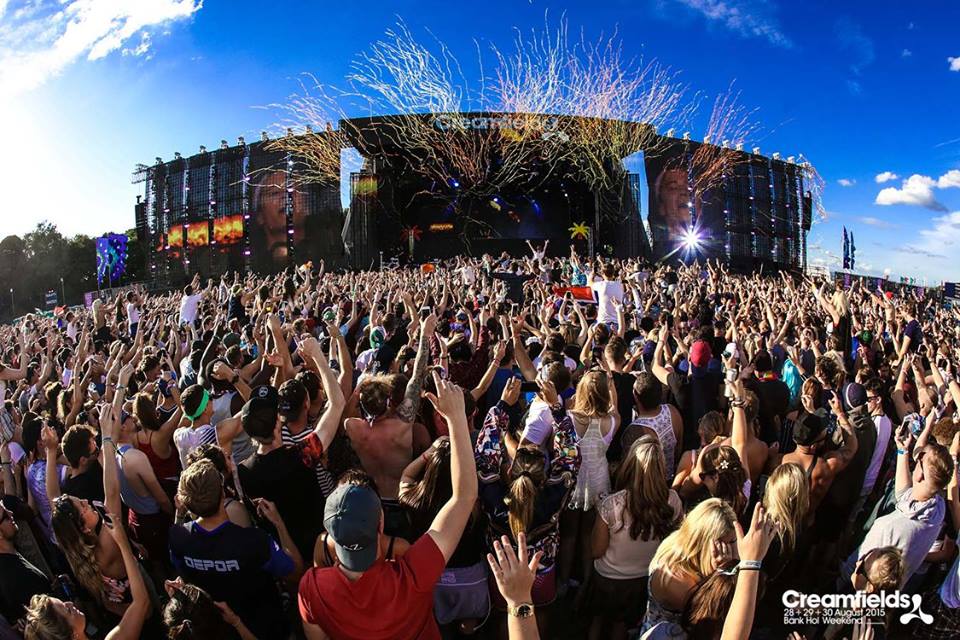 Photo courtesy of Creamfields
It was a tough choice deciding which DJ to end the festival with with big names such as Axwell and Ingrosso, Hardwell, Fatboy Slim and Tiesto all playing at the same time.
Fatboy Slim played a crowd pleasing set which was slightly more commercial than the set I'd seen him play at Bugged Out Weekender earlier this year.  This suited the Creamfields crowd well as they stomped along to favourites such as Eat, Sleep, Rave, Repeat.
Over on the South Stage Tiesto headlined with big tunes including the infamous Adagio for Strings.
When 11pm came around it was time for the fireworks and the last tunes to ring out.  The young ravers were sad it was all coming to an end but were already making plans for next year.
Photos by:
Alex Lonsdale
Anthony Mooney
Geoffrey Hubbel
Katy Davies
Marc de Groot
Nathan Damour
Toyin Oshodi
Warren Simmens
Howard Hill