Today the world-famous dance music festival Electric Daisy Carnival (EDC) announced four more additions to the already incredible lineup. Joining some of themost talented and popular acts in dance music at EDC will be Dirty South, Kill The Buzz, My Nu Leng and Sick Individuals.
Dirty South the Australian based DJ has been nominated for both Arias and Grammys for his work remixing and producing the hottest artists on the planet including Snoop Dogg, The Pussycat Dolls and U2. Alongside his nominations Dirty Southhas won numerous awards and accolades internationally including reaching Number One in the Australian Club Charts and ranking in DJ mag's Top 100 DJs poll every year since 2007.
The Bristol-based twosome, My Nu Leng, who were nominated for the "Best Newcomer" Award at the DJ Awards back in 2014 are known for their electric and highly rated remixes of summertime favourites such as "Right Here" by Rudimental. One of the most promising young acts to emerge in the electronic dance scene is Dutch duo, Sick Individuals, who started out writing television commercials and have since gone on to produce remixes that have hit the world by storm, including the much loved track, "I Love It," by Icona Pop.
FURTHER LINEUP ADDITIONS: Critically acclaimed Art Department is deep, dark and minimal. Los Angeles-based Carnage deftly fuses electro, hip-hop, pop and trap into an intoxicating brew that's dirty, defiant, and diverse. Detroit-born Claude VonStroke, owner of Dirtybird Records and now living the life in VeniceBeach, remixes everyone from Kenny Larkin to London Grammar. Cosmic Gate feed off one another's turntable creativity to whip up a frenzied digital supernova. Dimitri Vegas & Like Mike have enjoyed a continuously upward trajectory from celebrated DJs to dominating figures in the electronic music industry. Dutch legend Ferry Corsten coaxes maximum emotional impact from his records,ensuring his place at the top of the electronic music Hall of Fame. Showing his masterful skills behind the decks, BBC Radio 1's very ownFriction will be mesmerizing Headliners on four decks with unreleased cuts. Dutch DJ and producer Hardwell won the DJ Mag Top 100 poll for the last two years. High Contrast will be joined by MC Wrec and Ilan Bluestone.
Jamie Jones, leader of the new sound of house, is renowned for his pioneering music, his cross-genre band Hot Natured, his groundbreaking Hot Creations label, and his world-famous event series, Paradise. In less than a decade, he has catapulted himself to stardom by shattering genres and breaking out of the confines of minimal techno. Jamie's revolutionary sound is an instrumental part of his success, being both artistically innovative, yet easily accessible. Also appearing will be John O'Callaghan, Jordan Suckley B2B Bryan Kearney, Kove and Linguistics—as well as Marco Carola, widely regarded as one of techno's true pioneers. From his stellar Ibiza residency each summer to his shows across the world, Carola and his Music On parties and record label have become synonymous with cutting-edge music. Markus Schulz is a regular at EDC events around the world and known affectionately by his fans as "the Unicorn Slayer."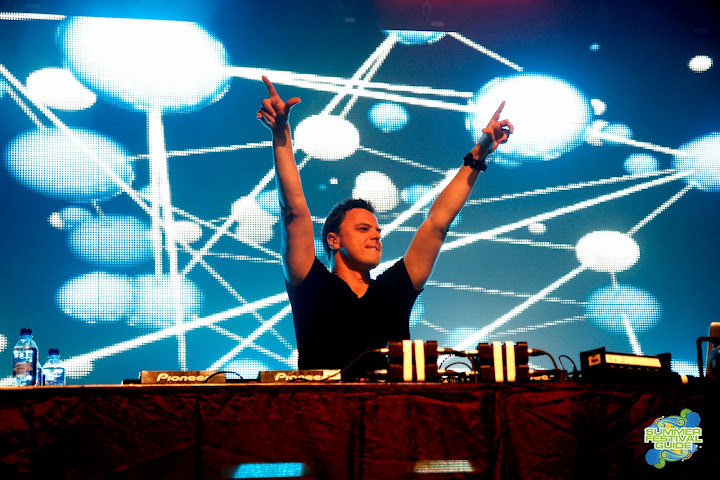 Matrix & Futurebound have defined a whole new era in drum & bass via their skillful fusion of epic, melodic soundscapes with heavyweight dancefloor production and original vocals. Rising star Miguel Campbell and BBC Radio 1's Mistajam will be in attendance. The debonair Paul van Dyk—German DJ, musician, producer, Grammy winner and torch-bearer for the scene—had the longest unbroken run at #1 in the DJ Mag Top 100 poll, was the first DJ ever to be voted as #1 in Mixmag, and boasts remix and production credits for the likes of U2, Depeche Mode and New Order.
This festival lineup wouldn't be complete without drum & bass kingpins Pendulum (DJ set) with Verse. Raw and controversial, with momentous killer beats, they are not to be missed. One of the UK's hottest new talents, Philip George,had the biggest breakout record of 2014 with "Wish You Were Mine." PureNRG Live and Richy Ahmed will be performing live. Route 94 has quietly yet forcefully established himself as a distinctive young figure in the house music scene. For his latest album project, Cornerstone, Shy FX revisits old-school studio techniques and collaborates with amouthwatering lineup of special guests. Drum & bass duo Sigma need little introduction; from early releases on labels such as Hospital and Viper Recordings, they have cemented themselves as an integral part of the scene. Steve Aoki head label Dim Mak, andSimon Patterson is a star of UK electro house. Sub Focus' single releases span a plethora of electronic genres, from drum & bass and dubstep to house music and beyond. One of Holland's most prized exports, DJ and producer Tiësto is a Grammy nominee and multiple winner of the celebrated DJ Mag poll. His legendary progressive electro house sound—along with his uncanny ability to read a crowd's energy—makes him a perfect deck magician. Visionquest, wAFF and Will Aktinson round out the lineup, with more to be announced.