Sónar 2015 announces its first names for Sónar Barcelona. The first artist announcement includes classic and revered names of electronic music and benchmarks for a new generation, together with new producers and bands outlining the future direction of electronica.
The Chemical Brothers (UK)
Autechre (UK)
Kindness (UK)
Evian Christ (UK)
Fat Freddy's Drop (NZ)
Daniel Avery (UK)
Ten Walls (LT)
Lee Gamble (UK)
Sophie (UK)
Holly Herndon (US)
PXXR GVNG (ES)
Kiasmos (IS)
Kate Tempest (UK)
Tourist (UK)
Vessel (UK)
Niño (ES)
Mans O (ES)
Helena Hauff (DE)
and many more to be confirmed…
Tom Rowlands of The Chemical Brothers, speaks for the first time exclusively for Sónar
Tom Rowlands of The Chemical Brothers, speaks for the first time exclusively for Sónar to provide the first details about the new show and new studio album in 2015:
"We're very excited to return to Sónar, one of the best crowds, in one of the greatest cities. We are still imagining the gig, both music and visual. We are working on the staging of the live gig at the moment. Adam (Smith) has some amazing ideas. The show will be an intense ride, hold tight. (About the new album) I guess the most important feature of the album is that it connects with us emotionally in some way. We hope for finding a new way to make you feel. We dream of new sounds and different frames. We have worked with some guest singers but mostly the album is pure Chemical Brothers."
Keystones of electronica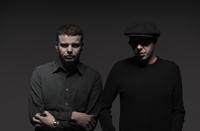 For the past twenty years,
The Chemical Brothers
have redefined the idea of live electronic music. In that time, their live show has evolved from humble beginnings in dank London nightclubs into one of the most in demand festival headline sets in the world. All the while, it has adhered to the same basic idea: that the gig should create its own transcendent audio/visual space where the audience can lose themselves for the duration of the set. The Chemical Brothers on going relationship with director and visual artist Adam Smith continues to produce hallucinogenic results across the globe (as seen in 2012's collaborative concert film Don't Think). The band are due to release their eighth studio album in 2015.
Autechre are one of the most admired and respected duos in abstract and experimental electronica. The importance of the music and sound imagined by Rob Brown and Sean Booth cannot be underestimated. They have played an integral role in the development of abstract techno and IDM (intelligent dance music) over the past 25 years. One of their tracks "Flutter", is considered by critics as a historical zenith of IDM, and albums like "Incunabula", "Amber", "TriRepetae" or the more recent "Oversteps" and "EXAI" are all masterpieces of sonic deconstruction. Their live performances are rare and very exclusive, and in 2015 they will perform at Sónar by Day, nearly two decades after their first and only appearance at the festival in 1996.
New benchmarks
As always, the Sónar line-up is dominated by the huge presence of new producers and bands noted for their powerful artistic profile and sound that in many cases outline the future direction of electronica and cutting edge music.
This is certainly the case for Vessel and Evian Christ, two very young British producers with a distinct and identifiable sound based on techno, who are exploring more complex sonic territories in immersive shows with a potent sensorial impact; Lee Gamble, the respected and experienced aural adventurer will present his new live audiovisual concept in collaboration with the London designer Dave Gaskarth.
Sónar also recognises new dynamic female talent such as American songwriter Holly Herndon, creator of dystopian sound worlds with futuristic auditory aesthetics; and KateTempest, poet, performer and British playwright -winner of the Ted Hughes Award in 2013- who will present her first album "Everybody Down" on hip-hop label Big Dada; or German dj Helena Hauff, faithful disciple to the continuation of the most resonant techno and electro from her home base in Hamburg.
The festival will also host exciting dance music projects from:Kiasmos, whose emotive and dance friendly techno is produced by prodigious Icelandic pianist Ólafur Arnalds, together with Janus Rasmussen; electropop quartet Bloodgroup; and the luminescent and penetrating melodies of Lithuanians Ten Walls, whose career has just taken off. You will also be able to enjoy prestigious young DJs likeDaniel Avery, mentored by Erol Alkan and hailed by critics as the British Isles new master of tech-house; and producers like Sophie, creator of colourful melodies and contemporary rhythms, in keeping with the new PC Music trend, who recently collaborated with Madonna, Nicki Minaj and Diplo.
There will of course be room reserved for pop and other styles including celebrated New Zealand band Fat Freddy's Drop, who return to Sónar with their fantastic live show where they will intelligently mix dub, reggae and soul, with techno and house. Also appearing from the UK will be Tourist and Kindness, two key names in today's synth pop sound, both of whom have newly released material. Tourist will present a tantalizing live audiovisual show where the piano takes centre stage, while Kindness will present a liberating and highly emotive concert experience.