A masssive new release of artists have been added to Spains Sonar Barcelona. Pretty Lights, Flux Pavilion, Rudimental, DJ Harvey, The Martinez Brothers, Machinedrum, Tiga, Laurel Halo, Ben Frost, Yelle and showcase from New York label L.I.E.S. are among the new additions to Sonar Barcelona 2014.
Known as Pretty Lights, Derek Vincent Smith will present a lush visual show at Sonar performing "A Color Map Of The Sun" his fourth album, nominated for best dance / electronica album at the Grammy Awards. Pretty Lights samples and combines hip-hop, glitch and also revives funk and soul samples, all of which make him the most organic artist within the explosion of electronica in the US.
Rudimental and Flux Pavilion are two of the UK's most popular champions in today's commercial dance music. Rudimental, are a London quartet focused primarily on fusing pop and drum'n'bass. They are comprised of composers, DJ 's and producers Piers Agget, Kesi Dryden Amir Amor and DJ Locksmith. To add to their long list of UK and European chart successes is their new, 2014 Brits Awards, triple nomination for: Best Group, Best Album and Best Single (for "Waiting All Night"), the spearhead of their meteoric rise, achieved in less than three years. Their powerful live show at Sonar will feature 12 musicians, MC's, organs, synthesizers, guitars, percussion and MPC 's.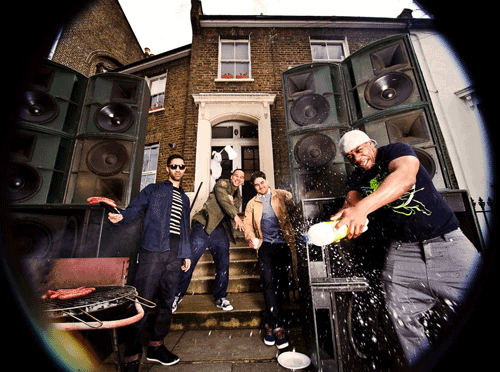 Meanwhile, Flux Pavilion, aka Joshua Steele, one of the most in demand dubstep producers and DJ's in Britain, will present live, his sonic palette of sweeping hyperbolic bass lines. As well as remixing the likes of M.I.A. and Skrillex, the 24-year-old Flux Pavillion also sings and plays a variety of instruments. Over the last five years this versatility has seen him perform around the world, earning him the respect from both the industry and public alike.
With a completely new show the awe-inspiring Yelle aka singer -songwriter Julie Budet (a genuine star of electro-synth pop and one of the most internationally successful modern French artists) will present her charismatic personality during the live performance of her much-anticipated third album. She will do so in the company of her band composed of DJs Grand Marnier (Jean François Perrier) and Tepr (Tanguy Destable).
Exemplary careers in the history of electronica
There will be no shortage of DJ heavyweights: Tiga, (one of the most important figures of electronica to come out of Canada) has been given the responsibility of closing this year's festival on Saturday night. DJ Harvey wizard in the realm of disco, house, garage, electro and cosmic rock will present his usual master class, and The Martinez Brothers, the new ambassadors of New York house music, who are responsible for revitalising the genre.

Also from the Big Apple the raw and minimalist electronica labelL.I.E.S. will present their showcase. In just three years L.I.E.S. has built an impressive catalogue, already an international benchmark for low-fi house and techno. Label chief Ron Morelli will perform his first album live. Meanwhile, Svengalisghost, (alias of Marquis Cooper) will present its dystopian, paranoiac and noir sound that includes flawless hooks of acid, house, techno and EBM. Cooper manipulates cassette tapes and uses old editing techniques and methods to distort the sound from a turntable.

Ben Frost, the renowned Australian experimental electronic artist living in Iceland has directed operas, composed music for the theatre, dance, visual arts and cinema. At Sonar he will present his new album supported by his on stage band, providing guitars, several large amplifiers and various electronic devices in order to share his post- classical, noise, post-rock, drone and dark metal music.
Sonar 's commitment to new talent
Emerging artists like Machinedrum, UZ, Recondite and Alizzz will also represent new talent.

American Travis Stewart, better known as Machinedrum (who has reinvented drum'n'bass and is one of the main advocates for the revival of jungle and it's hybridization process with the Chicago footwork sound) will come to Sonar to present his "Vapor City Live Show" the live version of his new album. A visual concept album released on Ninja Tune, each track represents an imaginary city district. "Vapour City" transports itself to the stage with Machinedrum's own vocals and guitar, with percussion by Lane Barrington and visuals from the Weirdcore collective.

In recent years, American Laurel Halo has created her own unique sound: lush, avant-garde, electronic and experimental, inspired by the minimalist music of Steve Reich, Detroit techno, science fiction and experiences from 6 months spent in Thailand. Halo experiments and shifts between techno, ambient, synth pop, drum machines, samplers, her voice, pianos, guitars and violins, among many other elements. "Quarantine", released on Hyperdub in 2012, was selected as 'album of the year' by the prestigious magazine, Wire. In 2013 there followed EP "Behind The Green Door" and the album "Chance of Rain". It was material in which she abandoned her more experimental vocal treatments to concentrate in more depth, on the techno roots of her music.

The mysterious UZ is a true icon of trap, not only for his incredible talent but also for the mystery surrounding him. Never showing his face, his identity is unknown. His tracks are raw and minimalist, powerful and magnetic and his dexterity with bass lines sets him apart from other same genre artists.

Visionist, also known as Louis Carnell, has for some time been earmarked by the specialised press, as one of the most promising and intriguing artist's in today's British electronica. At Sonar he will present his unique take on the grime sound, including the ethereal elements, which place him at the forefront of the genre.

Recondite, aka German Lorenz Brunner is a staple artist of the current Berlin scene and a producer noted for his sensitivity to the deeper, melancholic and intimate side of electronica. At Sonar he will present "Hinterland", his second album, inspired by the ecosystem of Bavaria and released on Ghostly International. It is an album of slow techno and house, with frozen and bleak textures.

From the global sound arena, the Angolan DJ Nigga Fox is an artist exploring contemporary electronic music produced in the suburbs of Lisbon. It is dance music that draws ancient influences from Portuguese – African Diaspora like Funaná (a rapid accordion driven rhythm), Kizomba or Tarrachinha (slow and sensual) as well as the more contemporary sound of Kuduro, a type of tribal house with MC's rapping vocal parts.

On a local level, Barcelonan Alizzz (alias of Cristian Quirante) is already one of 2014's rising stars. With an EP release on none other than Diplo's Mad Decent label, he is one of the most talked about names of the year. Counting influences as diverse as techno and 90's hard rock, his music adds vitality and excitement by merging hip-hop and r&b, to produce an entirely contemporary, epic and danceable sound.