THURSDAY
Arriving at Weston Park to get our wristbands is an exciting affair, after last year's excellent debut we've been looking forward to getting back here ever since. The sun is shining (for now) and we've got a car packed to the brim with kid-snacks and rainbow clothing, bring on Camp Bestival!
I should note, for the first time EVER in my many years of attending festivals, we are staying in a fancy Bell-Tent in Boutique Camping. It feels absolutely surreal to be able to see our tent from the car, to have a manned reception, and some extremely fancy proper toilets and showers nearby. The tent itself has off-the floor proper beds with duvets and pillows, as well as power outlets for charging our phones. I could not be more appreciative of the luxury, but do have to say that last year's regular camping experience here was still one of the nicest I've experienced. So whilst I will talk a lot about how great our Boutique camping time is this weekend – rest assured that any version of camping here is going to be a good time.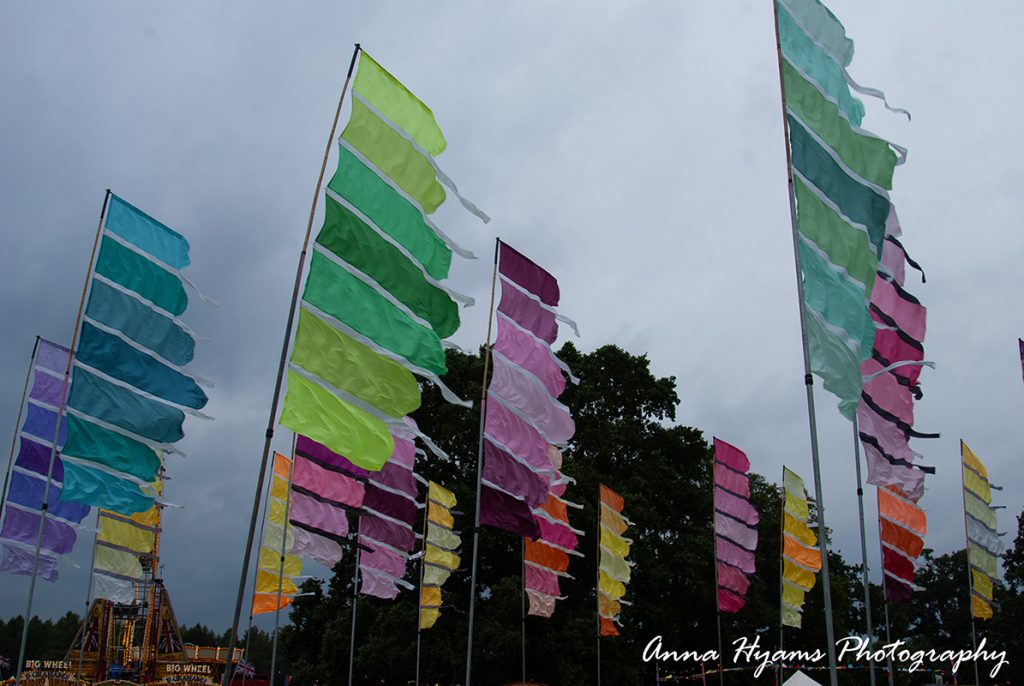 Counting Thursday as a scoping-out the site day and for settling the kids into their new surroundings, we decide to head into the arena for some food and a look at the new set-up. The most immediate thing to note is that this year, absolutely everything has been mashed into one big space. Gone are the nebulous separate fields and areas, it all seems a bit jumbled together. Yes ultimately it is easier to navigate and travel around, but I am reserving judgement on how it works until the music starts tomorrow.
For now, we opt for pizza for the kids, and my favourite returning food – Bayou Kitchen's cajun shrimp bowl, whilst we sit in the field having a look at everything. After eating we take stroll around to the main stage merchandise tent to peruse this year's offerings and end up basically wanting to buy one of everything. The new 'Sustainable' range is really nice and quite subtle in it's design, but there are also some louder fun things like the bright towelling-robes which are perfect for hitting the wild swimming or even the morning showers. I really liked the new patches and opted to get a set of three for £15, the kids loved the plushie Love-Bot of course, and it was cool to see new Roller Disco tees too – I am still rocking my OG Bestival Roller Disco one from 2011.
I've said it many a time before, but there's nothing quite like a Bestival when dusk hits. The twinkling lights come on and give me that instant rush that is unique to Bestival brand events, that there is fun to be found in every corner of this event, and that I am going to stumble into something wonderful at every turn. We decide to take a little tour around the area leading up to the Park Pool. Whilst most of it isn't open yet, we spot a few things we'd like to try over the weekend and then head into the Weston Woods to see what the offerings are there.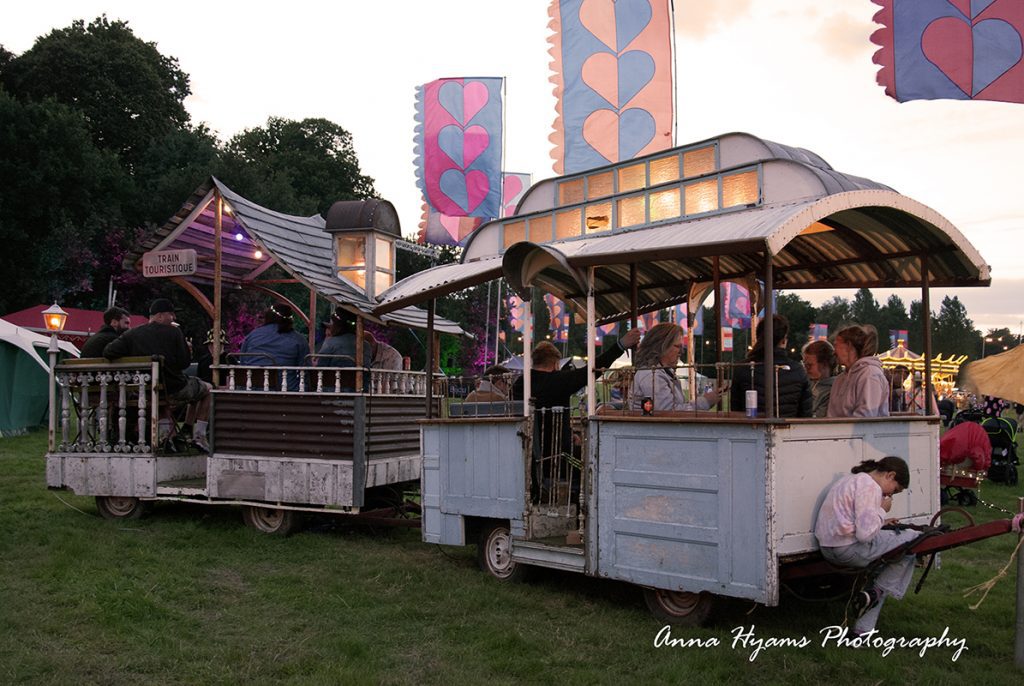 Now this is going to be a bit of a moan. The wooded areas of Bestival sites, are often the most exciting bit of the festival. Usually they are bathed in beautiful lights, covered in bunting, decorations, fun sculptures. Usually they are home to many fun activities or places to cosy up and chat. Last year the woods around the top of the site (which aren't in use at all this year) allowed you to walk along a long stretch of lake and watch the paddleboarders and wild swimmers having a lovely time, Cirque Bijou had a beautiful canopied stage in the trees, the circus tent was nestled in there with activities, as was the Tie-Dye workshop and many other fun things on the winding paths that ultimately led to Weston's giant adventure playpark and the tiny Train experience.
This is, so diminished from that gorgeous experience we had last year, that I was genuinely sad. This set of woods is one very short straight path with a small tent area for the sensory garden, and further up the Orchestra of Objects. Yes some of the things previously housed in the woods are now situated in the main arena but it has absolutely taken away some of their magic, and the joy of finding hidden things on your travels. It is very hard to describe if you haven't been to a previous Bestival event, but most of my love for them comes from swapping between small cosy experiences to the great big ones of the main stage acts, and this really feels like they've axed a lot of those things with this site layout.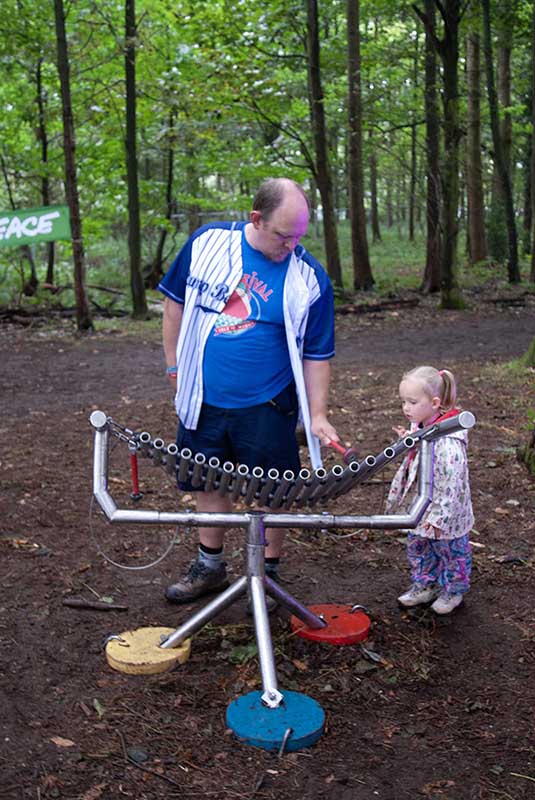 We head over to Caravanserai to be greeted with more of the same. It has been expanded into a whole area that you now just walk into without going through a hidden doorway into an enclosed area. Yes you can now take a trolley or pushchair into there, but it has lost so much of the magic I can't fathom the reason. Last year people just pulled their trolleys up to the side and went in on foot, and sure a better space for trolleys would have been good, but there were security controlling the flow and footfall, and it was a beautiful area with that otherworldly feel… like you'd run away with the circus. This just… isn't it. The caravans are spread widely around a huge area so it honestly barely feels like they have relevance, the theming of a close knit caravan corral has absolutely gotten lost in the explosion, and while there are more covered areas to sit under in the middle, it means that there is no central melee of people dancing, meeting, and drinking together.
Feeling a little deflated we head back to the campsite to try and get ourselves a decent sleep before the first full day tomorrow. Getting into a proper bed at a festival is as delightful as you can imagine.
FRIDAY
We had so nearly gotten away with a summer of minimal-rain festivals, but here it is, the great British summer curse. Despite a biblical downpour this morning, the lake seems to be teeming with wild swimmers regardless – from what I can see. We walk through the Slow Motion area which is a bit smaller than last year's great big separate field which felt nice and calmly removed from everything else. This is stuck onto the side of Boutique camping and is very… overlooked. It's a bit weird actually that you could stick your head out of your tent and watch people getting ice-baths and hot tubbing. The Yoga and Sleep Retreat areas are tucked around the corner in a bit more of a hidden spot but it is also downhill and quite slippy now that the rain has created a mud-slide.
Over the scary raft bridge we wave to some kayakers, but you can't really stop to enjoy looking at the lake because this is definitely just a thoroughfare and is a bit tricky to navigate with trolleys, however we pop out on the other side to find lots of fun things to do in the Craft Village. There's a great looking leathercraft workshop, a place where you can make wooden axes and swords, and a basket weaving area – all run by Spinney Hollow, a non-profit woodland project that operates in Winchester.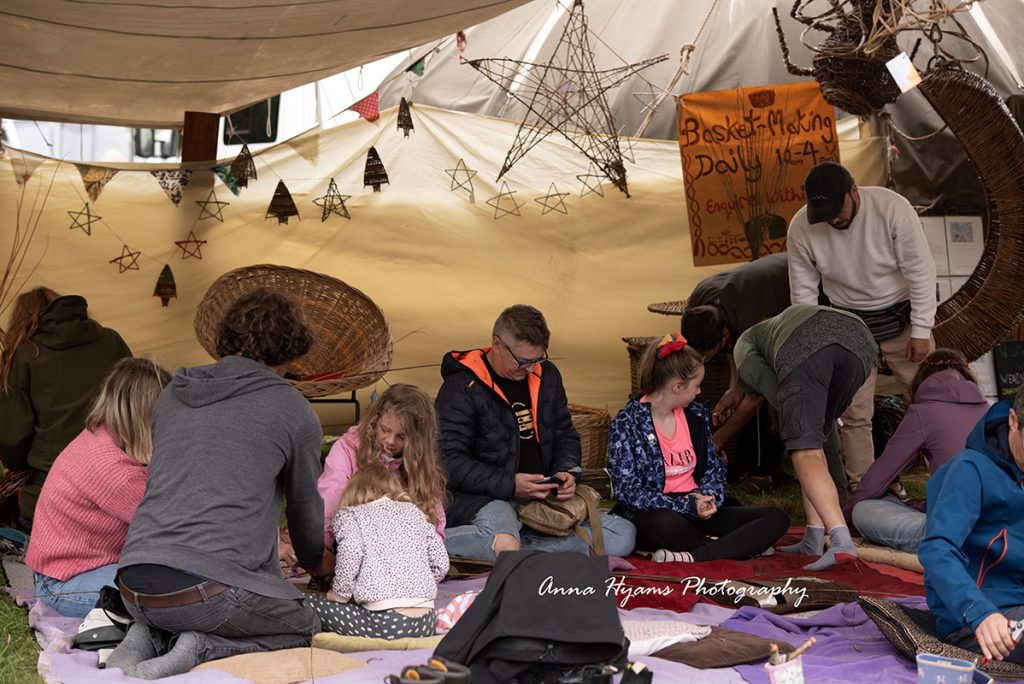 Across the field we give some circus skills a go, with hula hooping (which I am extremely poor at), diablo and wooden stilts. The stilts go exactly how you imagine in the rain, and there are children falling at you left right and centre, but it is very fun all the same. Next door the Woodland Tribe fort build is soggily underway but our littles are a bit too small and chaotic to be set free with hammers this year so we toddle off in search of something else more their speed.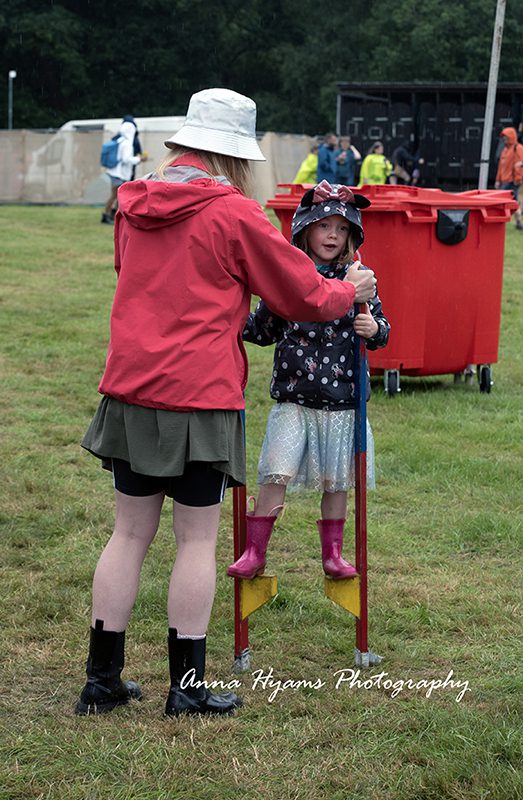 Heading back into the woods they give The Orchestra of Objects a good old bash, an area filled with interesting instruments made from industrial junk, for children to smash around and make noise with… or for adults with childish sensibilities to attempt to play Black Sabbath on. No regrets.
Over at the carousel stage in Caravanserai, we catch a bit of Funke and The Two Tone Baby, which sounds like a lot of people, but is actually just one man playing a lot of instruments. The beats are funky, the cocktail bar has opened for business, and the lampshade-decorated tent is bumping – this is the distilled feeling of Caravanserai I craved. I just wish it translated to the whole area, and not just while I'm directly inside the carousel.
We take a short walk over to see Cirque Bijou's aerial show, an act based on birds and conservation performed by incredibly skilled artists in feathered costumes, hanging from high ropes. Following their fabulous performance, we tried to join in on the bird-mask making workshop, but it was absolute carnage so we opted to get our craft items to-go. This was actually really nice of them to let us do that, as it meant the kids had an in-tent activity to do one morning!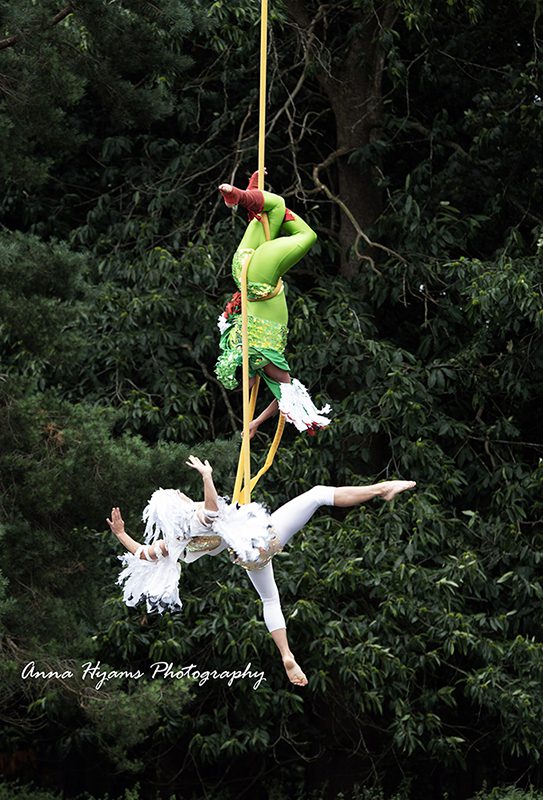 Ducking into the Big Top, we catch a bit of the very funny and brilliant Horrible Histories (90's kids represent), before heading over to the main stage for Bestival legends, The Cuban Brothers. What can I say about Los Hermanos Cubanos that I haven't already said over the years? They are an institution, not to be missed, equal parts filth and fun. We might be shouting "Kenny The Pasta" instead these days, but they're still out there breakdancing, getting semi-naked and being naughty, just the way it should be. Out in the crowd we spot Mike's family dancing along, his daughters visibly cringing but loving the show, and it's just really nice to see the spirit of Camp Bestival extending to even the families of performers. Everyone is there, having a good time together – despite the 'wardrobe malfunction' and threat of sexy favours.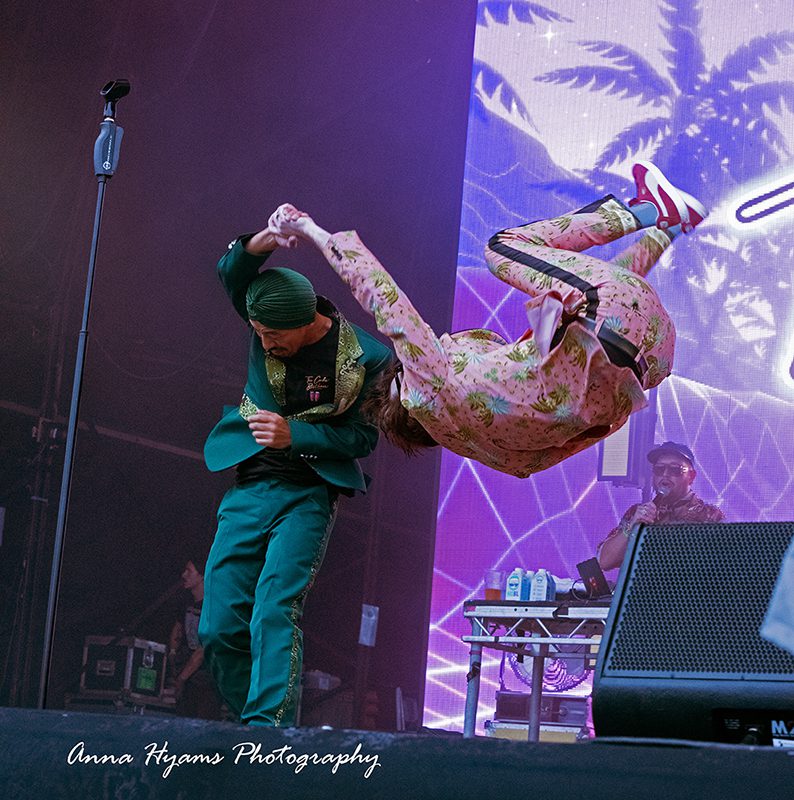 Next up on the main stage is the bafflingly weird Confidence Man. The duo hit the stage in what I can only describe as black silk zoot suits with some kind of inner frame which allows them to move in extremely creepy ways. Their unique electro-pop sound is somewhat overshadowed by the fact that they are just absolutely bizarre, but this places them right in the 'perfect for Bestival' zone in my opinion. The Venga-goths change into a glowing cone bra and epaulettes combo as the rain starts up again, and the crowd seem to be loving them.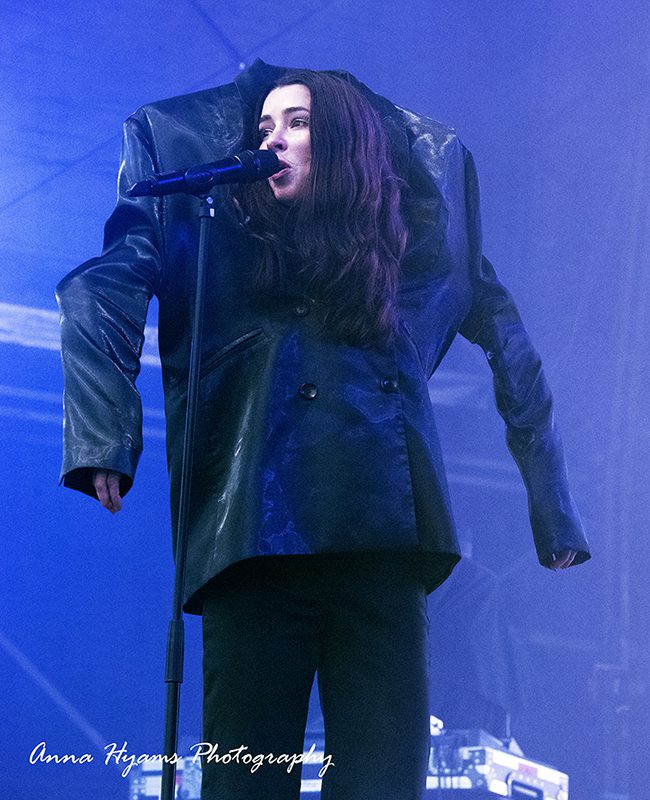 In the Big Top, Badly Drawn Boy is adorably awkward and charming, with the soft sounds of 'The Shining' which he dedicates to "…everyone who has had a crap time lately… is that all of us?". About a Boy movie song hit 'Something To Talk About' has everyone in the tent singing along, and Damon tells us "My kids are here, I think it's my youngest's first time seeing me perform" – again, it is so telling of this festival's ethos and vibe, that artists can bring their families with them to enjoy it. I also particularly liked his cover of Madonna's 'Like A Virgin' morphing into 'Silent Sigh', a truly gorgeous moment of peace and calm amidst the bustle of the festival.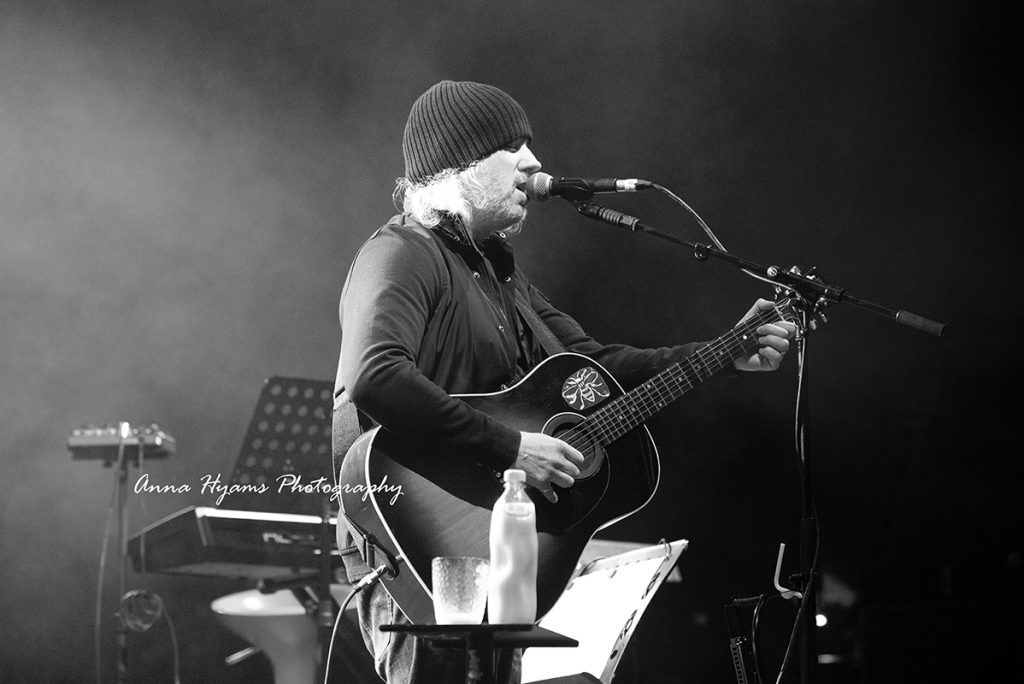 After a pit stop to run around on the Love-Bot (our omnipotent and terrifying ruler) runway, and then having a go on the new Earth-Bot slide, we get ourselves over to the main stage again for Sophie Ellis-Bextor. Sophie is rocking the most Bestival appropriate outfit of the weekend, resplendent in swishy orange and yellow fringe and a pink sparkly flapper bodysuit, she looks more than a little like one of the Firey's from Labyrinth – you know, the ones who take their own heads off. I'm into it, and would like to wear that outfit myself. Unfortunately the rain is rolling in heavy at this point and a lot of people are running for shelter.
"I don't know about you but I've been checking the weather for this so much… but actually, it's kind of amazing isn't it… you've just got to give in and go for it, dance in the rain, get wet…" she says, presumably heading back to a hotel after this… everyone sleeping in a tent tonight is less enthusiastic about the situation I assure you. Regardless, it's a banging set of nostalgic hits for those of us of a certain age – well played Bestival – like 'Take Me Home', a medley of 'Lady (Hear Me Tonight' Groovejet 'If This Ain't Love' and 'Sing It Back', and her 2001 hit 'Murder On The Dancefloor'.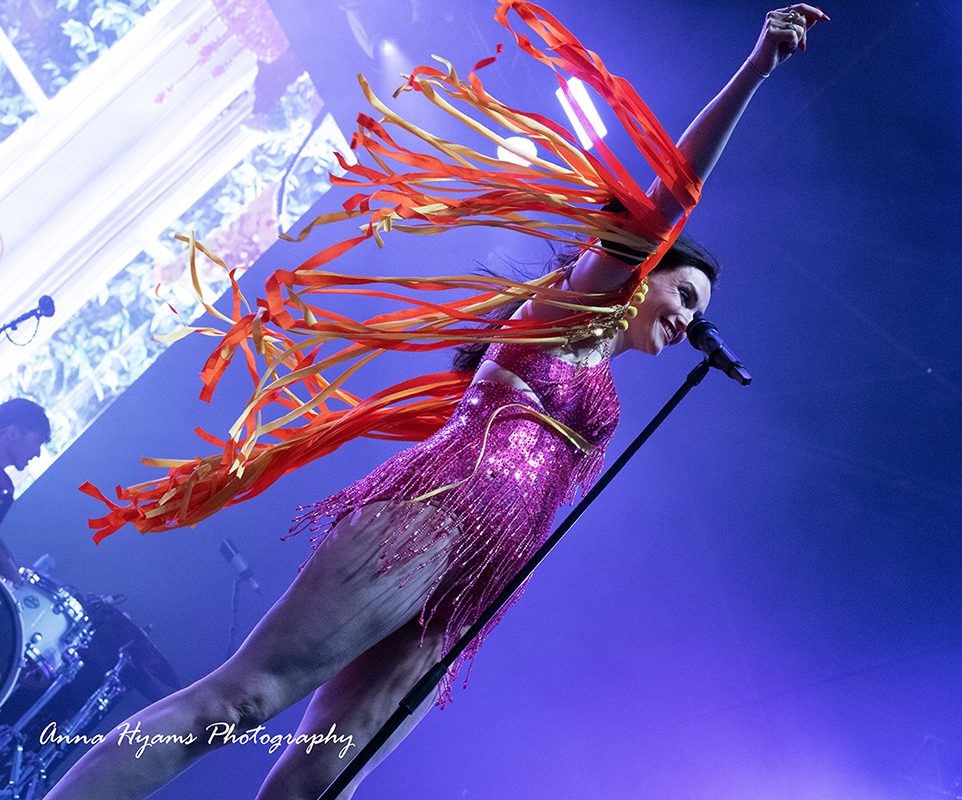 Rudimental are the Friday night headliner of dreams, giving us absolutely everything we need to get rowdy. Incredible vocals, bouncy beats and a frenetic light show that has every single body in the arena jumping – especially now the rain has dissipated. 'Dancing Is Healing' really encapsulates the feeling at Camp Bestival tonight, and we love the Natalie Imbruglia 'Torn' cover too. "Where my old school ravers at? Get some little people up on shoulders!" is the call from DJ Locksmith that creates a scene, there are suddenly hundreds of kids on shoulders with glowsticks, going like they were born in a club. These kids sure know how to party, and that my friends, is parenting done right.
'Feel The Love' and 'Waiting All Night' are absolutely worth waiting all night for, even if the rain has begun again and is pouring down our necks, they never disappoint and this has been a cracking night one, leaving the stage with "Bestival, you are amazing, and we are Rudimental!".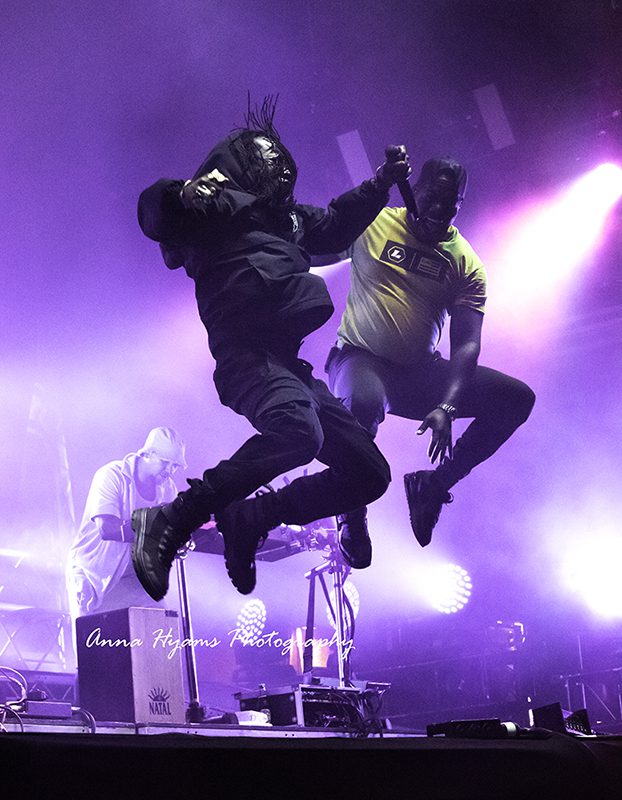 SATURDAY
Starting Saturday with a bang, we head over to The Mum Club Brunch Takeover at The Literary Institute tent, for cocktails, glitter and meeting people. With a 10am start time the drinks are suitably breakfast-y with Mimosas, Bloody Marys and much needed Espresso Martinis on offer. Having not eaten actual breakfast this may be considered foolish but we had a very nice time and chatted to heaps of lovely people there, including co-founder of The Mum Club – Lauren Webber. We talked a bit about the ethos and beginnings of The Mum Club and how they are re-creating the 'village' for isolated mums everywhere, and reaching out with help advice and support to those in need.
Following this is an activity session run by Festival of the Girl, a collective who aim to provide fun education for families about stereotyping, patriarchal structures and systems which hold girls back in life. The event was really aimed at ages 7+ but they made everyone feel welcome, including our almost 4 year olds, for some gender-pay gap training (with coloured plastic balls) and language stereotype challenging (with fierce unicorn colouring and mission statements). It's really nice to see these type of events being included in the CB line-up, supportive and uplifting programmes which you may never hear of or come across otherwise.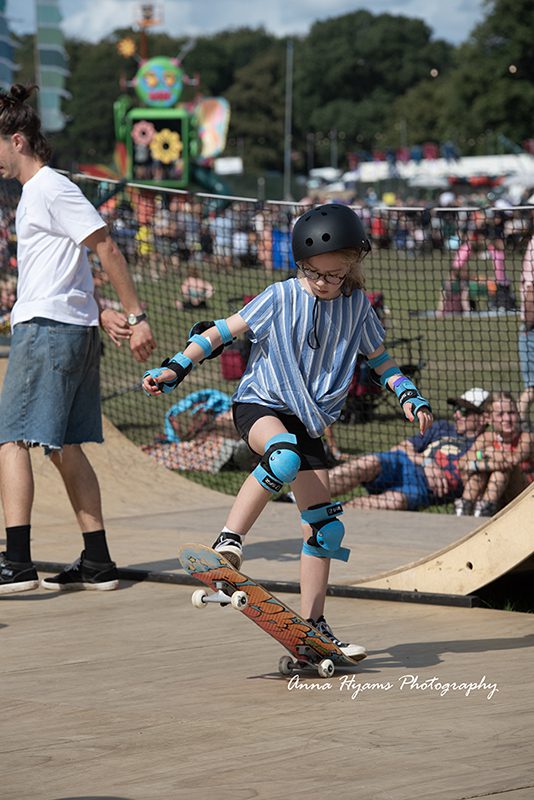 Due to extreme post-cocktail munchies, we head over to The Feast Collective – which has had a total overhaul. Gone is the lovely giant tent with bierkeller style seating down the middle, and multiple eateries inside. Instead there is a Farmer's Kitchen, which is selling various cheeses and meats. There are seats outside yes, and some more food trucks, but it has lost a little of that cosy factor, especially when the weather is so changeable. However, the new bigger food stage for Bocaloco grills and bbq demos is brilliant – and not just because they're giving out freebies. We hang out and listen to a talk about the delicious properties of jackfruit, whilst chomping down on a poke-bowl which is absolutely delightful.
Over on the main stage Mr. Tumble is singing 'Let's Go Fly A Kite' from Mary Poppins, which is one of my least favourite songs to hear after my kid adopted it for 4 solid months earlier this year. The show is very colourful though, and there are squillions of kids on shoulders having the time of their lives. Mine was asleep and missed the whole lot, including the follow up of Dick & Dom, who are top humans but not great DJ's. I'm also mad at them for A. Rickrolling us, and B. mixing it with Nirvana's 'Smells Like Teen Spirit'. Alert the authorities.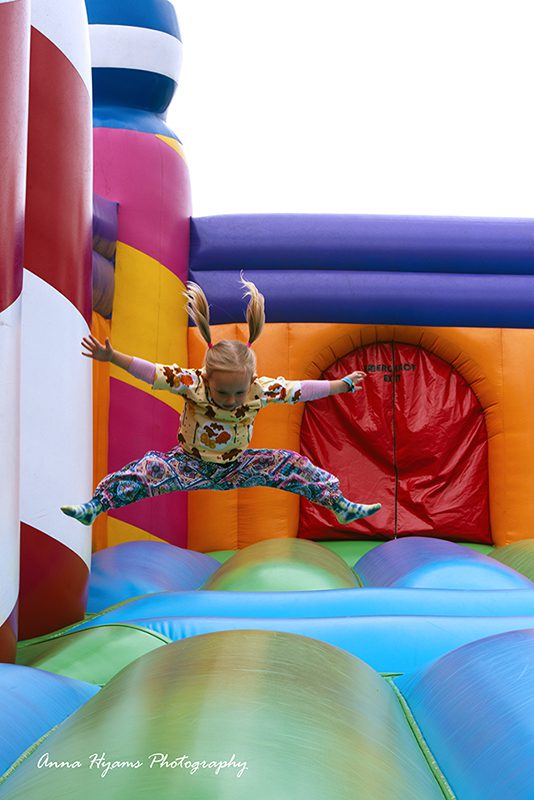 When the small being awoke, we took ourselves over to have a go on The World's Biggest Bouncy Castle which is as you can imagine, fucking huge. Now, they have done a good job here of separating kids into two categories for bouncing… there's a big kids line, and a small kids line, and they alternate turns to minimise collision risk of disproportionate size whilst bouncing. The numbers however, are at chaos levels and the cohorts are set free to colonize the castle as they please. Hoards of children flying at each other in a WWE style rumble is exactly as terrifying and funny as I expected.
I may never recover from the side-splitting laughter I experienced watching one child quite literally fly over the head of another, only to land in almost a headstand against a turret of the castle. We escape with our lives thankfully, and head over to see what the Fancy Dress Parade is all about. This year's Wild theme is almost 99% just people wearing crap leopard print items of clothing. Shropshire has not yet hit the highs of fancy dress effort that the Dorset original has, we need more effort next year please. Regardless, the competition and parade are already over-subscribed and they haven't brought enough Rosettes so there are inevitably some crying kids around. There are however some excellent entries and everyone is having a lovely time watching them strut their stuff on the stage.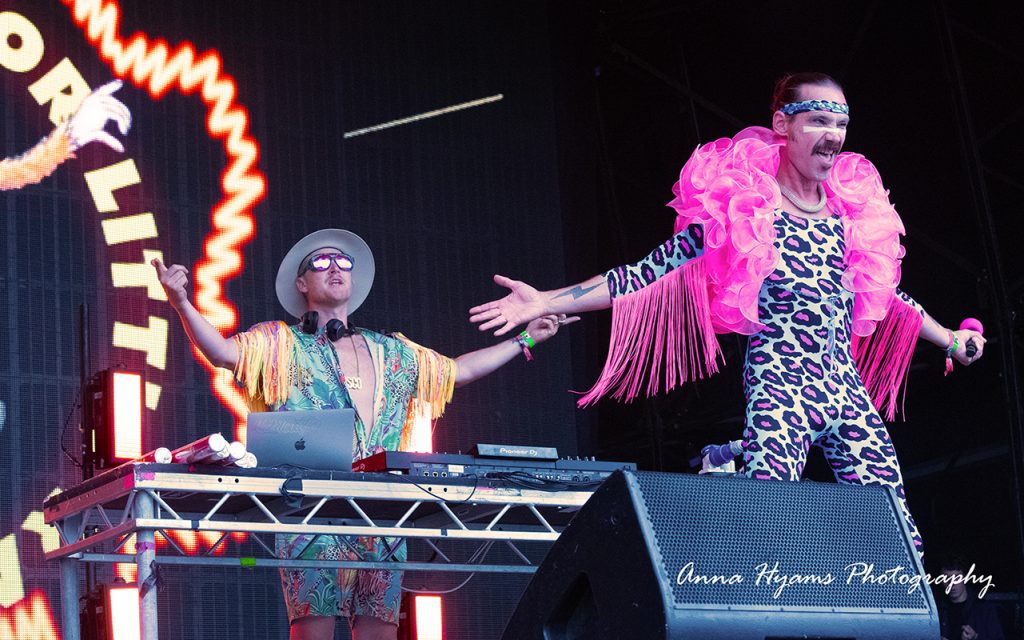 Opting to find stuff to do since we can't partake in the parade, we head over to the Soft Play tent, ours are just within the age range and head in to escape the heat of the afternoon. There are toys everywhere, ball-pit, stackable blocks and ride-on cars. There is luxury to be found in having a jolly good sit-down while they play, and there were even craft activities being led in one corner. Captain Barnacle's Pirate Show is another strange wonder to have stumbled in on, the bit where he pretended to take his own eyeball out was of particular concern to my child, but we enjoyed the part where he showed us all of his party pants (less lewd than it sounds, more lewd than the children realised).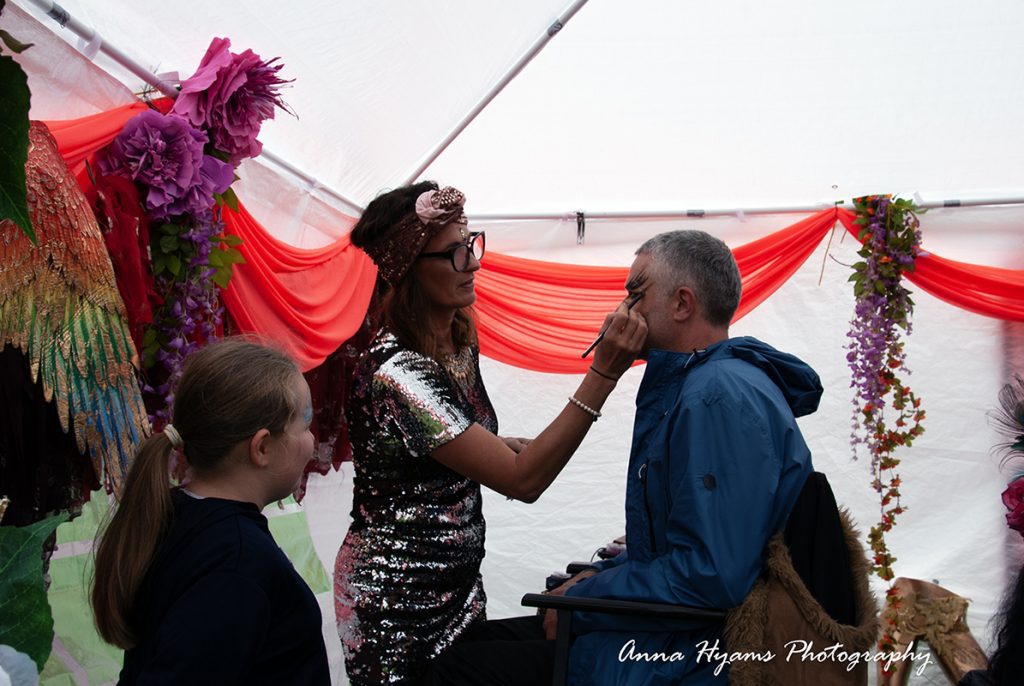 Elvana are another stand-out returner from last year, this time Elvis is dressed in a white jumpsuit with a sparkly orange cape, and they're throwing down some absolute tunes whilst two young Elvi (? Elvises?) in the front row dance around joyfully. "Sometimes we like to sing an Elvis song and start a circle pit… ok ok we'll do the World's first Elvis conga instead" they laugh before heading into a grungy cover of 'Blue Suede Shoes', but we love watching everyone get rowdy for 'Smells Like Teen Spirit' the most.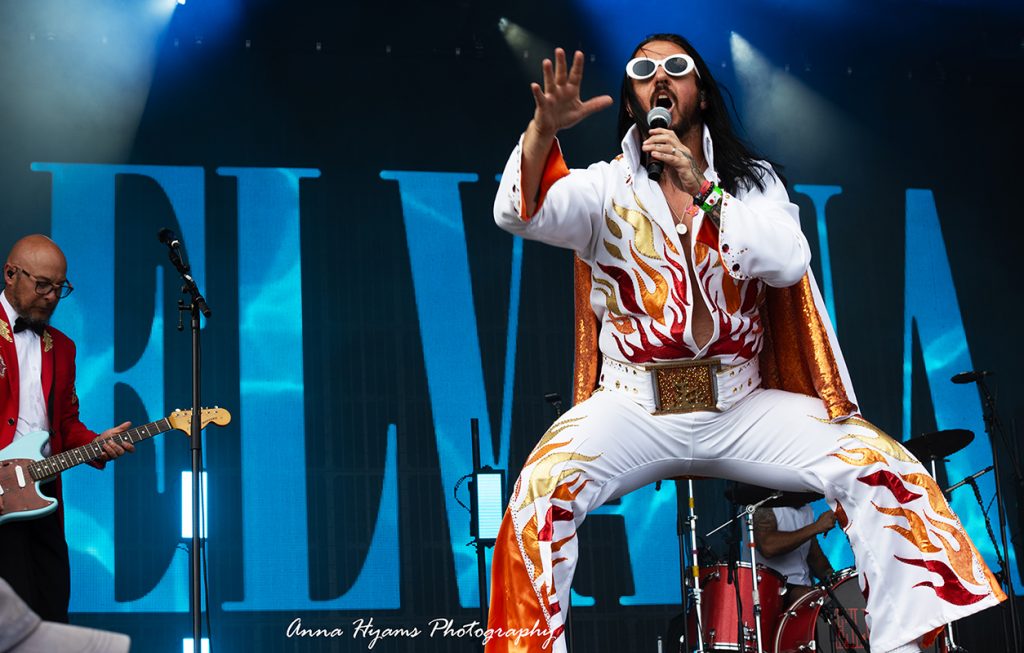 Sarah Cox brings giant inflatable Rubiks cubes and a huge party to the stage, but the arena is stacked for spaceman Sam Ryder who looks like his Nanna has been on top form with the crochet-hook again. Lavender and acid green flames lick baggy knitted basketball shorts and a cardigan, it's certainly a lewk, and I like it. Of course he plays his Eurovision hit 'Space Man' but honestly the true star is his cover of Paramore's 'Misery Business' what a bop.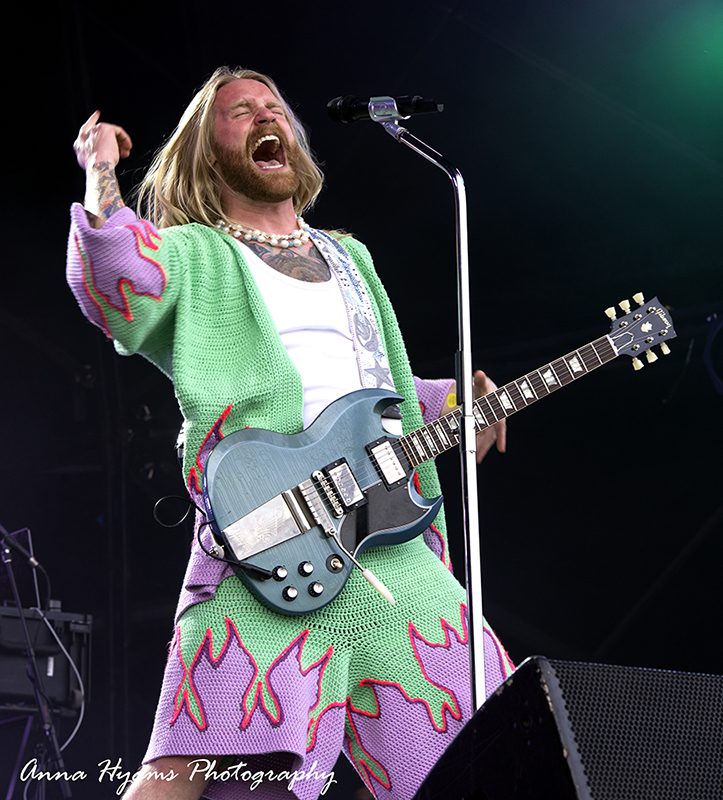 Over in the Big Top, Caity baser is heating things up having toned down absolutely none of her sweary songs (I approve wholeheartedly) and the tent is absolutely rammed full of people, while in Caravanserai we see Cirque Bijou doing an excellent set of juggling and acro skills to the background sounds of reggae coming from the carousel stage. Groove Armada are playing an epic DJ set on the main stage, but we are loving some downtime with Des O'Connor (no not that one) the piano man at The Bandstand. The dusk is warm, all these gorgeously golden-lit faces are joining in the chorus of Leonard Cohen's 'Hallelujah' and Eurythmics' 'Sweet Dreams', it is truly the beautiful point of being here. The community and camaraderie, the soul of Bestivals' past has made it into this iteration and I'm so glad.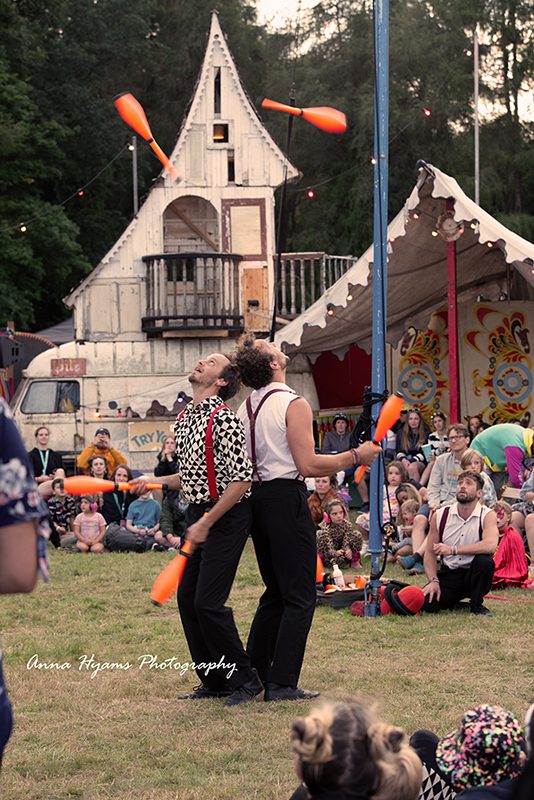 Off in search of food we go, on our way to the main stage for tonight's headline act – The Human League. Entering the very Tron-esque stage set-up, they immediately launch into some absolute classics like 'Don't You Want Me' and gain the appreciation of the home crowd when frontman Philip Oakey says "…what a great location. Not that I'm biased but I'm from the Midlands… Leicester actually". Singers Joanne Catherall and Susan Ann Sulley are both right in that sultry/mysterious pop diva zone to watch, and their voices soar across the arena over the 80's synth waves. You can't help but be drawn in by it all, even if you aren't a particular fan.
Finishing up with Oakey's own 'Electric Dreams' which very well could be the Camp Bestival theme song, is one of the hugest sing-alongs I've ever witnessed. The Human League were a truly fantastic headline choice this weekend.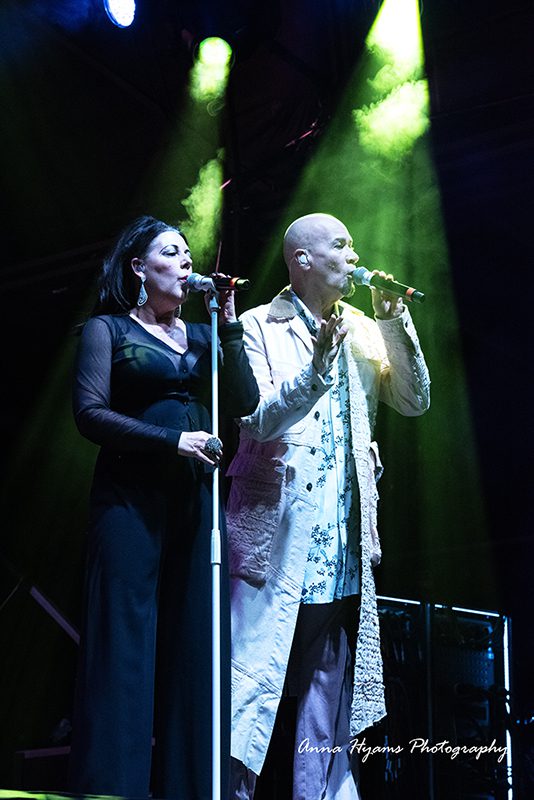 SUNDAY
It may be early, but kicking things off is national treasure and stone-cold legend Mr. Motivator for some morning main stage aerobics. 30 years in the game celebrations today too, the man has barely aged and can still rock an incredible neon outfit like no other. I wish he had merchandise for sale, 10/10 would purchase. Following on from this a decent crowd turnout to watch the Lionesses unfortunately lose their WC final game, but I think it's really cool that that this was shown and prioritised as an event here – the times they are a'changing.
In some kind of unhinged sleep-deprived parenting choice (led by the whims of an almost-four-year-old of course) we decide to queue up to give Roller Disco a go at Bollywood. I do have a few axes to grind here though, it must be said. Bollywood has always been a giant rave tent of delight. Big enough to get your dance on, decorated and entered via a lovely colourful tower flanked with Elephants and such, beats all day long. Once when the roller disco came to IOW Bestival, it was tucked in the corner of said tent but the dancefloor remained.
This year, it has all gone a bit Pete Tong in my opinion. There is only the roller disco floor… which later on in the day is taken over as Bollywood for dancing. This means that the area itself is tiny in comparison to previous iterations of Bollywood and there is a very diminished number of people who can get into it when it's being used as a dancefloor. It also means that when being used as a roller disco, the skate check and seats for putting on your skates are outside in the elements instead of under cover. It having rained this morning meant that ALL of us suffered soaked and muddy socks on the now sodden mats that had been put down, AND that it was absolutely deadly trying to get onto the disco floor itself, AND that wet muddy skates were about to be utilised on the disco floor. I have absolutely no clue why wasn't thought of and managed a bit better to be honest, it made for two diminished events instead of the great addition I thought roller disco could have been.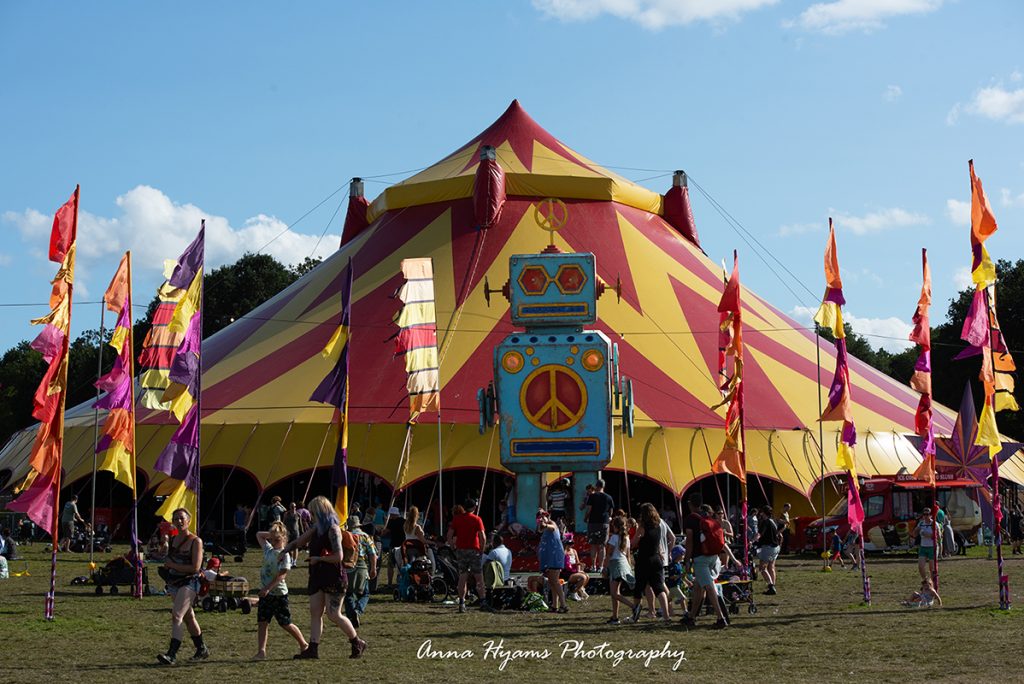 In the end we made it onto the floor for some extremely chaotic laps, run to the sound of Disney hits such as the very apt Frozen song 'Let It Go' which of course was aimed at everyone holding on to the railings for grim death. It was actually very fun, until one of our party fell down the muddy slippy steps on their way out and got gouged by a sticking up peg/bit of metal… can't help but think the mashing together of roller disco and Bollywood was a budgetary concern instead of a comfort one.
Off we go to look into some other places instead, the nearby Dressing Up Tent is full of people looking for sparkly outfits and glitter face paint, Cirque Bijou are doing an amazing trapeze show and the drums are rolling in the African Activities workshop. We poke our heads into the Tie-Dye tent which looks fantastic once again, and watch a Dinosaur riding the mini ramp at Tic-Tac Skate School. Tic Tac also had a design-a-deck competition, which might be high on our list to do next year I think.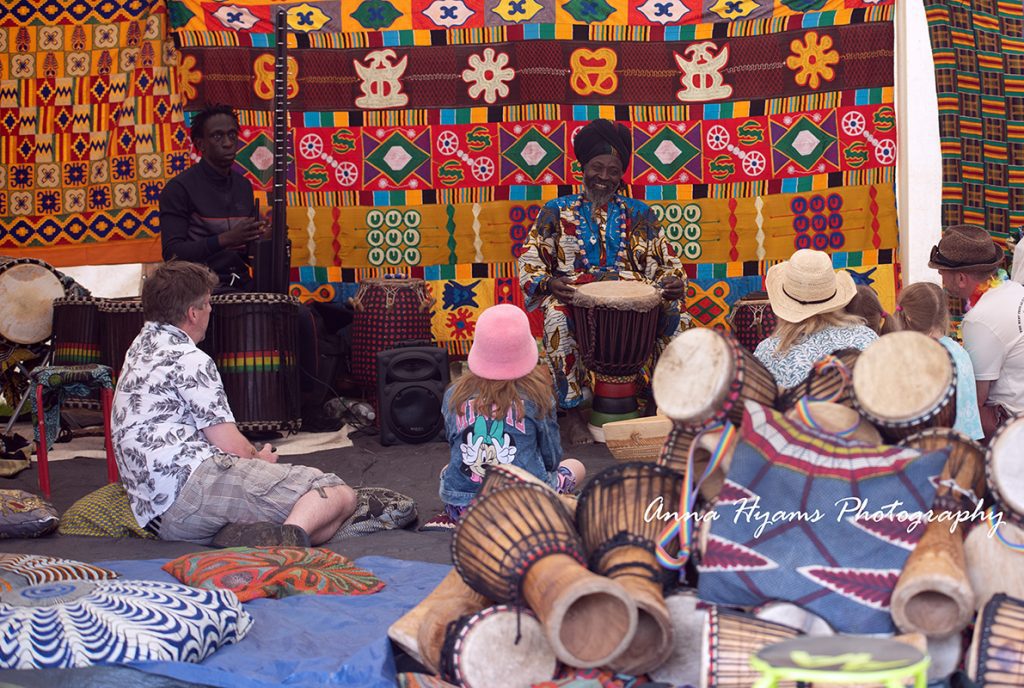 We drop into The Feast Collective to grab fruit platters with spicy salt (trust me, it's a must do) and feel quite smug about the children eating something other than chips and pizza this weekend, whilst watching the retro funfair swing boats go impossibly high. In the Big Top Hip Hop Karaoke is one of the best things I've witnessed all weekend, we have to teach these kids about the old school somehow. With that it's off to the Adventure Play Park up above the camp grounds. Unfortunately here is where I have my second massive gripe of the day.
Firstly, having separated the arena from these woods, it means there is nothing fun to do on the way to the play park and it is a huge undertaking to get there instead of a pleasant walk through the forest. Last year there was beautiful lighting in the trees, art and sculptures everywhere, places to sit, things for kids to do etc. this year it is barricaded off except for the route through, which is truly a disappointment. I petition CB to reconnect this area next year, please please please.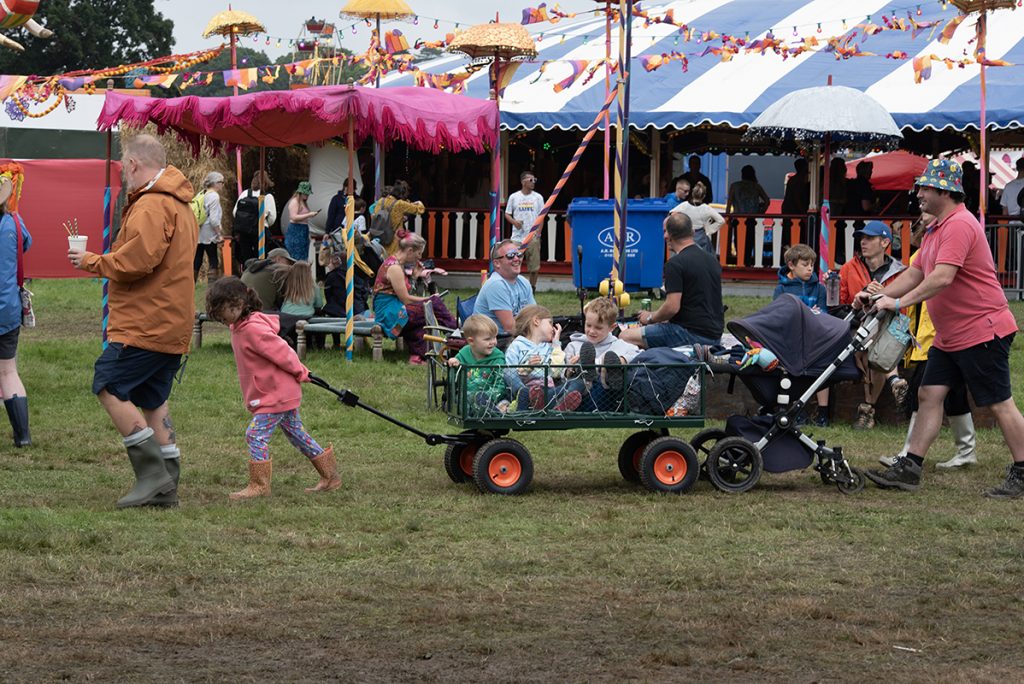 The adventure play park itself is awesome, with varying sizes of equipment aimed at different ages of children, and a really cute miniature railway which you can buy a ticket to ride on. Our kiddos absolutely LOVED all of this… until… one of them needed to go to the toilet. WHY OH WHY were there no toilets there this year? I do not understand why you would allow people to walk that far, to a completely remote location, for children, and not include at least one toilet. This is a huge oversight on behalf of the festival, and if you want to know if a child shits in the woods? They certainly do at Camp Bestival because there is no choice. Last year there was a small bank of adult sized, and kid sized composting loos available as well as a few portaloo stop points throughout the forest. We asked the people running the railway and they said they had had so many people angrily asking them where the facilities were for the area, apparently they had also requested some but been denied by the organisers.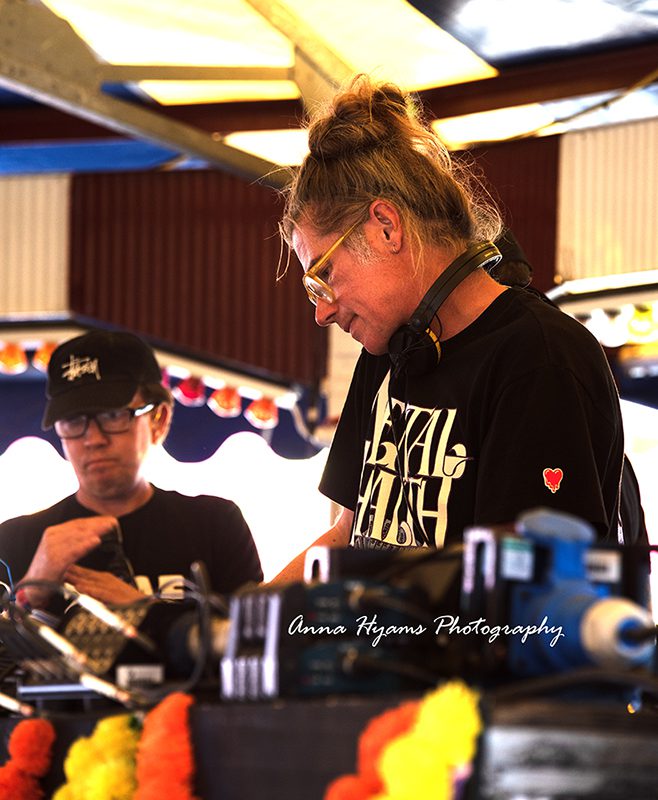 After another hike back to the arena we head over to see 80's legends T'Pau, with Carol Decker yelling "It feels good to be home" who grew up in Shropshire. It's mostly a crowd sitting in the sunshine to be honest, but they provide a very pleasant lazy Sunday vibe. East 17 are delayed and miss their Big Top slot, but are filled in for by the awesome East Angles Brass Band playing some very funky pop covers. Rob Da Bank is taking a DJ slot over on the roller disco, and Aussie DJ Hot Dub Time Machine is getting the main stage up and dancing with 'Gimmie Gimmie Gimmie' shouting "No-one is too cool for ABBA!".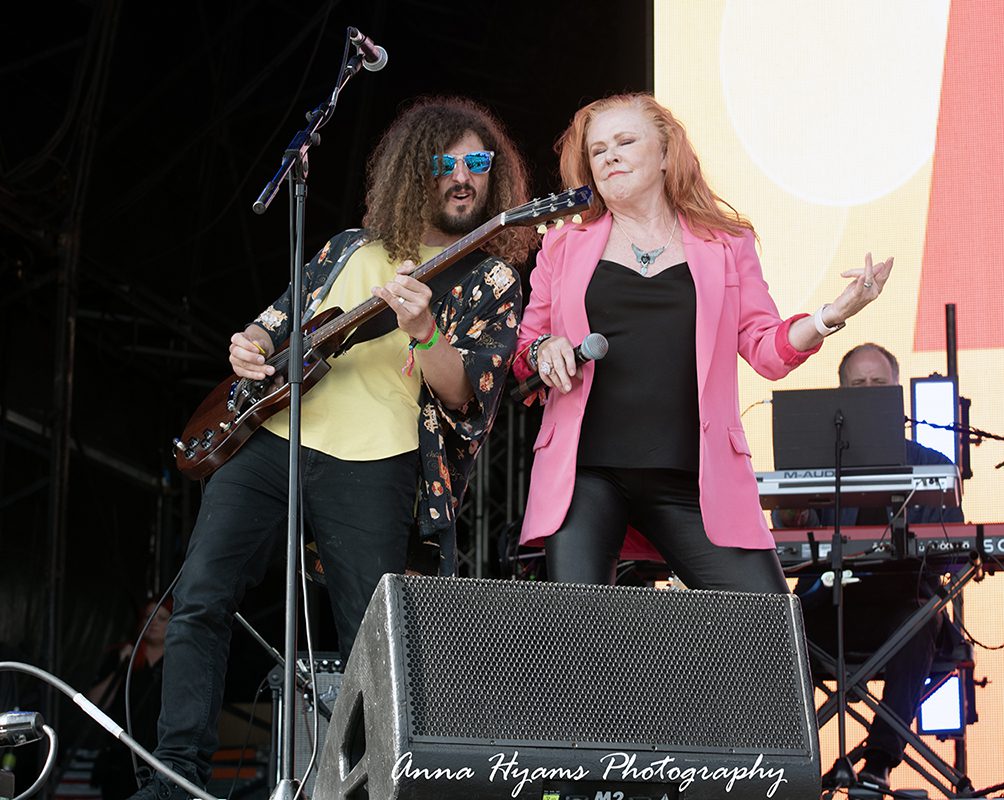 In the Big Top comedian Dylan Moran is living up to his Bernard Black persona complaining about the lights, the sound and the photographers within two minutes of being on stage. He's right though, due to the smooshing together of everything in one big arena, the sound bleed from other stages and fairground rides is thoroughly awful. Even standing in the tent from about midway, it is almost impossible to hear him which means a lot of people are leaving after only a few lines of his set.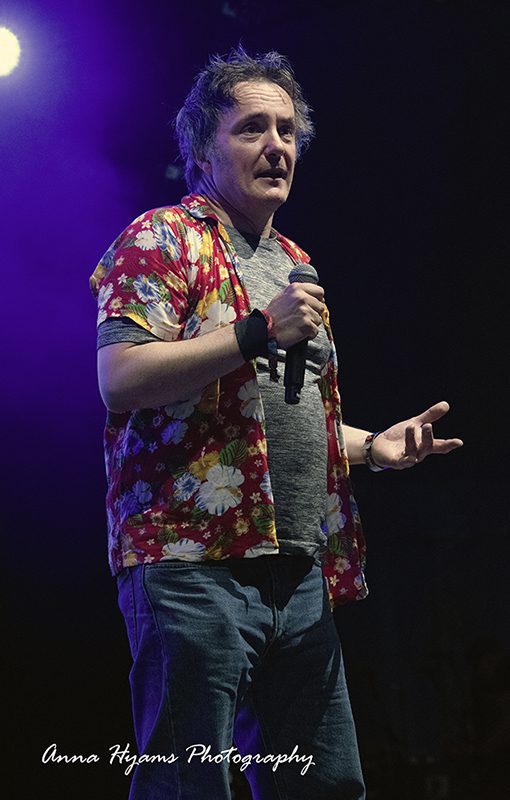 Ella Henderson has gathered one of the biggest crowds of the weekend, especially drawing in the teenage contingent who are all singing along to 'Crazy What Love Can Do'. She has a gorgeous voice and just radiates happiness on stage. East 17 finally make it to the Big Top for their Christmas Party, to the squeals of middle aged women all around the tent. Of course there are dance moves, of course there is 'Stay Another Day' but I can't pretend it's my jam at all.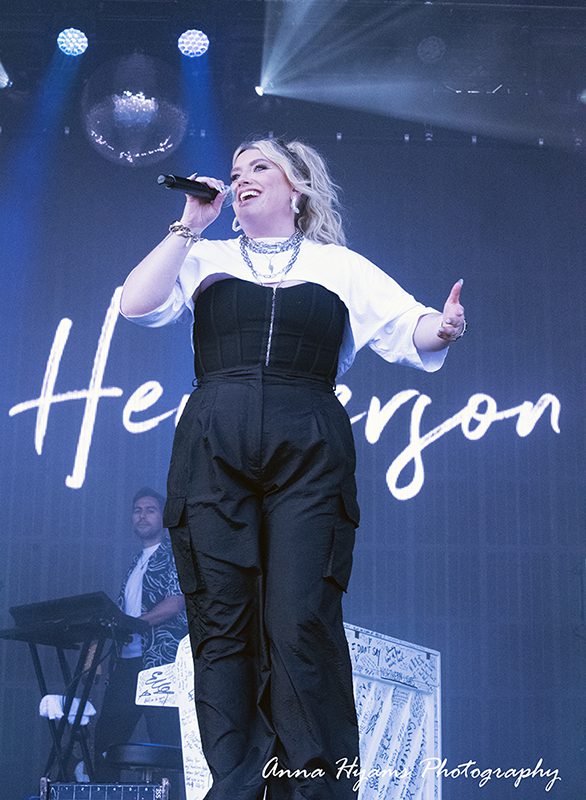 Melanie C is on the main stage rocking her signature sporty look and confidently owning the stage. Did you know she's had 11 UK number 1 hits? I didn't, very impressive. Her voice is great, there's a kid out front with "I wanna be a spice girl when I grow up" sign and everyone is loving it.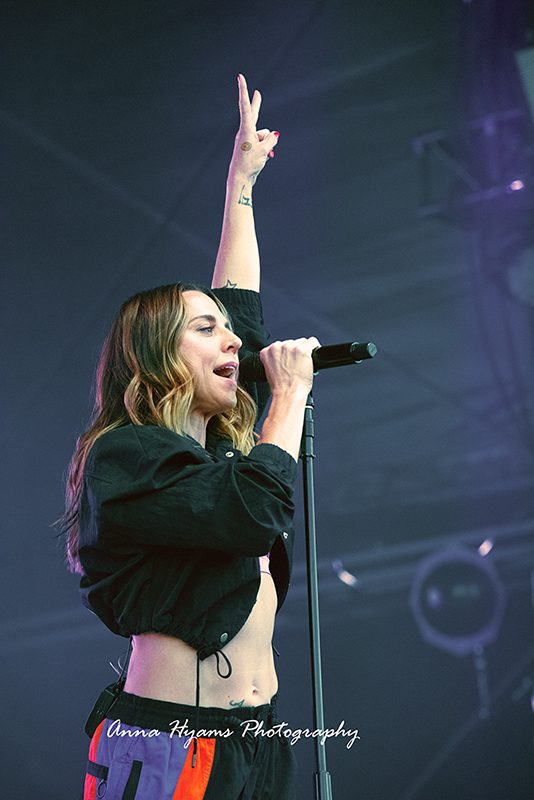 Now… In a moment of madness or pure comedic juxtaposition, someone has booked Napalm Death. I could not believe my eyes when I read it on the schedule months ago, but yes here they are. Barney and co from Meriden, the grindcore monsters of death metal, are at Camp Bestival. The festival of colour, light and harmony. In fairness, you'll struggle to find a band whose ethics and political commentary align more with those of Bestival – socialism, anarchy, flipping the status quo, doing better for the planet and those around you. I suppose they're actually a perfect fit…
So when they explode onto the stage with all the subtlety of a stampeding horde of wildebeest, and Barney's frenetic movements around stage are revealed to the CB crowd in all their glory I expect rejection. What I actually see is a circle pit. A real life circle pit at Camp Bestival – I am shook to my very core. "We are a local band for local people" Barney jokes before waxing lyrical on how 'Illegal migrants' is a ridiculous term and damning the government for their policies, to rapturous applause. We also see Rob Da Bank sneaking into the Big Top to join the fun and brawl of it all. One Dad with two teenage daughters is probably in the bad books though, having walked into the tent and heard about two bars of the next song, one daughter bursts into tears and they have to leave. Poor little sausage.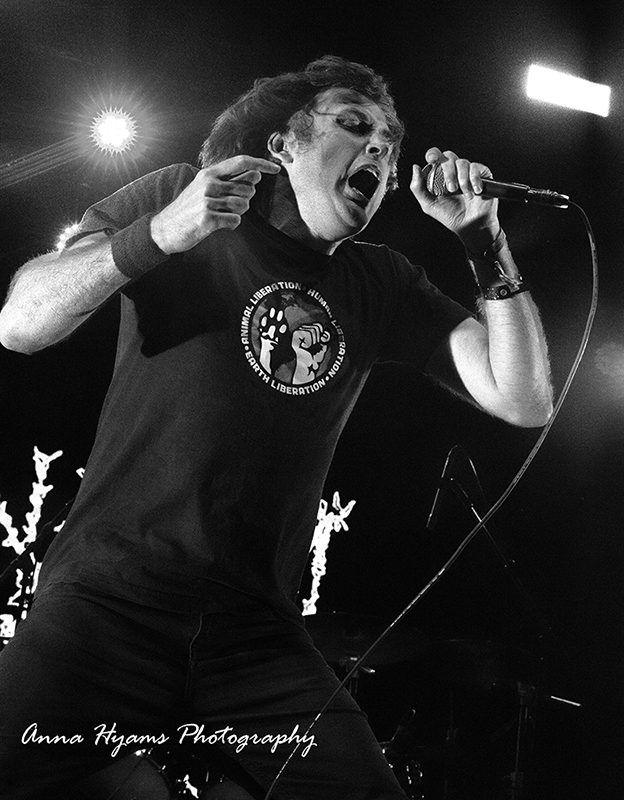 Barney is in full flow yelling about religious persecution and recent laws across the world being "…an assault on women's basic rights of bodily autonomy" as well as "the smear on Trans people's imperative to just live their lives". Is it too much to wish that they had done a collaboration with Festival Of The Girl this weekend? Crowd surfers, the worlds' shortest song, and a final cover of Dead Kennedys' 'Nazi Punks Fuck Off' is the rallying cry we all need. What a truly truly fucking fantastic energetic set. Whoever booked them gains my undying love.
In a complete change of pace, our final headliner of the weekend is indie rock powerhouse Primal Scream. Hitting the stage in a sparkly silver suit, frontman Bobby Gillespie oozes that elusive air of unbothered coolness, before he completely lets go to sing 'Movin' On Up' alongside thousands of voices in the crowd. It's clear this is final-night behaviour, every single parent out there is having a good old boogie much to their children's delight or chagrin, and I adore it.
'Come Together' is fantastic, 'Country Girl' and 'Rocks' have everyone moving with them, there are kids handing out glowsticks, bubbles, happy faces everywhere you turn, and we have an enormous bucket of churros. Oh Camp Bestival, I do love you.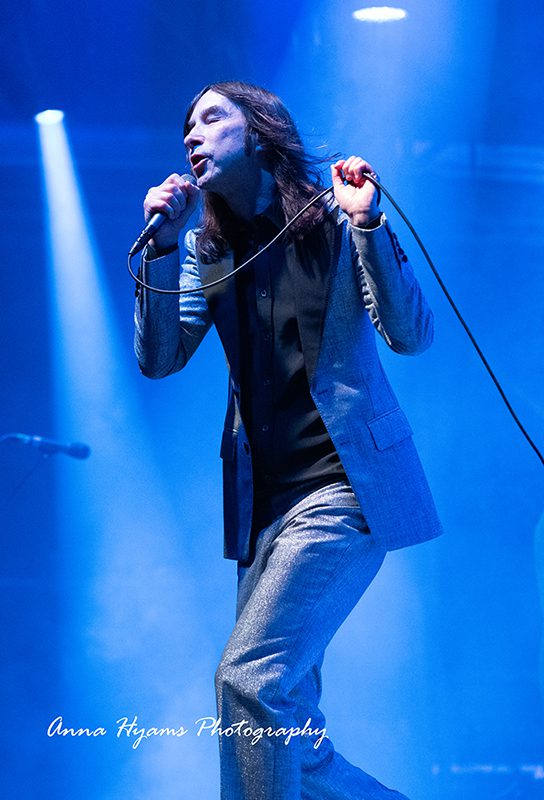 After a mini raft of fireworks, pulling up to the FOH in a sequinned kimono, Rob Da Bank thanks everyone for coming to this year's event, before announcing that The Red Devils will be doing a night parachute drop above us right now. Now look, it's all very impressive and fun, but don't know if I can get on board with someone who says to themself "yeah, I'll just pop myself out of a plane at night and hurtle towards the ground before hoping my parachute opens… oh, and then you know what, it might be a bit dark so I'll also set myself on fire so everyone can see me". I'd have liked to have seen them during the day, but apparently wind conditions wouldn't allow – maybe next year.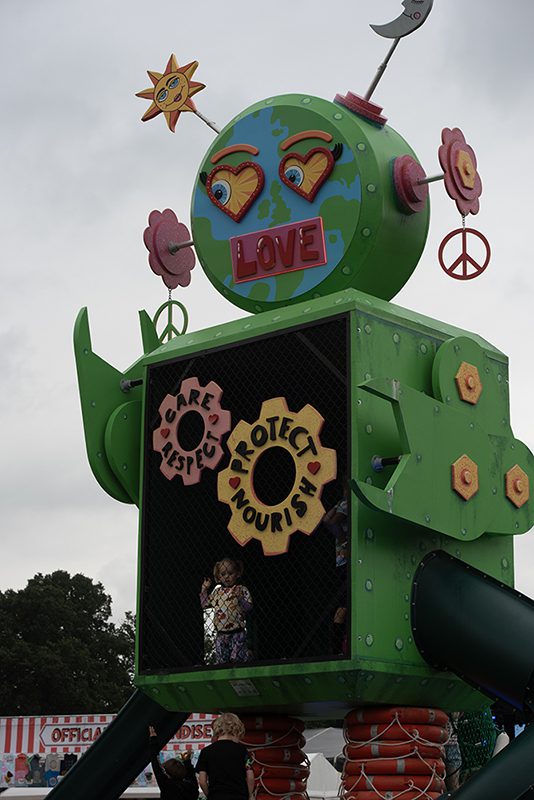 Oh and yes, we missed the iconic Kate Winslet reading bedtime stories in her pyjamas and we will FOREVER BE MAD ABOUT IT. Peace out Camp Bestival, you're the real MVP… but please fix the jumble sale of a site – we want our separate areas back.