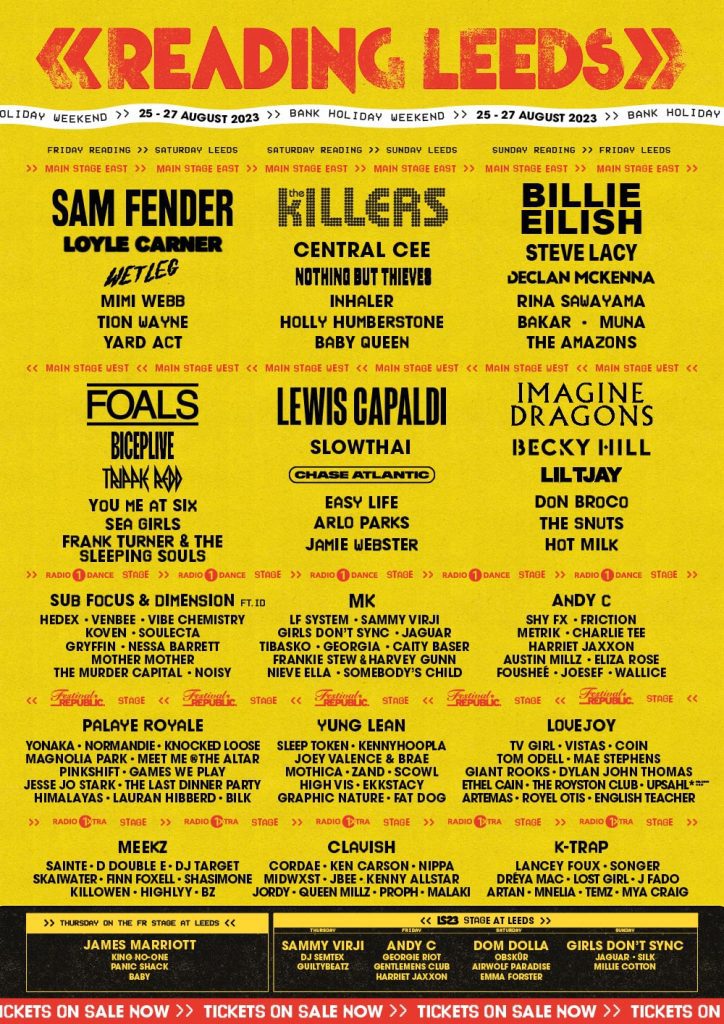 Reading and Leeds Festivals today announce a total of 20+ artists confirmed to play the festival. In addition to this, the highly-anticipated Late Night Leeds line-up has been shared, alongside Thursday night's performers. Promising unforgettable performances from the most influential and exciting names in indie, alternative, hip-hop and dance, the three-day festival takes place on 25-27 August 2023, returning to Reading's famous Richfield Avenue and Leeds' legendary Bramham Park. Tickets are on sale now, via www.readingfestival.com/tickets and  www.leedsfestival.com/tickets.
Joining the likes of Sam Fender, The Killers, Billie Eilish, Foals, Lewis Capaldi and Imagine Dragons will be some of the most exciting names in global music. From the upbeat drum and bass of breakout TikTok star and viral 'Messy In Heaven' songwriter venbee to the hyped Dr. Dre endorsed rapper Cordae, there is an artist for everyone to enjoy at the 2023 instalment of the festival.
Also added to the line-up are viral pop sensation and 'If We Ever Broke Up' singer Mae Stephens, heartfelt R&B singer Foushee, energetic Georgia rapper Ken Carson, Nottingham-based rapper skaiwater, progressive afrobeat rapper Artan, candid Tottenham rapper Jordy, tenacious voice Dreya Mac, afro-pop singer Highlyy, R&B extraordinaire Mnelia, raw rap artist Lost Girl and Hertfordshire techno duo Tibasko.
UPSAHL will also be playing an exclusive set at Reading Festival, bringing her up-tempo pop hits to Richfield Avenue.
Stirring up dancefloors with their earworms will be Dublin's indie songwriter Somebody's Child, Irish hip-hop innovator Malaki, Essex rock band Bilk, gritty alt pop star Mothica, punk-infused hip-hop stars Joey Valence & Brae, Wrexham festival favourites The Royston Club, anthemic indie pop star Lauran Hibberd, soulful songwriter Mya Craig and the effervescent, eclectic punk of Fat Dog.
Gearing up for the stellar weekend ahead, the Thursday night performers announcement sees social media star come indie breakout act James Marriott joined by refreshing Yorkshire indie trio King No-One, Cardiff's lovable indie-pop outfit Panic Shack and Baby.
This year's Late Night Leeds selection promises all the night owls and midnight boogiers a veritable feast of danceable tunes, including appearances from drum and bass pioneer Andy C, feel-good garage anthem king Sammy Virji, BBC Radio 1 DJ Jaguar, Watford-born feel good anthem merchant Silk, DJ and music personality Millie Cotton, energetic Irish DJ duo Obskur, House DJ Emma Forster and the era-spanning drum and bass DJ Harriet Jaxxon.

DJ's also promise to deliver the goods throughout the late hours of Leeds Festival. Kicking up a storm on the dancefloor will be all female DJ Collective Girls Don't Sync, Australian melodic house DJ Dom Dolla, house-meets-disco DJ Airwolf Paradise, uplifiting beatsmith Georgie Riot, Malaysian hip hop DJ Guiltybeatz, house duo Gentlemens Club and finally Radio 1 Xtra's DJ SEMTEX.
With just four months to go until the celebrated festival's gates open in Bramham Park and Richfield Avenue, this latest announcement transforms an already outstanding festival line-up into one that will be remembered for years to come. As a standout rite-of-passage festival with hundreds of thrilling acts, Reading & Leeds is set to return as the ultimate festival weekend of the summer – defining and celebrating the sounds of modern ground-breaking music, as well as boasting a world-class comedy line-up.
Fans can be the first to hear further line-up announcements, artist news and much more by signing up to the newsletters at www.readingfestival.com and www.leedsfestival.com
TICKET INFORMATION
www.readingfestival.com/tickets
www.leedsfestival.com/tickets
JUST ANNOUNCED (A-Z)

Artan
Baby (Thursday)
Bilk
Cordae
Dreya Mac
Fat Dog
Foushee
Highlyy
James Marriott (Thursday)
Joey Valence & Brae
Jordy
Ken Carson
King No-One (Thursday)
Lauran Hibberd
Lost Girl
Mae Stephens
Malaki
Mnelia
Mothica
Mya Craig
Panic Shack (Thursday)
Sammy Virji
skaiwater
Somebody's Child
The Royston Club
Tibasko
UPSAHL (Reading Only)
venbee