Paloma Faith is the queen of retro soul and sassy pop and this this complete (and petite!) performer commands the stage with her rabble rousing shows.
Performing tracks from her two highly acclaimed albums 'Do You Want The Truth Or Something Beautiful' and 'Fall To Grace' Paloma has been nominated for Best Female Solo Artist and Best British Album at the Brit Awards.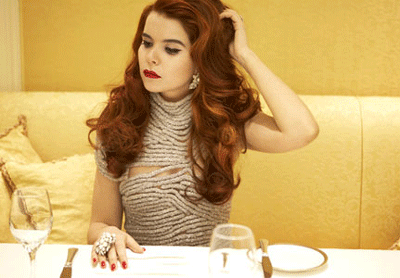 The Vaccines are arguably the best live band in the country and have been nominated as one of the best live acts at the Brit Awards. The band are also shortlisted in the Best British Band and Best Album categories at the upcoming NME Awards. Their 'Come Of Age' album entered the chart at number 1 and they continue to spearhead the UK's garage / indie rock movement
Jake Bugg has taken the music world by storm over the last 12 months, seemingly appearing from nowhere to becoming one of the most acclaimed artists in the country. His eponymous debut album reached number 1 in the charts and has been a permanent fixture in the top 10 ever since. This 18 year old somehow manages to sound retro and yet absolutely modern and his set is sure to be one of the defining Evolution moments.
One of the UK's most singular and compelling songwriters Ellie Goulding has found international acclaim with her albums 'Lights' and 'Halcyon'. Halcyon saw Ellie laying her emotions bare, a journey out of heartbreak and into hope. Back on track her live performances earned rave reviews in 2012 and this is the first opportunity to catch Ellie at a festival in 2013.
Rudimental are the new drum & bass dons, tearing up clubs where ever they perform and this is a rare chance to catch them live as they bring the sound of the dance floor to Evolution. Bastille have been cited as the most exciting thing to happen in indie for a long time. Fronted by Dan Smith the band quietly built a fan base before releasing their debut album Bad Blood which has spawned a number of big radio records over the past few months.
London based duo, AlunaGeorge are the name on all the critics lips in 2013. Having been together for barely a year, this talented duo's infectious mixes are immersed in sweet harmonies and electronic charm. Nominated for both the BBC Sound of 2013 and the Brits Critics Choice award, catch them at Evolution before they go stratospheric.
The Strypes are undoubtedly the hottest band in the world right now. This four piece rhythm and blues band from Ireland viciously hammer out their no-nonsense blues repertoire and have already met with critical acclaim from greats such as Jeff Beck and Paul Weller for their outstanding live shows. This is a must not miss performance at Evolution.
Headlining the dance stage are two of the most gargantuan names in electronic music Sub Focus and Modestep both of whom will be performing live.
Sub Focus is one of the superstars of bass music, a production obsessive whose attention to detail is matched only by the raw spectacle of his incredible live show. A bone fide cross over artist Sub Focus is that rare thing in dance
music, someone who can keep one foot in the underground and still have credible radio hits all of which he will be performing for the Evolution crowd.
Modestep fused dubstep and electronic rock to devastating effect on their debut album 'Evolution Theory'. Their sound is a hybrid of heavy rock riffs, brutal synths and bludgeoning synth breaks, all connected together by soulful pop led vocal melodies. Modestep slay audiences wherever they play.
Other acts confirmed for Evolution include the 21st century soul of rising local star Lulu James, Nas protégé Arlissa, the haunting acoustic indie and folk of Sunderland's The Lake Poets, Grime superstar Lethal Bizzle, Radio 1 and 1xtra supremo MistaJam and drum & bass / breakstep overlord Zinc.
Loadstar, Delta Heavy, Dismantle, Decibel, Drenge, Bondax, Gorgon City, P Money, Chroma, Gentlemen Jonny,Eliza & the Bear and Rossi Noise will also perform and the North East finest music festival.
Full Line Up
Sunday 26th May
Spillers Wharf Stage
The Vaccines
Ellie Goulding
Rudimental Live
The Strypes
Arlissa
The Lake Poets
Rossi Noise
Ballast Hills Stage
Modestep Live
Lethal Bizzle
Loadstar
Delta Heavy
Dismantle
Decibel
Gentleman Jonny
Monday 27th May
Spillers Wharf Stage
Paloma Faith
Jake Bugg
Bastille
AlunaGeorge
Lulu James
Drenge
Eliza & The Bear
Ballast Hills Stage
Sub Focus Live
Mista Jam
Zinc
Bondax
Gorgon City
P Money
Chroma