Now entering its fourteenth year, London's favourite festival Lovebox returns to its home in Victoria Park for its biggest year yet.
Having already announced two explosive, London exclusive headliners, in the form of the long-awaited reunion of LCD Soundsystem and global phenomenon Major Lazer, the two-day celebration of music, food, fashion and creativity unveils a ram-packed, genre-spanning and era-defining billing.
From the hottest zeitgeist acts to established legends, hip hop to dance, grime to electronica, it's a fully-formed line-up that cements Lovebox 2016 as the musical event of the summer.
MAJOR LAZER (FRIDAY)
LCD SOUNDSYSTEM (SATURDAY)
WITH (IN A-Z ORDER):
ALAN FITZPATRICK – ANDRES CAMPO – B.TRAITS – BIG NARSTIE – BILLY KENNY –
CHET FAKER – CHRONIXX –
THE COMPOZERS – CRAIG RICHARDS CRITICAL SOUNDSYSTEM: KASRA B2B IVY LAB B2B SAM BINGA FEAT REDDERS –
DAVID RODIGAN MBE – DE LA SWING – DIPLO – DJ BARELY LEGAL – DJ HYPE & MC IC3 FORMATION – FRIEND WITHIN –
GEORGE CLINTON PARLIAMENT FUNKADELIC – GEORGE PRIVATTI – GOLDLINK – HANNAH WANTS – HOT BLOOD – JACK GARRATT – JACKMASTER – JAMIE WOON (LIVE) – JORIS VOORN – JUNGLE – JUSTIN MARTIN – KANO – KIASMOS – LUCIANO – MIIKE SNOW – MØ – MELÉ + MONKI'S NRG FLASH – ODESZA – OH WONDER – ONEMAN B2B MY NU LENG – PATRICK TOPPING – PREDITAH – RICARDO VILLALOBOS – RICHY AHMED – RITON – RUN THE JEWELS – SG LEWIS (LIVE) STEVE LAWLER – STORMZY -TERRY FRANCIS – T Q D (ROYAL T B2B DJ Q B2B FLAVA D) – WAZE & ODYSSEY
ALL WEEKEND LONG
FABRIC LONDON
EXCLUSIVE FESTIVAL DEBUT
ELROW PRESENTS SAMBODROMO DO BRASIL
MUSIC, MISCHIEF AND DANCING AT THE CARNIVAL BANDSTAND "TROPISKARNIVAL" PRESENTED BY GLOBAL LOCAL, VINTAGE REMIX AND WORMFOOD
SPIN AROUND AT THE BUMP ROLLER DISCO
NEW VOICES AT THE VOICEBOX WITH ROUNDHOUSE AND APPLES & SNAKES
FASHION AND BEAUTY BOUTIQUES
LONDON'S TASTIEST STREET FOOD
AND MORE TO BE ANNOUNCED SOON…
Opening for Major Lazer on Friday are cult favourites Run The Jewels, the critically acclaimed rap duo who have released two of the best mixtapes of the past few years and carved out a reputation as one of the best live acts on the planet. This incendiary double act, AKA Killer Mike and El-P, are one of the most charismatic and compelling acts in hip hop today, merging socially conscious lyrics with huge beats. They're the perfect act to fire up the crowd in time for Major Lazer's headlining slot.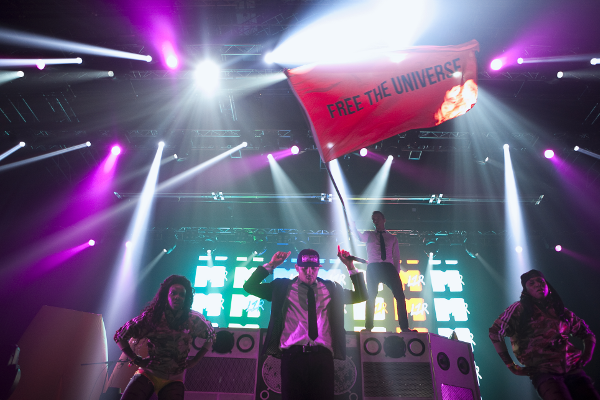 The voice of Major Lazer's global smash 'Lean On', and fast-rising star in her own right MØ will be performing tracks from her highly-anticipated sophomore album, as well as fan favourites from her debut No Mythologies To Follow.
Jamaican superstar Chronixx will be treating the Lovebox crowd to his modern take on reggae, whilst man of the moment Stormzy will be bringing his neo-grime flow and viral freestyles to the Park. Stormzy says: "This is going to be so so sick".
Hip hop, grime, and drum and bass will all be represented on the Friday, with US rapper GoldLink, D&B producer DJ Hype & MC IC3, Flava D, DJ Q and Royal T's project t q d, outspoken emcee Big Narstie and D&B collective Critical Soundsystem.
There'll be unmissable sets from some of the world's biggest DJs. Before he steps on to the Main Stage Diplo will be spinning solo, Ed Banger alum Riton will perform, as will Lovebox friend and favourite David Rodigan MBE. The unstoppable Hannah Wants, dirtybird co-founder Justin Martin plus Waze & Odyssey, Friend Within and Billy Kenny will also be in attendance and there will be special collaborative sets from the most exciting names on the UK dance scene with Oneman B2B with My Nu Leng plus Melé + Monki's NRG Flash.
Across the weekend, Lovebox are thrilled to join forces with another London musical institution – the mighty fabric. One of the world's biggest and best club spaces, they'll be bringing a killer line-up to a festival field for the very first time.
fabric say: "As an East London venue ourselves we're especially delighted to be hosting a stage at this year's Lovebox and to be bringing a whole lot of what we do and the artists we love to the festival. It's taken a lot of work from both Lovebox and fabric to make this exclusive concept happen and it'll be our first time ever bringing fabric to the field."
On the Saturday, Lovebox are delighted to welcome London collective Jungle to the stage for an England and Wales festival exclusive. The band's modern take on soul make them a perfect fit to perform ahead of Saturday night headliners LCD Soundsystem who are also known for their innovative interpretations of classic genres. Jungle have developed a reputation for being a formidable, hugely fun live act and as the sun sets on the Park they'll provide an appropriately atmospheric soundtrack. Jungle say: "Lovebox is legendary and we feel so lucky to be a part of it this year. Nothing beats playing outdoors in your own city… See you in July!"
Some of the brightest singer-songwriters will be serenading the masses, from Australian electronic musician Chet Faker to the experimental, acclaimed Jamie Woon (live) via the folktronica sensation Jack Garratt.
East London's own Kano will be performing tracks from his long-awaited new album Made in the Manor, as well as classic cuts from his back catalogue.
Some of the biggest names in dance will be spinning, including techno legend Ricardo Villalobos, tech house wizard Craig Richards and producer Terry Francis.
That's not all – there's anthemic electropop from duo Oh Wonder, hook-laden Swedish indie pop from Miike Snow, lush electronica from SG Lewis (live), beautifully minimal Icelandic techno from Kiasmos and electronica-tinged rock from Seattle duo Odesza.
Lovebox are honoured to play host to the legendary George Clinton and his funk, soul and rock collective Parliament Funkadelic. Their euphoric live shows are something to behold.
Barcelona party-starters Elrow will also be returning to the Park following several sold out London shows. Their trademark fun-loving theatrics will be reapplied this time in the style of Brazilian carnival for Elrow Presents Sambodromo do Brasil.
Vice music channels Noisey and Thump will return to Lovebox once more to curate their own forward-thinking, individual stages, as will Hackney's NTS Radio, Soundcrash in association with Clash, Krankbrother and Corona Sunsets.
Kopparberg is set to bring a taste of scandi-cool to this summer's Lovebox and Citadel with the arrival of the popular Kopparberg Urban Forest.
Carved into the forest will be a woodland bar serving up all kinds of refreshment from the independent Kopparberg brewery in Sweden, including its selection of delicious fruit ciders and the brand new Kopparberg Fruit Lager.
Kopparberg will also be supporting the very best in creative and imaginative live music, by hosting a series of pioneering artists and DJs on its renowned Urban Forest stage.
As well as a thrilling musical line-up, there is plenty to experience in the Park over the weekend. Shangri-La Superstar's "Tropiskarnival" Bandstand boasts an eclectic programming of world music and dance programmed by Chris Tofu, with performances from the likes of United Vibrations, Temple Funk Collective and Cut Capers.
The Voicebox presented by Roundhouse and Apples and Snakes platforms emerging voices in spoken word and poetry, whilst revellers can spin around to DJ sets at the Bump Roller Disco, sample London's tastiest street foods and browse the finest fashion and beauty boutiques.
With even more incredible talent still to be announced, this will go down as another unforgettable chapter in Lovebox's rich history.