L.A. four-piece Warpaint will make their Latitude debut at this year's 10th anniversary edition, performing on the coveted Obelisk Arena on Sunday evening. Performing seductive grooves from their widely acclaimed debut album 'The Fool' and this year's popular follow-up Warpaint, the Californian band's swirling sound, full of mysterious buzzes and coos, will delight the Latitude audience.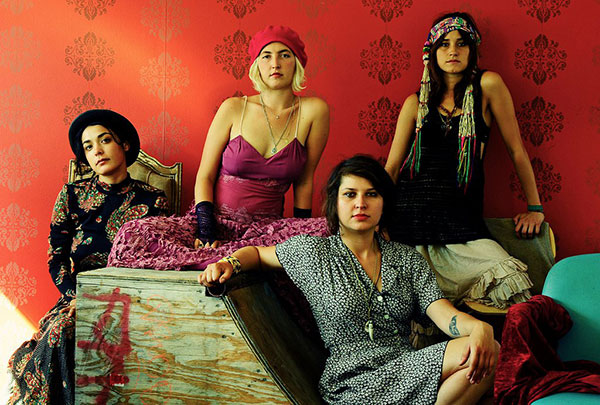 Santigold is back! Straight out of Brooklyn, Santigold has become a unique and inspiring figure on today's electronic musical landscape. Having worked with Jay-Z, David Byrne, Major Lazer and the Beastie Boys, Santigold is established internationally as one of the most exciting and fearless artists to emerge in the last decade. Her albums are widely praised for their genre-defying sound and instantly memorable melodies and her performance on the Obelisk Arena this year is one not to be missed.
Celebrating the 15 year anniversary of Badly Drawn Boy's Mercury Prize winning album 'The Hour of Bewilderbeast' Damon Gough will be performing songs including the much loved singles 'Once Around The Block', 'Pissing In The Wind' and 'Disillusion'and it is a pleasure to have them performing at Latitude.
Since their triumphant reunion in 2013 The Boomtown Rats make their long-awaited appearance at the festival this year. Led by musical legend and philanthropist Sir Bob Geldof, the band has had a series of massive hits throughout their incredible career including 'I Don't Like Mondays' and 'Someone's Looking At You.' Powered by high energy nostalgia and their front man's prancing charisma, Latitude is hugely excited to welcome them to the Obelisk Arena this year.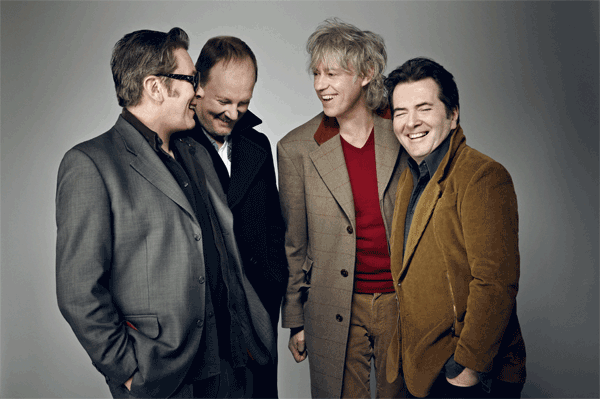 Latitude are delighted to welcome The Charlatans to the BBC 6 Music Stage. Stalwarts of the 90's British indie scene who produced several iconic hits including 'The Only One I Know', The Charlatans are one of a handful of bands who have remained relevant since. Their twelfth album 'Modern Nature' was released earlier this year and received glowing reviews; even heralded as the best of their career. Fronted by national treasure Tim Burgess, whose solo set at Latitude 2013 was a festival highlight, we are expecting this set to be a lot of fun.
Additionally, British sing-songwriter, Kindness, who combines soulful sensuality with artful experimentation in his beautiful new album can be revealed as also appearing at Latitude, along with ambient music duo A Winged Victory for the Sullen who are one of the most prominent artists today bending the rules of contemporary classical music, the widely admired British rock band Tom Robinson and band who will perform songs such as their classic punk rock single, 'Up Against the Wall'. Following the release of their debut album 'Lost Souls' in 2015, former Doves members bring their new band Black Rivers to Latitude.Often described as "Syrian Techno", Syrian musician Omar Soulyman's new album 'Wenu Wenu', produced by Kieran Hebden (Four Tet), distills Omar's live performances into a fireball of Middle Eastern passion and excitement.
Latitude is the event of the summer to see the very best in new music. Tucked away in Latitude's beautiful woodland area, this year the iArena will provide a magically intimate setting for the recently signed Matador artist HÆLOS, whose melodramatic electronic sounds nod towards legendary headliners Portishead; London-based neo-soul champion Ben Khan and Canadian sombre folk act Timber Timbre.Mali's Songhoy Blues will be performing their critically acclaimed perpetual garage blues album "Music in Exile", whilst punk-fired rock'n'roll classicist Ezra Furman brings his just announced album "Lousy Connection," and we welcome both American indie pop band, The Pains of Being Pure at Heart and returners Admiral Fallow from Scotland.
We're proud to announce the final headliner for the The Lake Stage will be English singer-songwriter and pianist Rae Morris who's already performed on tracks by Bombay Bicycle Club and Clean Bandit and is now stepping out into the spotlight with her solo material. Her debut album 'Unguarded' was released this year to brilliant reviews; expect to be seduced by her lustrous, emotive tones. Also announced for the Lake Stage is Welsh avant-pop singer Gwenno who creates home-fi keyboard sounds wrapped in echoed vocals and musique concrète-inspired beats.
We are hugely excited to announce the first names for DIY presents The Alcove Stage. Latitude prides itself on nurturing new talent and The Alcove is the perfect place to listen to the most exciting new voices of 2015. We are thrilled to reveal that DIY Magazine are on board this year to augment the exposure these new bands will get. Australian singer-songwriter Josef Salvat deals in soulful, and sometimes sorrowful, electro-pop. His debut EP 'Hustler' garnered more than a million plays on Soundcloud and sparked comparisons to Morrissey, Lana Del Rey and Gotye. Joining him will be the post-punk elecronica LoneLadywith her critically acclaimed release "Hinterland", and abrasive punks Bad Breeding who being driven by frustration at the lack of prospects in their hometown of Stevenage, broke onto the scene last year with dissident rock 'n' roll anthem 'Burn This Flag' and the subsequent album 'Age of Nothing' which has to be noted as an important reflection of disaffected young Britain.
Known primarily as a post-rock putting Vessels in same camp as Mogwai and Battles, the ever-evolving Leeds quintet chose a more dance-driven sound for their third album "Dilate". Jane Weaver brings her self-penned pop abstractions while London electro pop band Real Lies purvey dreamy electronic dance music that deals in the dirt of real life and R. Seiliog's music interweaves melodic threads of psych, experimental electronics and modulating drones via spectral flecks of psych-noise. The defining feature of Erased Tape's Douglas Dare is his understanding that beauty is erratic and his beautiful misshapen melodies. Taking their name from a famous Bob Dylan song title, up-and-coming Liverpudlian trio Clean Cut Kid will be at Latitude to deliver truly mesmerising folk melodies. Two of America's most exciting young contemporary singer-songwriters will also be joining the Latitude bill. 19-year-old Brooklyn troubadour Tor Miller is gaining attention for his combination of stark piano chords, stunning voice and gospel fervour. Joining him is 21 year old Iowian Max Jury; an impeccable song-crafter and guitarist with one foot in the cornfields and the other in a dive bar, NAO who is one of the hottest names in London right now, favoured by the likes of BBC Radio 1's Annie Mac and Zane Lowe and with a new EP out on Monday, the electronic soul singer's debut headline shows were completely sold out. Her Latitude set will be the perfect opportunity to catch her in an intimate setting while you can. Mixing lo-fi folk with choral harmonies and electronic elements, classically trained composer C Duncan is on the brink of great things. The young Scotsman's highly anticipated debut album 'Architect' is out in July on FatCat Records.
Look out for newcomer Matt Woods with his beautifully produced pop tunes and a strong husky voice capable of hitting falsetto notes with ease, Woods is something special to hear early on and ones to watch, DMA's who revisit Britpop with a twist in their double A- side 'So We Know'.
In the Film & Music Arena the groundbreaking drum & bass legend Roni Size reunites his seven-piece band with a line-up comprising of Dynamite MC, Onallee, Si John, Dave Amso and Yuval Gabay. Reprazent are widely regarded as one of the most important live electronic music acts of the past two decades, their debut album 'New Forms' won the Mercury Music Prize in 1997 and was followed by 2000's 'In The Møde'.
Restless innovator, sampling wizard, classically trained pianist and superstar collaborator, Matthew Herbertis one of electronic music's most versatile and prolific figureheads The all new Herbert live show will be a celebration of the house music side of Matthew Herbert's work. Primarily playing material from new album 'The Shakes', it will also feature some of Matthew's best loved work from the 'Bodily Functions' era with two new singers, Ade Omotayo (Kindess, Amy Winehouse), Rahel Debebe-Dessalegne (Hejira, Eric Lau), and a small brass section. London-based electronica and techno producer Max Cooper weaves together a selection of tirelessly errant and inventive machine funk for immersive dancing. Joe Mcalinden performs his live score to Edit- A Short Film by Iain Forsyth and Jane Pollard.
There will be broken balladry from the remarkable Brighton duo Games providing cold, haunting and cracked vocals that lie delicately over an imperturbable and minimal piano ebb, a parallel to that of a Philip Glass movie score. Powerful melodies create a captivating urban soundtrack, a modern lovechild of Aretha Franklin & Portishead, and perhaps the third cousin of a few jazz divas. Euphoric and vulnerable is the vibe here as Games respite you into a solitary daze of wonder and longing and Gazelle Twin & Carla MacKinnon present Out of Body. Commissioned by The London Short Film Festival, this unique audio-visual collaboration between electronica artist Gazelle Twin and interdisciplinary filmmaker and animator Carla MacKinnon uses abstracted body-horror imagery alongside a glacial electronic score to explore puberty, phobia and transformation. Disjointed beats and disturbing animation sit well together in this visually stunning show, also accompanied by a selection of women-directed shorts that inform the work, including films by Sadie Benning, Allison Schulnik and Emily Richardson. Carla and Elizabeth (Gazelle Twin) will be on stage for a Q&A session following the performance.
White Mink is the zeitgeist-capturing speakeasy where the sounds and styles of the 1920s and 30s are turned on their head and smuggled into the 21st Century and they come to Latitude this year with The Electro Swing Speakeasy. More than just a night club and live music event, White Mink events collide the contemporary with the decadence of days gone by, delivering a whole evening of vintage inspired cabaret and entertainment for a thoroughly modern club night.
Hailed as one of the most innovative and intimate documentaries of all time experience Kurt Cobain like never before in the only ever fully authorised portrait of the famed music icon. Academy Award nominated filmmaker Brett Morgen expertly blends Cobain's personal archive of art, music, never seen before movies, animation and revelatory interviews from his family and closest friends in Sheffield Doc/Fest Presents – Kurt Cobain: Montage (Film)
The brilliant Mark Lamarr's God's Jukebox takes over the Film and Music arena with guests announced so far including Horace Andy well-known as the sweetest voice in reggae and for his long association with British trip-hop band Massive Attack. Andy is the only singer of Massive Attack's rotating group of guest artists to appear on each one of the band's albums. Horace Andy has promised the Latitude audience, 'hit after hit of fine reggae music.' Mark's other guest announced so far is a queen of roots, rhythm and soul,Sister Cookie is a fixture of the vintage music scene, her debut album is due for release at the end of 2015 on FOLC Records.
Within The Little House, catch the screening of Kevin Allen's Under Milk Wood starring Rhys Ifans written byDylan Thomas adapted by Murray Lachlan Young, Michael Breen and Kevin Allen. With live performance with a choir and solo voices. Under Milk Wood will turn the Little House in the Woods into the Harbourside Chapel. fFatti fFilms presents Kevin Allen's radically updated film version of Dylan Thomas's iconic peotic prose work, Under Milk Wood, as a specially commissioned performance. The adapted screenplay was written by Murray Lachlan Young, Michael Breen and Kevin Allen and stars Rhys Ifans and Charlotte Church. This erotic, surreal cinematic interpretation explores some of the more visceral elements of the funny, filthily fluid magical dreamscape of this unique world.
And in The Faraway Forest, The National Portrait Gallery's Choir in residence, The Portrait Choir return to Latitude to perform a specially devised piece The Dawn Chorus – the trees come to life. Performed within the Faraway Forest on the Saturday morning of the festival the piece takes inspiration from the recent Portrait Choir performance of the Poet, the Lover and the Lunatic. Devised by Latitude's Tania Harrison, Portrait Choir Artistic Director Gregory Batsleer and Director Donnacadh O'Briain, as the dawn becomes day the woods comes alive with faces from the National Portrait Gallery's Collection, performances by the Portrait Choir as well as dramatic surprises from a company of Actors
Keith Allen brings his legendary Establishment Club back to Latitude with exciting special guests across the weekend in The Alcove. Watch, listen, learn and dance with Keith as he presents guests from Pere Ubu toDirty Soul Rockers, from the Hot Sprockets to Ruts DC, from Thabo and the Real deal to Jack Flash and Keith's own legendary big band Grow Up.
It's time to bring the dark side out of Latitude with a series of huge Late Night DJs. Nestled deep in the heart of the neon lit In the Woods, festival goers won't be able to resist the vibrations featuring a hedonistic line-up of mind blowing electronic talent from across the globe.
On Thursday night at 10pm Mucho Soul & Size Doesn't Matter present The Vinyl Frontier, a strictly vinyl only sound clash! DJ's Si Kurrage and Mr Shiver: Size Doesn't Matter Collective and Ket Shah & DJ AKA with The Mucho Soul Show. A special opening night four hour sound clash session of strictly vinyl platters that matter with the Mucho Soul and Size Doesn't Matter DJ collectives going head to head! Expect an up-front selection of glorious sevens from heaven and 12inch pleasures of Funk, Soul, Disco, Reggae, House, Techno, Eighties, Nineties and everything in between.
On Friday night at 11pm, DJ A.K.A & KET SHAH (Back to back FM) present: Mucho Soul with special guest DJ Abi Clarke (Soul Jazz Records & West End Girls) Purveyors of the finest soulful rhythms and beats, DJ's Ket Shah & D.J A.K.A of Back2Back FM's popular underground radio show Mucho Soul bring their superb take on Funk, Soul, Disco, Electronica and Deep Soulful House to Latitude with special guest Abi Clarke joining them with her Boogie, Nu-Soul, R'n'B and Rare Grooves selections!
On Saturday night at 11pm Ashley Beedle & Jo Wallace present: A History of Black Music. A unique four hour overview of the history of Black Dance Music with tracks chosen by legendary selector, Ashley Beedle & Motown connoisseur, Jo Wallace. Iconic tunes will nestle alongside obscure gems giving an insight into the diverse and wonderful world of black dance music over the last 70 years! From Swing to Motown, Funk to Hip Hop, House to Happy, you'll be signposted through seven decades of joyous music in the superb woodland surroundings of Latitude 2015.
On Sunday night at 11pm Si Kurrage & Mr Shiver present: Size Doesn't Matter. The Size Doesn't Matter crew bring a very special repertoire of Reggae, Jamaican Ska and Two-tone to the stage with a big helping hand from the Zoot suited charismatic Natty Bo who'll be adding to the brew serving up his inimitable brand of 50's and 60's Rhythm and Blues, Cuban Mambo, Latin, Soul, Boogaloo and 70's firm Funk favourites to the Latitude Sunday night finale!
Other Late Night entertainment includes United Vibrations, inspired by the beats and harmonies of the world. They are a product of a cultural fusion. Brand New Wayo will take you on a magic carpet ride, covering breadth and depth, from Dub to Jazz to Hip Hop via UKG, Disco, Afro beat and the cosmos.Nérija is a reflection of the search for individual strength in the face of external expectations through the form of music. Guilty Pleasures, an unashamedly glorious all-singing, all-dancing renouncement of pop music and an antidote to modern day clubbing fatigue created by Sean Rowley; Buttoned Down Disco, the largest indie dance party in the UK, coming to Latitude to rock the night, armed with ace music and glitter cannons to keep you dancing until 3am! and Pandora's Playground wouldn't be the same without the Disco Shed pumping out big tunes from their small home until the small hours.