With only a month to go, the 12th edition of Latitude Festival once again sets the bar high for summer festivals, with a host of names announced across the stages including the BBC Music Introducing Stage, The SpeakEasy, Music and Film, Solas and many more. Latitude Festival takes place on 13th – 16th Julyin the stunning grounds of Henham Park, Suffolk. Tickets are available here.

40,000 people will witness Brit Award winners The 1975 perform tracks from I Like It When You Sleep, for You Are So Beautiful yet So Unaware of It for the last time, as well as a Fleet Foxes returning in a UK Exclusive after a five year hiatus, backed with the recently announced album Crack-Up, and Saturday night headliners Mumford & Sons who bring with them their Gentlemen Of The Road takeover to curate the day's line up.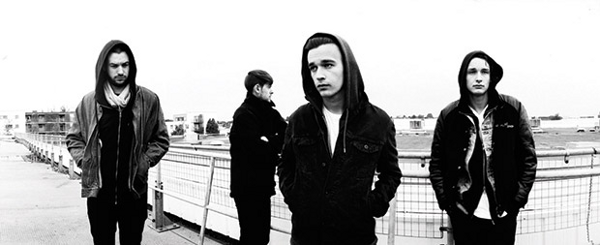 They're joined by a line up brimming with huge names and exclusives across all stages, combined over 40 Top Ten albums, from the legendary Placebo in a UK Festival Exclusive to returning indie rockersThe Horrors; from Scandi indie-pop darlings The Radio Dept. (another UK festival exclusive) to the inimitable former Velvet Underground stalwart John Cale; from the iconic Mavis Staples to the all-out party that will be Fatboy Slim on the BBC Music Stage.
This year's bill sees these marquee acts joined by a plethora of local talent including Ipswich's Bessie Turner who plays The Lake Stage on the Friday of this year's festival hot off the back of being described by BBC Music Introducing as a superstar in the making. Her debut single 'Big Sleep' was only released in April but has already gained the love of BBC Radio One and BBC 6 Music. Turned is joined by a cavalcade of Suffolk and Norfolk-based performers that include Beth Orton, Superglu, While the World Sleeps (who has a studio half-an-hour from Henham), Mullally and Rad Pitt, as well as contributions from locals on the arts side of the bill such as Gecko & Suffolk MIND, a local theatre company and mental health charity; Luke Wright, a poet and writer of award-winning verse; popular classical sopranoLaura Wright; John Osbourne, who performs his new show Circled in the Radio Times; and Mark Thompson with his The Show at the End of Universe.

Hot off the back of their acclaimed debut album The Witch, London's own Pumarosa will be bringing their captivating live show straight from our nation's capital to the Obelisk Arena on the Friday and the profoundly arresting Swedish singer-songwriter Albin Lee Meldau who will take to the Lake Stage.

Fresh talent joining Saturday's already brimming bill include Scandinavian troubadour Skott who opens the BBC Music Stage, and another addition to the Sunrise Arena as part of the Gentlemen of the Road takeover: renowned folkster Beans on Toast. Sunday sees exciting from hook-heavy Humberside heroesLife on the Alcove Stage and former Let's Wrestle frontman Wesley Gonzalez on the Lake Stage.

Returning to Latitude for its second year, the BBC Music Introducing Stage once again welcomes an eclectic array of talent specifically chosen for Latitude, submitted via a plethora of local BBC Introducing shows. Over the years, BBC Music Introducing has played a pivotal part in nurturing the careers of some of the biggest acts to have graced Latitude including Ed Sheeran and Florence and the Machine. This year's stage comes presented by BBC Radio 3 mainstays Max Reinhardt (the Late Junction) and Suzy Klein (In Tune), and BBC 6 Music's "modern day musical anti-hero", Tom Ravenscroft.

Friday's festivities are kicked off by a stellar bill that features jazz/R&B collective Solomon's Garden, Conwy sensation Omaloma, Essex's Sound of 2017 star Lisa Wright, alt-folk instrumental troupe Fishclaw, Scotland-via-Transylvania singer-songwriter Lizabett Russo, spoken word performer Banwo the Poet and denizens of doo-wop Be Good.

Flying the flag for BBC Music Introducing on the Saturday of this year's festival are Edinburgh genre-benders Sink, ascendant hush-popper Tender Central, acclaimed Mande master Sefo Kanuteh, hotly-tipped jazz quartet Flying Machines, Glaswegian producer and composer Iona Fortune, rapidly rising hip-hop talent Piers James, and blues classicists Amanda Brown & The Common Ears.

Sunday is rounded off by another eclectic array of talent that includes the spellbinding Tinderbox Orchestra, the elusive House of Hippies, Welsh post-folkers Adwaith, enrapturing classical guitarist Valerie Hartzell, Sheffield mainstays Black Thorn, West Midlands multi-instrumentalist Lumi HD and composer extraordinaire Neil March. Highlights from all the sets on the BBC Music Introducing stage will be available across the network of Local Radio Introducing shows, BBC Radio 3 and BBC 6Music. To find out more information go to www.bbc.co.uk/introducing.

SOLAS returns to Henham Park, bringing its signature mix of transcendental experience for the Latitude audience. Whether it's rejuvenating treatments, yoga, moments of relaxation or artistic inspiration, SOLAS has carved out an enclave of creativity, openness and excitement at Latitude. Treatments start at £30 and are available to book at www.solas.appointy.com.

In tandem with art and healing, the Solas Stage is an intimate venue which plays host to some of the best emerging UK and Irish talent from across the musical spectrum; from folk-tinged acoustic troubadours to ambient electro, from dark pop to the spacier end of electronic music.

This year sees a line-up on the Solas Stage that includes genre-straddling MC Afrikan Boy, funk-pop beach bums Parcels, folk storyteller Westerman, production wizards Blue Lab Beats, Dublin singer-songwriter Ailbhe Reddy, poptronic amalgam Talos, psych-dub maelstrom Pangani, Irish troubadourDavid Keenan, indie-house duo Le Boom and acoustic dreamers Into the Ark. Nile Rodgers' favouriteBrian Deady, renowned producer and songwriter Willy Mason, multi-instrumentalist wunderkind Leo Stannard, the critically revered Seamus Fogarty, experimental pop trio White Kite and Irish sensualistsShips also join the Solas bill.

Dutch indie-pop dreamers Klangstof, hotly-tipped 4AD signing Aldous Harding, the bright and brilliantRosie Carney, Scandi-pop five-piece Broen, Sweden's shimmering Geowulf, dancefloor stomperAndrew Kearney, restlessly inventive Danish quintet Lowly, the fingerstyle acoustica of John Smith, Australian singer songwriter Hein Cooper and the sprawling 9-piece funk-soul of TooFools round off the line up of up and coming acts on the Solas Stage.

This year we are bringing all our debate, discussion, literary & poetry events under one roof, in The SpeakEasy. From established wordsmiths to emergent talents, literary legends to radical insurgents, The SpeakEasy will host author sessions with award-winning writers, poetry performance from the brightest voices and lively discussion until late into the night.
Booker-nominated author of Brooklyn and The Testament of Mary, Colm Tóibín will come to Henham Park to discuss his latest novel, House of Names, a reimagining of the Greek classic tale of Clytemnestra's family tragedy. Also visiting The SpeakEasy for the first time, Geoff Dyer will discussWhite Sands; his creative exploration of why we travel which was recently shortlisted for the Stanford Dolman Travel Book of the Year 2017. Both Colm and Geoff will be interviewed by Guardian journalist,Alex Clark.

Sarah Winman, author of the international bestseller When God was a Rabbit and the Sunday Times Top Ten bestseller A Year of Marvellous Ways will be at The SpeakEasy to preview her highly anticipated new novel Tin Man, in conversation with The Bookseller's Sarah Shaffi.

The Women's Prize for Fiction, Standard Issue and Wellcome Book Prize will all return to Latitude for one-off panels with leading literary women. Chaired by Sam Baker of The Pool, Women's Prize for Fiction will present Stories for Revolutionary Girls with Naomi Alderman, whose novel The Powerrecently won the Bailey's Women's Prize for Fiction, author and academic Elif Shafak and co-founder of the Women's Equality Party Catherine Mayer. Standard Issue will present a lively panel with Hannah Dunleavy, Mickey Noonan, Jen Offord, Deborah Frances-White, Susie Wokoma and a special guest. The Wellcome Book Prize bring the Latitude audience their Reading Cures with Joanna Cannon, Bryony Gordon, Dr Pippa Kennedy and Di Speirs.

Andy Parsons will return to Latitude with his Slacktivist Action Group. Joining Andy to discuss current affairs and agree one direct action will be The Sunday Times columnist India Knight, Sophie Walker, leader of the Women's Equality Party and Reprieve Director Maya Foa. Carole Cadwalladr (Observer),Nick Hopkins (Guardian) and Carl Miller (Demos) will be discussing the Fake News phenomenon, chaired by Dr Daniel Glaser. James Brown (Above Head Height) and Alexandra Heminsley (Leap In)will be in discussion on amateur sports.

Latitude-goers of all ages will enjoy Choose Your Own Jolly Adventure with Bruno Vincent, the author of the hugely successful 'Enid Blyton for Grown Ups' series, with Five Lose Dad In The Garden Centrecurrently top of the charts.

Also joining The SpeakEasy line up is Global Pillage; the brand new comedy panel show podcast all about idiom, culture, customs and norms. The panel, led by Deborah Frances-White, will include Susan Wokoma, Sarah Bennetto, Bisha K Ali and Athena Kugblenu. BBC 6Music's Shaun Keaveny will also produce a special episode of his Middle Aged Night Out from The SpeakEasy with special guest Dane Baptiste, whilst Robin Ince's Festival Shambles guests are Katy Brand, John-Luke Roberts, Joanna Neary, Barry Crimmins and George Egg. History Hit Live present The Art Detective at Latitude, with Dr Janina Ramirez joined by special guest Professor Alice Roberts as they uncover history and culture through a single artwork.

Exploring their recollections of pop culture through memoir will be Lol Tolhurst and Cosey Fanni Tutti,each interviewed by celebrated music journalist Pete Paphides. Lol Tolhurst will be discussing his poignant memoir Cured: The Tale of Two Imaginary Boys, a passionate and evocative account of his time in one of the defining bands of the 70s and 80s, The Cure, and a frank and moving look at his personal addictions and his road to recovery. Cosey Fanni Tutti will be discussing her hugely acclaimed autobiography Art Sex Music which charts her rise with era-defining COUM Transmissions through to her time with Throbbing Gristle. John Lloyd will reflect upon his career creating some of the most iconic comedy TV shows including Not The Nine O'Clock News, Spitting Image, The Hitchhikers Guide to the Galaxy, Blackadder and QI, interviewed by author and TV critic, Viv Groskop.

Yours Faithfully, Edna Welthorpe (Mrs), will celebrate the life of playwright Joe Orton in the 50thanniversary year of his death. A panel led by Leonie Orton, Chris Shepherd, Dr Emma Parker and Robin Ince, will discuss Orton's life, work and perform his witty letters of complaint, written under the pseudonym of Mrs Edna Welthorpe. John Osborne, creator of John Peel's Shed and Sky 1's After Hours, will also present Circled in the Radio Times a new storytelling show exploring the changing nature of how we all watch television.

Multi-award winning poet, playwright and novelist, Simon Armitage will return to Latitude to perform from his collection of poems The Unaccompanied. Insightful, relevant and empathetic, The Unaccompanied is a bold new statement of intent. Jamaican-British dub poet Linton Kwesi Johnson will call Latitude to arms with his poetry on Saturday. Linton's highly political poetry has been at the forefront of counterculture since the 1970s and in 2002 he became the second living poet to have his work included in Penguin's Modern Classic series. Murray Lachlan Young, who shot to fame in the mid-90s when he become the only poet to sign a contract worth £1m, will present an anthology of work in How Freakin' Zeitgesit Are You?.

Recent Ted Hughes Award winner for Nobody Told Me, a poetic memoir about becoming a parent, Hollie McNish will be at Latitude to discuss her latest anthology. Plum is a genre-bending candid account of Hollie's memories from childhood to attempted adulthood. This is a book about growing up, about flesh, fruit, friendships, work and play. Hollie will also team up with Rosy Carrick and Hannah Silva to honour the Russian revolutionary poets in The Language of Revolution. Bang Said The Gun, the team who put on poetry nights for people who think they don't like poetry, will host guests Deanna Rodgers, the youngest UK Poetry Slam Champion and voice to watch, and Kriss Foster who has won plaudits for his stories about Vimto, trains and the seaside.

Recently selected by London's Evening Standard as one of the exciting new and young poetic voices in London, Richard Osmond will be taking audiences on a poetic foraging walk starting in Latitude's stunning Faraway Forest on the Saturday. Richard is a professional forager, a hobby from childhood that grew into a career and has in turn gone on to shape his life and his first collection of poems, The Useful Verse. Other poets confirmed for The SpeakEasy include: Ross Sutherland, Mark Grist, Michelle Madsen, Jonny Fluffypink, Bohdan Piasecki, BAC Beatboxers, Mark Grist, Lisa Luxx, Toby Thompson and Ian Duhig.

In Pandora's Playground, we welcome back Dylan's Mobile Bookstore where the audience can immerse themselves in the poetry of Dylan Thomas, Swansea's most famous son.

In the Music & Film Arena, Latitude is delighted to welcome MOBO founder and music industry pioneer,Kanya King to the stage for a very special interview exploring her extraordinary work to bring black music to heart of international music culture. Comedian and magician Pete Firman, known for his appearances on The Magicians and The Next Great Magician, will be joining the Comedy stage on Saturday for a performance of his trademark tricks. Hosted by Phil Ellis, London's innovative Soho Theatre will welcome hip-hop duo Rubberbandits, Swedish musical comedian Carl-Einar Häckner, Colin Hoult performing as his alter ego Anna Mann, live art provocateur Lucy McCormick and high-octane stand-up Desiree Burch. In the Theatre Arena, National Theatre Live will broadcast the Old Vic's hugely acclaimed production of Rosencrantz and Guildenstern Are Dead which stars Daniel Radcliffe and Joshua McGuire as the eponymous duo. Rave Karaoke will play karaoke classics of yesteryear in The Cabaret Theatre, presented by DJ, performer & full-time show-off Anna Greenwood.
In the Wellcome Trust Arena, Caroline Wright will present Breath Control: Osmosis, featuring classical soprano Laura Wright. Join Caroline and Laura as they lead an interactive session with the Breath Choir, exploring pulmonary health and providing a snap shot of lung capacity through song. Also joining the festival's Wellcome Trust supported programme, giving talks at Unlimited Theatre's Space Shed in the Faraway Forest, are endurance athlete Shu Pillinger, to speak about optimizing the body for athleticism on earth and in space, and Beth Healey, the doctor who spent a year in Antarctica in the name of space exploration.
Elsewhere in the Faraway Forest, audiences will encounter sheds, talks and installations from artists and companies including the V&A, who will preview images and an immersive chorus audio experience from their forthcoming Opera: Passion, Power and Politics exhibition in collaboration with Royal Opera House. This immersive exhibition spans 400 years, through the lens of seven premieres in seven cities, and explores the seminal forces that drive so many stories. Audience should also keep an eye out for The Hypercollider, Emily Goss's Grow Your Own Love Revolution, and can drop in to visit the Arts Council, Amy Winehouse Foundation and Medicins Sans Frontieres. Our unseen artists in the Faraway Forest include Metro Imaging, who support the Gallery, and Jane Lennard, who will transform the Forest's iconic Tree of Life into a mass of yellow roses.