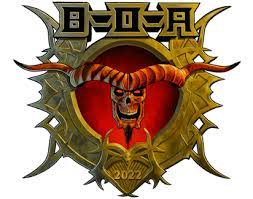 BLOODSTOCK is also thrilled to restart Bloodstock-themed club nights across the country! Local rock pubs and clubs are a key part of what BLOODSTOCK does with the 'Metal 2 The Masses' scheme, so we're stoked to support them further by announcing the first wave of club nights for 2022. Get along to your local event, hear a ton of tunes from BOA bands past and present and be in with a chance of winning a pair of standard weekend tickets, a goodie bag or various other giveaways. Dates & times are subject to change, so check locally for latest info. More cities will be announced in Phase 2 which runs through June & July, but meanwhile, head down to the following for some fun!
Friday 15th April – Exeter, Cavern – Altern8
Saturday 16th April – Southampton, The Hobbit
Friday 22nd April – Reading, Face Bar
Saturday 23rd April – Camberley, Agincourt
Friday 29th April – High Wycombe, Crash Rock Club (Bucks SU)
Saturday 30th April – Stoke on Trent, The Sugarmill – Devil's Night
Saturday 30th April – Brighton Above,
Friday 6th May – Plymouth, The Junction
Friday 6th May – Woking, Schism
Friday 13th May – Bristol, The Lanes – PHUCT
Friday 13th May – Exeter, Cavern – Altern8
Friday 13th May – Winchester, The Railway Inn
Saturday 14th May – Manchester, The Bread Shed
Saturday 14th May – Newcastle, Grindhouse
Friday 27th May – London, Elektrowerkz
Saturday 28th May – Stoke on Trent, The Sugarmill
If you've already got your ticket bagged, are you now thinking about how best to get to Catton Park? BLOODSTOCK is pleased to support two sustainable travel options – Big Green Coach (who'll drop you & your gear right inside the festival gates for minimal walking, from 33 locations around the UK & you can secure your seat for just a tenner) and Liftshare (a safe way to offer up a spare spot in your car, or nab one in someone else's & perhaps make new friends to boot). Get more info on both options over at BIG GREEN COACH and LIFTSHARE.
All VIP packages, Early Bird tix, and campervan passes have now sold out. You can still snap up standard weekend camping tickets (just £145 +fees for 4 days of heavy metal fun) plus day & child tix are available now at the ticket store. Mini moshers under age 4 get in free!