These new acts join an explosive bill of artists that includes Grimes, Sigur Rós, Franz Ferdinand, Orbital, Little Dragon, Friendly Fires, The Killers, Metronomy, SBTRKT and Totally Enormous Extinct Dinosaurs. The who's who of indie and electronic music will take to the stage at Berlin's historic Tempelhof Airport on September 7th and 8th 2012.
Now one of the most talked about artists of his generation following the release of his crotically acclaimed album 'Space Is Only Noise', New York-based musician Nicolas Jaar will conquer the stage at Berlin Festival with one of his acclaimed live performances challenging the genre boundaries of electronic music.
The hugely talented Stockholm-based three-piece, Miike Snow will also perform at Berlin Festival. Whether they're working with Madonna, Kylie or Britney, it's hard to disagree that Christian Karlsson and Pontus Winnberg make very addictive music and they're certainly no stranger to the indie crowds. We can't wait to see them whip the crowd at Tempelhof into a dancing frenzie with tracks from their sophomore album Happy To You.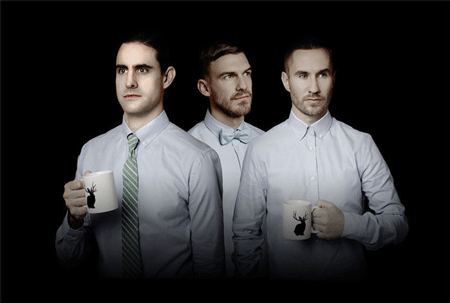 The Brandt Brauer Frick Ensemble will be the first act to play at Berlin Festival this year. TheBerlin-based trio will play a matinee show with a techno orchestra in tow before performing a live set at Club Xberg the same night.
Next up, Crocodiles. Massive guitar sounds the forte of the San Diego-based combo, formed by various punk band members which certainly explains the heavy noise pop influences.
Great melodies crash with ecstatic feelings when the boys from When Saints Go Machine lure the crowd with sophisticated electro pop and "avant-garde dance". The band from Copenhagen will perform at Club Xberg.
And finally, as part of the current wave retro trend, the Brooklyn-based duo Light Asylum is one of the hottest newcomers around. With singer Shannon Funchess' unique voice and edgy synth sounds, the band will surely mesmerize the crowd on 8th September.
All confirmed acts so far…
Friday, 7th September
Berlin Festival @ Tempelhof Airport
Brandt Brauer Frick Ensemble * Clock Opera * Daughter * Friends * Frittenbude * Grimes * The Killers * Miike Snow * Michael Kiwanuka * Nicolas Jaar * Little Dragon * Major Lazer * Kate Nash * Of Monsters And Men * Orbital * Sigur Rós * Tocotronic * We Have Band and more
Club Xberg @ Arena Berlin
Brandt Brauer Frick * Crookers * Dada Life * Dumme Jungs * Etnik * Metronomy * When Saints Go Machine and more
Saturday, 8th September
Berlin Festival @ Tempelhof Airport
Bonaparte * Jamie N Commons * Cro * Crocodiles * Django Django * First Aid Kit * Franz Ferdinand * Friendly Fires * iamamiwhoami * I Heart Sharks * Junip * Paul Kalkbrenner * Kraftklub * Morning Parade * SBTRKT (live) * Sizarr * WhoMadeWho and more
Club Xberg @ Arena Berlin
Junior Boys * Light Asylum * The Magician * Modeselektor live * Slagsmalsklubben * Totally Enormous Extinct Dinosaurs and more