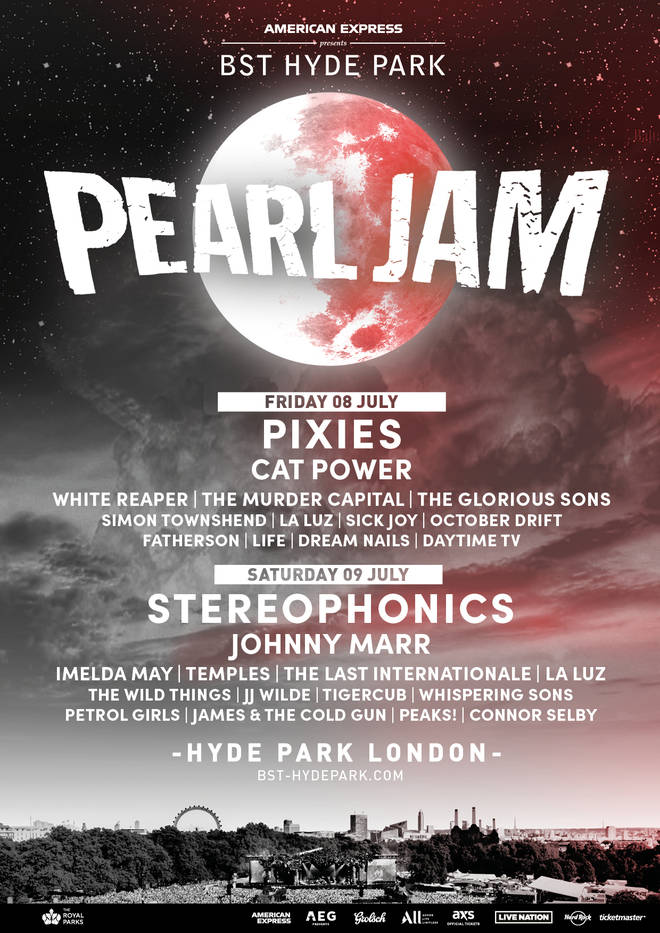 It's a busy London Saturday, the tube is hotter than satan's armpit, but we're on our way to Hyde Park for BST today… let's go.
As we head into the arena via the south entrance, we're filtered straight into the VIP area which is a tree covered shady sanctuary in the heat, along with a few food carts, a bar and an ice-cream truck. It's a small area but it's quite cute and has nice loos.
On the way into the arena we hit up the merchandise stall for t-shirts, and there are some incredible Pearl Jam art prints on sale – specific to this event, a really special and interesting merchandise option. They even helpfully have a heap of tubes so you can transport one home safely/let your child use it as a lightsaber. There's also a little bandstand stage here called 'The Birdcage' and absolutely heaps of food choices and water refill points. So far so good!
On the Great Oak stage, Dublin-based singer-songwriter Imelda May is a vision in flouncy Victorian mourning dress. She has such a dynamic stage presence and a stunning voice, we thoroughly enjoyed the Meatloaf 'I'd Do Anything For Love' cover, and hope to see her on many more festival bills in the future.
Punk rock fury from Petrol Girls on the Birdcage feels particularly prominent after the last few weeks in world events, and it's pretty great to see them pull a decent crowd of young faces – punk has always existed as a call to arms, and we need it back more than ever.
Welsh rockers James & The Cold Gun give us that shoulder-to-shoulder sticky-club-floor teenage rebellion feeling, very fun but ever so slightly strange in the setting of belting summer sun under the light of a dappled tree canopy.
Elsewhere on site the South London Samba Band hit that sunshine beat with utter perfection, they are absolutely full of energy, which spreads into the crowd around them in the form of some very questionable but joyful dancing. After all of that, it's time for a drink, and wow are you spoilt for choice here at BST. The bars are shipping containers all made up to look like a row of Santa Clara Cuban restaurants, colourful and interesting with enough different serving fronts to ensure there's never a horrendous queue.
As we take a walk around the back of the arena, the presence of advertising partners is pretty overwhelming compared to other festivals. Maybe it's a London thing, or the fact that it's a small space, but it's a bit of a bombardment. Having said that, some of it is quite sympathetically done, like AmEx giving out free water bottles and tote bags (as well as access to cold water filling stations, and the option to go into a private rooftop viewing area) seems quite welcome on such a hot day.
Around the corner there is another bar area which looks like something pulled straight from Snow White, a faux beamed pub called 'The King's Head', then there's the florally adorned Hard Rock area which directly overlooks the Rainbow stage. The Hard Rock Shop is obviously full of their own merch rather than BST stuff, but next door they've brought a sample of café items to an indoor food stall, surrounded by roadie cases of BST-relevant memorabilia, like you would see in the real Hard Rock Café. We took a peek at Eddie Vedder's signed wetsuit, Elton John's Union Jack biker jacket, and a choir robe signed by Mick Jagger. Oh and, it's shady and cool in there. Magic.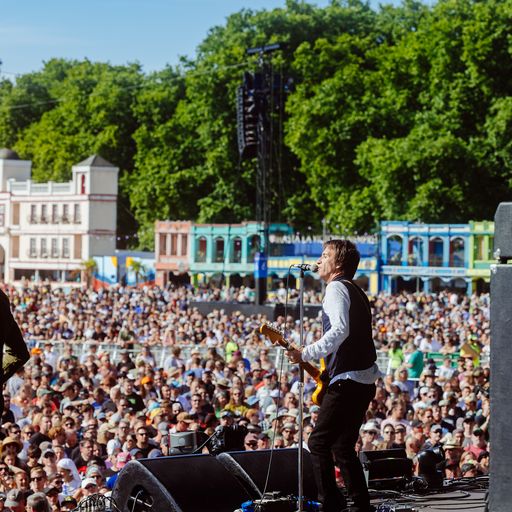 Up next on the Giant Oak we see the iconic Johnny Marr (of The Smiths fame) powering through a fabulous set with his vibrant yellow guitar. It's a mix of works from various eras of Marr's musical career – 'Spirit Power and Soul' is epic, but honestly the thing I'm most excited about – is getting to hear my favourite Smiths songs sans unavoidable Morrissey bullshit. Johnny sings them well, 'Please Please Please Let Me Get What I Want' and 'How Soon Is Now' have the entire arena singing along, and 'There Is a Light, That Never Goes Out' is so upliftingly, I suppose canonically bright.
During a small break, Marr notes someone standing in the front section on their phone and snarks "I hope you're texting 'Johny Marr is a fucking bad-ass'" we all laugh, as the person in question red-faces it to the cameras. "It feels good to be doing this again after all this time, and to see your lovely faces" he tells us, before dedicating his last song to Pearl Jam for inviting him.
On their very own stage in the corner, the chaos creators themselves, arbiters of festival mischief since the dawn of time, The Cuban Brothers – are pied-pipering the hell out of BST. As their set begins with Kengo on the mix, Juan Erection throwing shapes and as he noted to all the kids 'Uncle Miguel' brandishing a hosepipe at the crowd. There's something very comforting about seeing them back on the festival scene, albeit sans iconic brother Archerio who retired last season.
Yelling "I'm gonna pump some gas into you in the correct fashion" Miguel is as much of a bawdy menace as ever, I love it. He manages to cheekily forget that tonight is Stereophonics not last nights' The Pixies… "I don't keep an eye on who's supporting us!", sing us a verse of Even Flow and get us all to chant 'Boris Is a Dickhead' in the space of about 15 minutes. We're treated to old school hip-hop, Kengo on rollerskates, Juan doing crazy flips and Miguel yelling "Goodbye Boris you narcissistic fucking clown!" which honestly, is just excellent fun. I'll never not want to see The Cuban Brothers at a festival.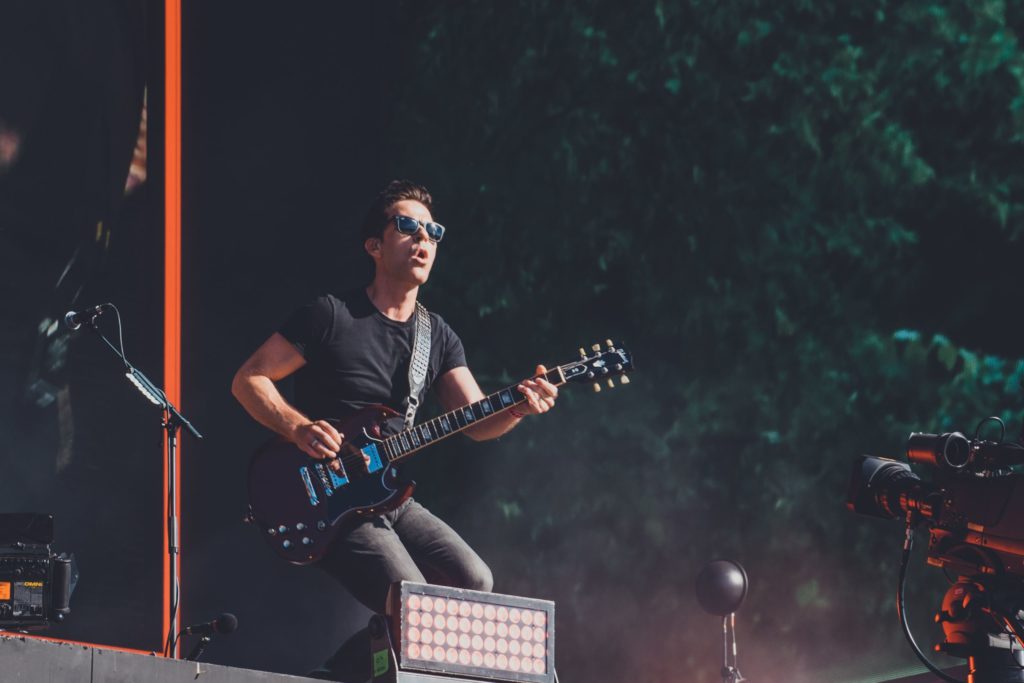 Up next, Stereophonics on the Great Oak stage. As someone who listened to a lot of Stereophonics as a kid but not much since, I don't know that I was expecting too much from them. A bit of nostalgia sure, but maybe not greatness? Happily proven wrong, Kelly Jones' voice is still grittily excellent and they give us the most epic tour of the classics that we want to hear.
"It's nearly 30 years to the day I first saw Pearl Jam, supporting Neil Young at Finsbury Park…" says Kelly, before joking that they themselves only have an hour to fit in 25 years and 12 studio albums worth of music to fit in.
'Bartender and the Thief' is followed by 'Hanging On Your Hinges' but it's the likes of 'A Thousand Trees', 'Have a Nice Day' and 'Pick a Part That's New' which really hits you in the memories. The wistfulness for the optimism of the early noughties is ripe for twanging that emotion string, things definitely feel heavier this side of a global pandemic.
'Just Looking' flows into closing track 'Dakota' with the band squinting into the still scorching hot sun to say "Thank you, it's been amazing… have a brilliant time tonight!" before leaving to rapturous applause.
We decide to check out the dinner offerings before the main act, and it is absolutely peak London in here. Truffle burger? Bhaat? Steak frites? You got it. Wash it down with some Perrier or a can of Pinot? We chose paneer wraps and churros, both of which were excellent. Festival food has come a loooong way, and I am grateful.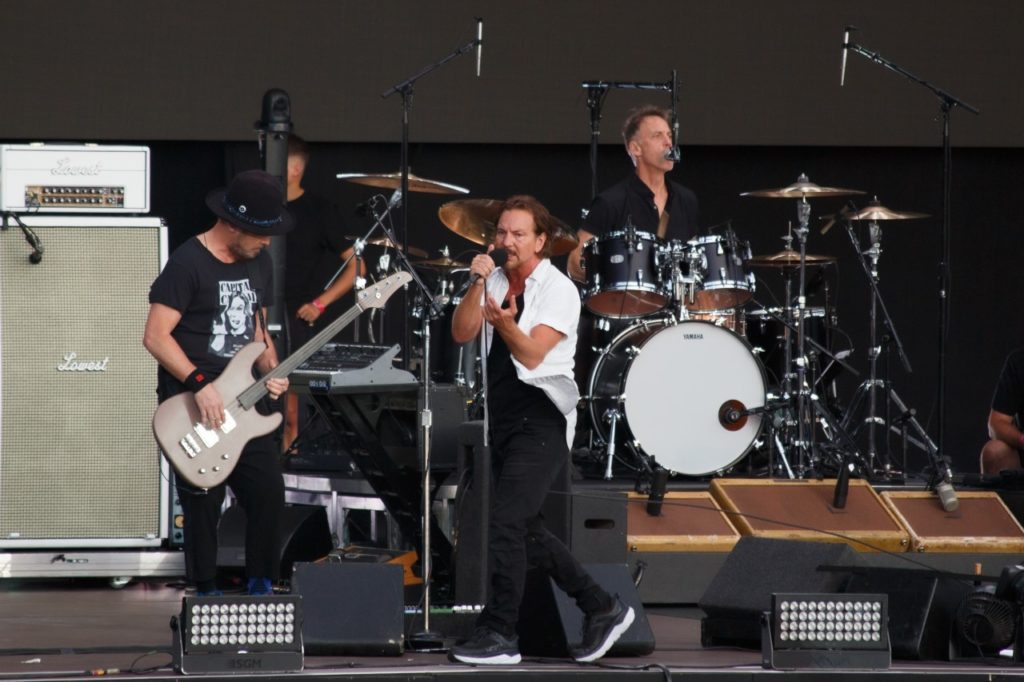 The heat haze is still shimmering over Hyde Park, the arena is suddenly packed with warm bodies, and every face is turned towards the Giant Oak stage for tonight's headliner, Pearl Jam.
There mega lighting rig above the stage reconfigures to a honeycomb style backdrop as the band take to the stage to a huge roar from the crowd. Then 10-Club VIP area at the front is definitely the best perk of the upgrade packages, as they get a full close up of Eddie Vedder emerging to The Beatles 'All You Need is Love', and images of themselves plastered on the giant wraparound stage screens above.
Without a huge amount of fanfare, the band rolls straight into the first song 'Corduroy' and its clear that Eddie's voice, and the band as whole have lost absolutely none of what made them famous in the first place. It's as raw and powerful an intro as I'd hoped for. "…hope this night goes nice and slow, we're so grateful to be here and do it again, we're gonna try and play everything we didn't play yesterday" Vedder says, and having looked at yesterday's set-list already – I know we're in for a very special and unusual set. 'Why Go' is one of my favourite Pearl Jam songs of all time, and it seems I am not in the minority, it absolutely sets the crowd ablaze, with people singing and dancing all around us.
We slip under for 'Deep' which is crushingly heavy, another Ten hit, followed by Vedder lamenting on how damn hot it still is this evening, when he notices a situation unfolding in the crowd. It seems like someone needs assistance and Vedder directs medics into the crowd saying "…make a little tributary, everyone clear some space', making sure the music doesn't start again until they're safely out. With the 2021 Travis Scott/Astroworld situation making for very bad headlines last year, I take great comfort that most artists out there do take concert safety seriously, and notice what is happening at their shows.
Not only this, but the well-known and expected outpouring of political and moral opinion by the band is also welcome – we stan a band who use their platform to raise awareness, to comment on what is happening in the world. Eddie talks about gun violence in the US, and about how it affects his family, in relation to track 'Garden' which he explains is about tombstones in a cemetery. Following this "…a song [they] wrote and performed with a legend, Neil Young. Tonight we play with another legend, Manchester's own Johnny Marr" for 'Throw Your Hatred Down'. It is nothing short of epic to see these legends grace the stage together, this is an unforgettable rock moment.
'Do The Evolution' showcases the bands unmistakable delight in playing live, the energy is infectious and seeps into the crowd – contrastingly heavy, under the rainbow pastel summer skies of London. Van Halen tribute cover 'Eruption' is fittingly brilliant, and out in the front row the camera pans across a young lad with a "1st Row" sign, dances along as Eddie uses his plaid shirt as a cape for 'Black' and manages to snag himself one of Eddie's tambourines, I am intensely jealous of a child.
A second tributary mention goes to the late great Taylor Hawkins, and is dedicated to his wife and children by the band. 'River Cross' is another thoughtful dedication to the people of Ukraine, and as the lighting rig snakes and changes to slither over them, the band drop into arguably their most famous song 'Alive'. Hearing this live, is a full body experience, the ridiculous bone shaking power that this song has over everyone is absolutely wild. If you didn't love it, I'm sorry to say, there's something wrong with you.
Closing out with The Who cover 'Baba O'Riley' wouldn't have been my number one choice to be sure, but adding in a return from Johnny Marr and Andrew Watt, I can't deny it's pretty special. It's been such a different and varied set from last time I saw them, many moons ago at Leeds fest 2006. Grateful doesn't even cut it – how lucky are we to be back outside after the absolute shitstorm of the last couple of years, witnessing something like this?
Live music isn't just fun, isn't just entertainment, or diversion. It's the lifeblood of what it means to be humans with shared experiences. Pearl Jam tapped into that reservoir tonight, it was clear on so many awed faces leaving the arena. Thank you BST for making sure this happened, despite every setback.