FRIDAY
Would it even be a Download weekend if there wasn't at least the threat of rain? It's grey but holding off as we head into the arena for a day of pure rock and metal shenanigans. The first notable difference is the somewhat extreme, and numerous bag checks. We'd been warned via the site and social media that only A4 sized backpacks and smaller would be allowed into the arena, but didn't realise that there would also be multiple check-points between the car-park and actually getting in to see the bands. Not to worry though, the checks are pretty quick and efficient, and soon we are cresting that hill for the first amazing sight of the arena.
I'd also like to do a quick shout-out at this point to Download's ever evolving experience enhancements. Big plastic tracks have been installed around the second stage area making both walking in general and getting to the Accessibility platform via scooter or wheelchair easier than ever, and they have employed professional BSL music performance interpreters for the Main and Zippo Encore stages, giving even more fans access to this incredible event. They have also increased accessibility shuttles from the campsites, provided a wheelchair charging station and increased their accessible portaloos by 50% on last year. This continual thought and attention to feedback is impressive, and Download is one of the few festivals out there who seem to be really improving access year on year, in all kinds of different ways. Bravo.
So, the Arena. If you're a rock or metal fan and you haven't been to Download before, all I can say is, it's like coming home. All the beautiful freaks are right here with their astral hair, their pleather and fishnets, jackets covered in patches and piercings in every available inch of spare skin, tattoos blooming from black tshirts and ripped jeans. Oh and at this point in the day, approximately half of them are jammed in a never-ending queue to buy merch. Bah. Tips for next year DL – employ at least twice as many staff for this please, it was obnoxious.
Extortionately priced t-shirts in hand, we stride down the hill to catch up with the mighty Dragonforce who have gathered a massive crowd for 'Cry Thunder', prophetically as the rain begins to spit. Thankfully that's where the correlation ends, but it is still pretty ridiculous when they yell "We are Dragonforce… we come from right here in sunny England…". Frontman Marc Hudson also lets us know that they "…are filming every single song of this set… so the rest of the world sees how fucking crazy the UK is" which obviously sparks a frenzy for the next song, only to fall foul of technical difficulties. If sod wrote a law, the page would be titled 'Dragonforce' today. Laughing "It's so great when your mic cuts out in front of thousands of people…" they deal with it gracefully and end on a high with 'Through the Fire and Flames'. Oh and no, I'm still not over Herman Li's majestic hair swishing. Werk.
Yorkshire band Marmozets fronted by enigmatic Becca Macintyre are straddling the line of hipster rock, almost too current-cool for Download but they certainly know what they're doing. Yelling out "Last year I was camping with you lot" Becca hops around in bright pink trousers whilst a Darth Maul in the crowd is going absolutely mental with his inflatable lightsaber.
Over on the Zippo Encore stage, self-professed king of the party Andrew WK has amassed an army of bemused onlookers, if not actual fans. Yes he's kitschy, yes he rocks up in pre-dirtied white jeans and yes he pulls faces like a more demonic Jim Carrey, but well, he's our weirdo. The rock community is strangely proud of him. Fan fave 'She is Beautiful' is silly and fun and I really rate a dude who can build anticipation with the line "…and now it is time… for me to play a guitar shaped like a slice of pizza". No really, damn I love that pizza guitar. As if he wasn't margarita-cheesy enough he calls "It's not Andrew UK… it's Andrew DOUBLE UK, double the power!" and then proceeds to do an actual 100-1 countdown for anthem 'Party Hard'. It is frankly ridiculous that everyone likes this terrible track so very much. I of course am bouncing around with them.
Now for something completely different, in the form of Danish metalheads Volbeat. Now Volbeat are no strangers to DL but they never seem to be hyped up either, someone you know but wouldn't flock to. Not so today my friends, Volbeat are here to slay. The enormous crowd that has surrounded the main stage is singing along to 'Lola Montez' and frontman Michael Poulson's Elvis-esque lilt is refreshingly different to your standard screamer vs. power vocal camps. As if to highlight the difference in fact, Barney of Napalm Death fame (who have a set later on) is brought in for a quick collab on 'Evelyn' with his distinctly unintelligible shrieking, but oh we do love a bit of Barney don't we. 'Still Counting' goes down a storm for their last song and honestly, I think they are arguably the band of the day for me.
On the zippo stage, Hell is for Heroes have about 30 people down the front watching them, which is kinda sad actually as they were by no means awful at all, and their cover of The Cure's 'Boys Don't Cry' was decent. However, I think they definitely fell foul of their timeslot – everyone seems to be getting their food and booze situation sorted before tonight's headliners.
That's something we should really mention actually, the food. It's been getting steadily better every year at DL but this year was off-the-charts excellent. An incredible variety but also quality, gone of the days of rat-burgers and CMOT-Dibbler style saugages-inna-bun. Truth be told, you can still buy a box of suspect noodles if you want the real Doningtons-past experience but why would you? We instead grabbed ourselves a stack of butter-milk chicken in a brioche bun and a side of poutine. Effing decadent.
In the Avalanche tent Bad Religion are shutting it down, rocking on to an intro of 'My Sharona' and looking decidedly less punk than they used to. No worries though, they sound exactly as good as they ever have with the likes of 'Recipe for Hate' and Tony Hawk Pro Skater hit 'You'. Yelling "Everyone gearing up for a big weekend huh? I got some bad news… we can't stay for the whole weekend… there was a backstage clause, Axl kicked us out…" the band head into the excellent 'Anesthesia'. 'Infected' is the sound of the 90's and the packed out crowd is straight up loving it.
As we head back out to the main arena for Avenged Sevenfold, as huge crowd has already gathered and though we are donning toastier clothing for the chilly night, we're still damn thankful for the minimal rain today. To read what we thought of A7X's headline show, click the link below!
Read our full Avenged Sevenfold review HERE
SATURDAY
Weather report: still holding, patches of sun spotted but we're keeping quiet because we don't want to jinx it. Still packed a poncho.
Monster Truck are providing the heavy rock sounds as we head into the afternoon, already drunk people are taking enormous risks with their phones on the high-flying sky-swing (do it for the 'gram y'all) and lunchtime calls for another foray into the plethora of nourishment offerings. Seriously, vegan sushi, paella, duck fat roasted potatoes, a bowl of crumble and ice cream, wings, burritos, tapas, full roast chicken dinner? You want it, they have it. Oh and the now famous Motley Brew are serving up an array of hot beverages in real mugs, and they even have seats. You can take your Coachella VIP champagne and caviar and shove it up yer arse, we're British. We like a CUPPA and a GOOD SIT DOWN.
One very notable thing on walking/squeezing around the arena today – it is RAMMED. Day sales for G'n'R must have been good this year because it is truly packed. Local lads The Struts give it big on the main stage shouting "You know we used to live in Derby just down the road… and we used to come to this festival and stand where you're standing now… it's incredible to be up on this stage" to a roar from the crowd. We love a hometown hero, but I'm less convinced on their actual show. I mean, they're not bad as such, just a bit wet compared to everything else I've seen this weekend. The Temperance Movement however, muster all the southern soul a grey afternoon needs to get with the programme, and indeed they seem to bring out the sun a little. 'Trouble' and 'Midnight Black' are phenomenal and it's more than a little hard to believe boho frontman Phil Campbell, with his maracas and tambourine, swaying in a lace shirt – is actually Glaswegian.
Thunder step on stage to AC/DC track, er, Thunderstruck. Well, why wouldn't you. 'Wonder Days' and 'River of Pain' are pretty epic, it's so great to see a band who are just absolute pro's at what they do. Joking "Hands up who wasn't even born in the 90's" makes for disturbing viewing (thanks for that, Thunder, so kind) but they are absolutely killing it so I'll let them off.
Over at Zippo Encore, there is no longer any visible section of floor. This is the busiest I've ever witnessed this arena without it being a headliner for sure. It seems like Babymetal's fan base is a lot larger than anticipated and to be honest, sheer fascination seems to be driving a large portion of people in rather than actual fandom. Podium platforms for dance showcase the three firecracker leads who are sporting gold and black Xena-warrior-princess style outfits. Yeah it's super kawaii nonsense but the music is actually decent and hit 'Chocolate' is both ridiculous and annoyingly catchy. I sort of love them.
Onto something we can pretty much all agree on. Kentucky kings Black Stone Cherry are Download's biggest love story. A band championed by fans ever since their first showing here back in 2008, a decade of repeat requests for their billing, and it's no wonder why. They are honestly flawless, vocalist Chris Robertson is arguably one of the best rock and roll singers going, he soars through 'Blind Man' in the now blazing sunshine, and everyone around us is singing their hearts out alongside him. Thankfully this time 'Rain Wizard' doesn't coincide with a hideous downpour, as it did a few years ago, and 'Me and Mary Jane' has the entire crowd bouncing. A cover of Hendrix's 'Foxy Lady' is made for this Wayne's World worshipping crowd – yes, we did dance like Garth, yes it was magical. 'Like I Roll' and 'Blame it on the Boom Boom' see crowd-surfers flailing towards the front and 'Lonely Train' is just, incredible. Closing up with 'Family Tree' from the new album, this has been yet another epic showing from BSC and we hope to see them back again soon.
With a huge chunk of time before Guns'n'Roses we lope off in search of sustenance, beer and portaloos as the evening draws in. It's been an incredible day here at Donington and we are suitably amped up for the closest we've ever been to a full G'N'R lineup…
Read our full Guns'N'Roses review HERE
SUNDAY
WOAH. It is HOT today. Not England hot, like equatorial hot. Everyone either has the sheen of well slathered sunblock or is already burnt to a crisp and the whole place after three days of booze and no showers, smells like an armpit. A rowdy afternoon starts with the likes of Turbonegro and Kreator on the Zippo Encore stage and Hatebreed are throwing down on the main stage, yelling "This is for Dimebag, Lemmy, Chris Cornell, Chester (Bennington)… I wanna see every fist in the sky" for 'Perseverance'. It is at this moment that a small bi-plane flies overhead with a banner reading "Jesus loves every 1 of U" and the fists become horns. Hard to tell whether it's a joke or we're actually the subject of some local zealot's fear, but either way everyone is laughing and trying to take poor phone photos of it.
In This Moment bring the strange and unusual next, with everything from priestess costumes, skulls and pentagrams to choral music and interpretive dance. I don't really know what to make of them if I'm honest. They sound like metal-Bjork. Is it a good thing? I mean I do like the toilet-paper costume, but their mini cover of Metallica's 'For Whom the Bell Tolls' is a little upsetting. I did laugh at the Game of Thrones Cersei-style 'Shame' poster situation, but there is a nice sentiment behind it all; "…this is what I was told when I was just a girl, that I would amount to absolute shit, that I would become nothing at all… this last song is about rising above other people's perceptions" – for 'Whore', accompanied by huge white balloons being batted around the crowd.
Black Veil Brides sport pyrotechnics and screaming, standard. It's decent but they are eclipsed by next up: Shinedown. Super appropriately it is scorching hot right now and they are smashing their way through some straight up great rock and roll. Motivational as ever, frontman Brent Smith invites everyone to shake hands with a stranger next to them, and hit 'State of my Head' goes down a storm. "Take a look at the history you're making this afternoon… ladies and gentlemen you look absolutely spectacular today" yells Smith, and I must sincerely disagree, we look fried, tired, sweaty and smashed. But I do appreciate the love.
Over in Avalanche, happy pop punk legends A are playing to a packed out tent, which is suspiciously full of pale people avoiding the sun-monster. Riffing on their age "hands up if you're over the age of 30… hands up if you've got 2 properties… you know when bands re-form and they're like 20 years older and you're like why are they bothering? We just really fucking enjoy this" the band speaks to a place in all of us, who are genuinely here for the same reason – even if we're sort of proper grown ups now. Oh and they start an over-30's circle pit, cause it's funny to go home to your office job with two black eyes, right?
Now, was anyone else truly alarmed by the sight of Marilyn Manson in daylight? I was. I thought he was going to spontaneously combust, burst aflame, incinerated by the power of sunlight. I mean he's so pale as to be almost translucent – at one point he turned sideways and I swear I could see a passing plane through his face. However, it's an absolute treat to have the master of the macabre here at Donington and he does not disappoint, rolling in with 'Irresponsible Hate Anthem' backed by a giant inverted monochrome crossed American flag.
Sporting a knuckle-duster mic and a long black trench, it takes all of about two minutes before he looks as though he's sweating his ass off and has to ditch the look, pogo-ing down the runway he calls "Thank you for coming out in daylight… it's like the opposite of our lives… do you like daytime? I don't… we're kind of stuck here together with daytime… let's deal with it" perhaps displaying a little animosity towards the scheduling. It's true, his show and music both lend themselves to a dark and brooding atmosphere, it's a little hard to get caught up in the bloodlust when the big tattooed bloke standing next to you is eating a 99 with a flake.
'Disposable Teens' is obviously solid gold but it's more than a little amusing that due to there being no option to control the lighting, we get to see people rush on an off stage during the show to dress Manson in various different outfits. More amusing still is that it is genuinely too hot for any of it and he keeps having to peel it all off himself within minutes. He's clearly frustrated about it too "It's very difficult, but together we can accomplish it… like having sex with the lights on".
'mOBSCENE' comes with a vampiric Manson backdrop and during 'Kill4Me' he drags a crowd-surfing mega-fan on stage with him. She's head to-toe Manson-merch and is sporting an "I'd Kill 4 you" flag, obviously ecstatic to hug him as he slaps her ass and sends her on her way, before togging up in an enormous Howl-like (of Moving Castle fame) black feathered trench-coat. Think, demonic Big Bird.
Talking to us as he emerges from a corner of the stage "I was just having a moment with my personal physician, with my eyesight and the sun…" it's not clear whether that's a joke or he's ahem, getting medicated, but it seems extremely apt that we head into 'The Dope Show'. 'Sweet Dreams' is breathy and brilliant, there's some writhing around a smoking podium which looks rather uncomfortable, and a little bit of using drum sticks to hit a bass guitar. It's a bit off, and I can't put my finger on why. Dani Filth joins the action for 'The Beautiful People' and unfortunately he finishes up a little slow with 'Cry Little Sister'. I'll be honest – Download have definitely seen him better, and I hope next time we can at least give him the night.
Closing up the Avalanche for the weekend are Sweden's mischievous mayhem peddlars – The Hives. We've seen them in white suits, we've seen them in black suits, and today – they've sown them together for half and half suits. Aesthetic on point. Yelling "Did you miss us? It's good to see again isn't it? Did you miss this face?" it's clear they are here for fun, and they have lost absolutely none of their famous energy and life. 'Die, Alright' is awesome and 'Hate To Say I Told you So' brings back a wave of college memories, of afternoons in dingy pubs and cover bands. "We have come to the part of the show where we expect way more applause than we are getting…" garners a massive roar from the absolutely packed tent, and "…this is reparations for all the shit we stole from you in Viking times… we're giving it back in the form of musical treasure!" makes everyone laugh. They are an unstoppable force, jumping from amps and swinging mic stands around their heads with wild abandon, they just look like they're having the absolute best time, and so are we.
As the sun begins to set we head back to find a spot in the main arena, cover up our burnt bods and grab a beer before our final headliner – Ozzy Osbourne. It has been yet again an incredible weekend and if you've never experienced Download before, I can scarcely describe it to you without gushing. It's a well-oiled machine and you don't get this kind of bang for your buck anywhere else, I have witnessed a host of the best in rock and metal, in a field with my friends. Does it get better than that?
Read our full Ozzy Osbourne review HERE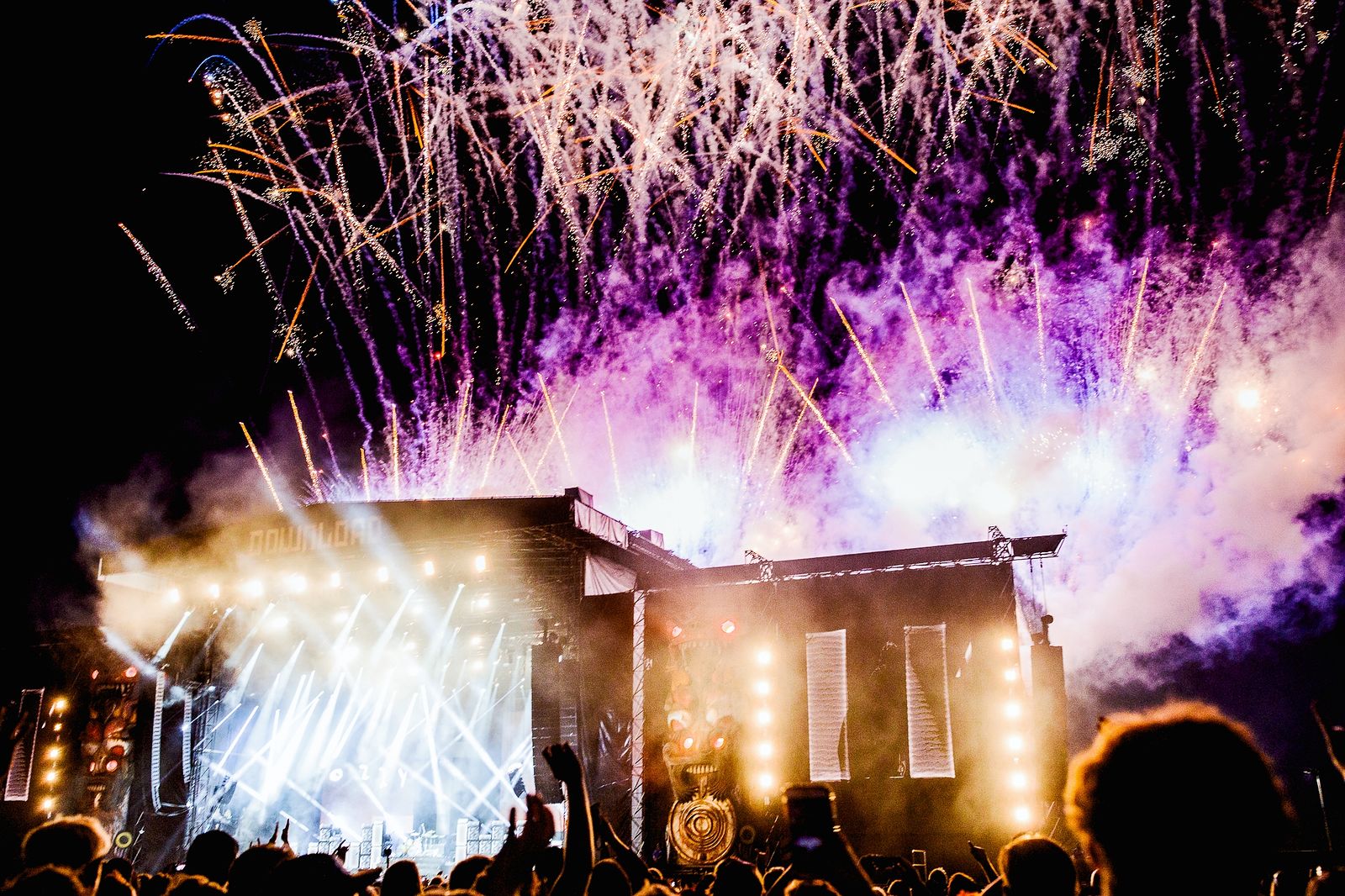 © Image courtesy of Download Festival: Kyle McLoughlin