The rain has held off all day, we've weedled our way into the middle of the black sea of metal-tees – beer in hand, and it's time for the first headliner of Download Festival 2018 – Avenged Sevenfold. Heading out onto the Donington stage for the first time in 2006, A7X have been firm favourites at the festival, returning in 2011 and then 2014 to headline, but this is something else entirely.
The stage is set with a raft of giant screens depicting stone murals and front-man Shadows appears in his now signature garb of a red and black plaid shirt and an Axl-style bandana strapped around his head, yelling something or other about Jesus, as the band scream straight into the entirely apt 'The Stage'. 'Afterlife' is heralded by a bombardment of pyrotechnics in the form of massive flame cannons, which serve to singe the whiskers off anyone in the front five rows, and to the surprise of many around us – they're absolutely nailing it. I suppose the problem with A7X has always been their willingness to explore so many different styles of rock and metal, from prog to hardcore and everything in-between. They're not 'that' polarising band that you either love or hate, they're just somewhere in the middle, where a song or two might chime with what you like. As such, it can be hard to accept their set as anything other than a mash-up of whatever they feel like that day, but honestly, today it's more like an expert tour through metal as a genre.
Vengeance and Synyster are back to back, playing intricate harmonies and it's clear that from a sheer musical perspective, they deserve their top of the bill spot here at Download. Yelling "It's our favourite goddamn place in the world to play" is always guaranteed a roar from the crowd in the UK, whether it's true or not, but the sheer force and power of 'Hail to the King' rings the sentiment true, and here's where it gets interesting. Taking more than a small cue from metal legends Iron Maiden I'm sure, a giant zombified king is ushered in from the back of the stage to 'crawl' above the band and inexplicably, to sing along. This kind of production is usually the reserve of giants like Maiden or Viking Power-metal bands who just really believe in their storyline, but hey, maybe that's what the current festival scene is lacking? The 90's and noughties saw a phase of rock and metal where any kind of gimmick or even loud clothing was considered tacky and unprofessional, leaving a hole in big-scale shows which covered the entertainment factor, as well as musical prowess. Are we due a proper resurgence of pantomime metal? I'm not sure it's a bad thing, it keeps things interesting in a long set at the end of a busy day of bands, and who doesn't love an enormous skeletal king having a sing-song anyway?
With a sobering video tribute to former drummer James "The Rev" Sullivan who died in 2009, they head into 'So Far Away', followed by the massive 'Nightmare'. Yelling out "…we're taking it back to the beginning, none of that shit we've been playing all year, this one's just for you" the band roll into a track from their second album – 'Eternal Rest'. Just when you thought it couldn't get weirder, yet another giant installation is floated out above them on stage… a humungous skeletal space-suited spectre, as grim as it is spectacular, and the screens change to dark starry skies as the night truly sets in over Donington Park as the band hit the ahem, high notes of 'Higher'.
A cover of Pink Floyd's 'Wish You Were Here' is dedicated to celebrity chef Anthony Bourdain, who was reported to have committed suicide in the early hours of the morning, and Shadows implores anyone who is struggling – to seek help; "…we lost Anthony Bourdain today. It may seem silly but he's a guy that showed us all different cultures and different people… that we're all equal… so reach out, we all feel the same way".
Bringing things back to a safer, louder space 'Shepherd of Fire' inevitably sees the stage… well… on fire. Pretty much all of it in fact. You've got to wonder what their total carbon footprint is for this entire set. Joking "We're gonna have some fun… all the people who hate us have gone back to their tents", A7X finish up with 'A little piece of Heaven' a delightful song about murder and necrophilia, and then 'Unholy Confessions'. No really, and the entire crowd is singing along as if it were as normal as a school assembly hymn. I mean, metal has always been known for hitting up risqué topics but there's something undeniably jolly and therefore unnerving about this. If there's one thing you can say about Avenged Sevenfold, it's that they're not afraid to go there. Well, anywhere really. Tonight was a triumph of their absolute willingness to do whatever the fuck they want. Bravo I say.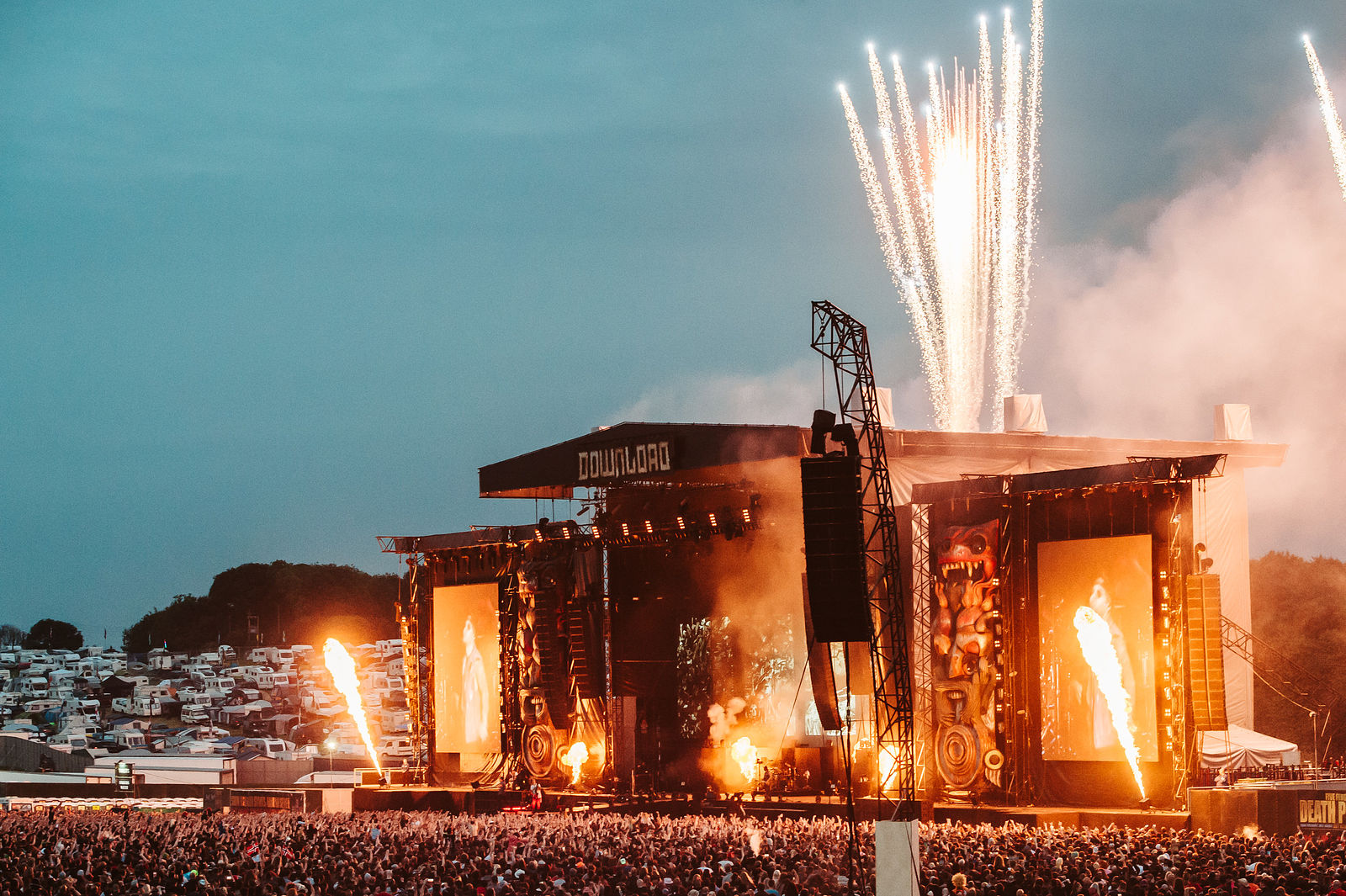 © Image courtesy of Download Festival: Matt Eachus