SW4 2012 ARENA HOSTS…
SATURDAY: SUBLIMINAL
THE GALLERY PRESENTS EVOLUTION · BEDROCK
SUNDAY: TOGETHER
ALL GONE PETE TONG · RAM20
On the Saturday house legend Erick Morillo returns to SW4 this summer for his first London appearance in over seventeen months and his ONLY UK Festival performance this year. With his set one of the 'must see' performances in London this summer, it makes perfect sense for 'Subliminal', his Pacha Ibiza night and trend setting label to take full control of its own tent. On parade will be the same beautiful people and extravagant clubbing experience one has come to expect from Subliminal, with Erick starring alongside An21 & Max Vangelli, Funkagenda, Sneaky Soundsystem, Sunnery James and Ryan Marciano, Tim Mason and very special guest Roger Sanchez.
Paul van Dyk and London institution 'The Gallery' join forces at SW4 2012 to present the biggest trance lineup in London this year. Featuring an array of talent who PvD personally feels has an affiliation with his new 'Evolution' album concept, Paul will be joined by Markus Schulz, Gareth Emery, Aly & Fila, John O' Callaghan, Richard Durand, Claudia Cazacu and Gary Proud. Combined with an extraordinary live show, which merges the soundtrack, imposing stage and hypnotic visuals, expect excellence in the art of sound!
John Digweed's Bedrock returns to SW4 this summer to host an arena bursting at the seams with the best in underground house and techno DJs. In honour of the namesake label, John has been an irrepressible force in London this year. Setting things up perfectly for SW4, his monthly XOYO residency has rekindled that classic Thursday night slot, with capacity crowds filling one of London's most forward thinking venues. Bedrock has always translated well to the great outdoors and this summer will be no different with John featuring beside Joris Voorn, Âme, Guy Gerber, Robert Babicz, Laura Jones, jozif and the Mixcloud DJ competition winner.
Lethargic after Saturday's excursion? The booming DJ Magazine arena hosted by Together is bound to revitalise the senses. The Together tent at SW4 2011 was arguably the most energetic, whilst last November's Together Winter Music Festival at Alexandra Palace confirmed the night as a dominant force. This summer Together packs its bags to host a sixteen date Tuesday night summer residency at the legendary Amnesia Ibiza but returns to Blighty for SW4. This time round Together brings with them the inimitable flair of 2 Many DJs (DJ set), Eric Prydz, Simian Mobile Disco (DJ set), Erol Alkan, Green Velvet, Brodinski & Gesaffelstein and Jeremy Olander.
This summer the world's undisputed ambassador for electronic dance music returns to South West Four, this time hosting his very own arena. That's right, SW4 goes 'All Gone Pete Tong'! The clubbing credentials of All Gone have already been well proven, with a blowout season at Pacha Ibiza last summer, followed by a Bestival showcase and sell-out London warehouse party. In 2012 another Pacha residency has been confirmed, whilst the SW4 arena represents the biggest All Gone party to date. Pete hosts proceedings and is joined by Sasha, Seth Troxler, Maya Jane Coles, Dyed Soundorom, Eats Everything, Jaymo & Andy George and Connected's Jesse James & Johnny Bloomfield.
Last but not least the biting sounds of Andy C and 'RAM Records', revered amongst drum and bass connoisseurs. This year is the seminal label's 20th Anniversary with the celebrations launching on Clapham Common. Through its association with London nightspots The End, Fabric and Matter, RAM is responsible for some of the greatest clubbing moments the capital has ever experienced. Andy C headlines, bringing with him his audio / visual 'Alive' arc, with further drum and bass coming courtesy of Friction, Delta Heavy and Loadstar. Flux Pavilion, Jack Beats, Borgore and Doctor P also bring the bass, making this arena a real SW4 treat.
That's the arena hosts done and dusted, sure to be gleaming in the sparking South London sun. But these tense tarpaulins are nothing without artists, so let's take this opportunity to tease out some more. Sit comfortably and enjoy…
ADDED TO SW4 DAY ONE: SAT 25TH AUGUST
AN21 & MAX VANGELLI
SUNNERY JAMES AND RYAN MARCIANO · TIM MASON
VERY SPECIAL GUESTS: LET THE MUSIC PLAY [EXCLUSIVE]
An21 & Max Vangelli begin the latest Saturday additions, after their Ministry of Sound outings have become some of the most talked about on the superclub's roster. Theatrical breakdowns and jacking grooves have built a reputation that sold out their MOS gig on New Years Eve several weeks in advance. This should come as no surprise, what with the duo being protégés of none other than Swedish House Mafia. Signed to Steve Angello's trailblazing 'Size' label, twelve months of world domination culminated in November's sensational Essential Mix. Touted as one of the best of 2011, it was crowned by the An21 & Max Vangelli remix of 'Save The World.' Previously named in DJ Mag's 'Top 5 To Watch,' it's peak time house all the way.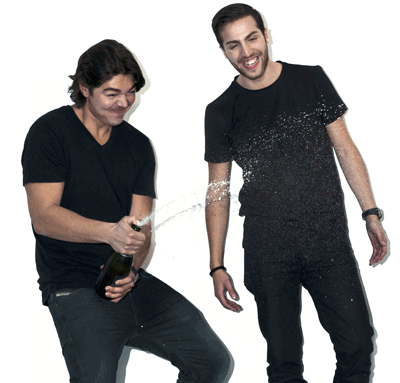 "Let The Music Play"; the motto of SW4 over its illustrious nine year history. But for this summer, it bears even more significance! On the Saturday we welcome the top secret project for their world exclusive performance. Encompassing red hot energy and euphoria, their tracks 'Stars' and 'Waves' have received major radio support in recent weeks. Keep your eyes peeled for more info.
Dynamic duo Sunnery James and Ryan Marciano, blur the boundaries of house music in accomplished fashion. Perhaps best known for their rousing re-work of Tiesto's immortal 'Lethal Industry,' only the most skilled could enhance a true classic – re-building it into a deep, funky stormer. As Axwell so eloquently puts it, "if there were a Dutch version of Swedish House Mafia, it would be Sunnery and Ryan." As if any more endorsement was needed, Morillo has snapped up S&R for an exclusive Subliminal residency at Pacha Ibiza this summer. Demonstrated by the groundbreaking 'Amazone Project Vol. 3,' it's dirty Dutch house at its best.
Tim Mason is a self professed purveyor of pure house music. 'The Moment' is one of the anthems of 2012 thus far, having been adopted by Tiesto and Steve Angello. A climatic build that explodes into a devastating hook, this debut track has the accolade of being signed to Angello's 'Size.' With such a global platform to shine, this is most definitely Mason's moment. New track 'Amina OMG' is of the same quality, summing up perfectly his big room house. Both these are sure to send SW4 wild, so check them out and envisage as the sun sets. Just beautiful…
ADDED TO SW4 DAY TWO: SAT 26TH AUGUST
BRODINSKI & GESAFFELSTEIN · DELTA HEAVY · LOADSTAR
JAYMO & ANDY GEORGE · JEREMY OLANDER
JESSE JAMES & JOHNNY BLOOMFIELD
Brodinski & Gesaffelstein, a French pairing that stands apart from their conventional countrymen associates. Brodinski is whirring techno, bass heavy house through to melodic minimal, whilst Gesaffelstein utilises wide ranging excerpts from broody techno and engaging electro. The result is an atmospheric musical soundscape that has to be witnessed live, their contrasting sounds playing off one another in mesmeric fashion. The joint 'Bromance EP' and tour has been captivating dance floors with the inimitable underground sound, unique to SW4 this summer. Brodinski and Gesaffelstein back-to-back, a bromance made in heaven!
Delta Heavy are the standard bearers for RAM Records' new roster of talent. Flying high and proud, with rocking remixes for those at the top of their game; Example, Avicii and Chase & Status amongst their pulsating production portfolio. Their endeavours paid off with 'Best Producer' and 'Best Newcomer DJ' at the prominent Drum & Bass Arena awards. New EP 'Down The Rabbit Hole' will definitely take you down a deep and dark D&B tunnel. Aggressive waves of churning bass and blistering beats, exactly the kind of heavy stuff we can expect from the guys at SW4.
Another of the RAM recruits, Loadstar have an inextricable 'Link To The Past.' This track described by DJ Magazine as "a huge alien mammoth", it scooped 'Best Single' at the 2010 D&B Arena awards. With such production nous, it's no wonder acts of such calibre are queuing up to work the Loadstar boys. For example SW4's headliners Chase & Status and the chart topping Example! Their production efforts on the latter, earning a sought after gold record for 'Changed The Way You Kissed Me.' Guaranteed stars of SW4 2012.
Since starting their fledgling night 'Moda' back in 2008, Jaymo & Andy George have always championed the party. Now they hold shindigs all around the world, showcasing their policy of having no music policy whatsoever! A daring strategy, which paid dividends when the Radio 1 Essential Mix rolled into their home town of Lincoln. A riveting Moda musical montage, which included mainly of their own vibrant productions and cheeky remixes, resulted in mass hysteria. This led to a current Radio 1 'In New DJs We Trust' show, plus residencies at We Love Space and Fabric. Plus the recent launch of 'Moda Black', an outlet for their darker output.
Up next, another protégé nurtured from the Swedish stable. Under the wing of Eric Prydz, Jeremy Olander was the guest of honour at his recent Ministry of Sound album launch. Such was the success of his main room outing, Olander's outlandish approach threatened to overshadow even Prydz himself! An upbeat progressive and heavy melodic sound, which has graced the prestigious Warehouse Project, Gatecrasher and Cocoon clubs in recent months. We can't wait for 'Animal Garden' to be dropped, a rhythmic bassline that blossoms into a cacophony of twilight synth splashes. Irresistible bait, for Clapham's dancefloor animals.
Completing the hat trick of pairings for this final day, London's newest kids on the block. Jesse James and Johnny Bloomfield are residents at Connected, one of London's most esteemed underground house nights. These guys aren't here just to make up the numbers, but mean serious business with their new track just released. Entitled 'Chucks Groove' and sampling Public Enemy, Jesse and Johnny's deep tribal taster will ensure they make many good friends on the Common.
There you have it. Eight infatuating arenas and a host of smoking line-up additions – that can't have failed to enhance that undying SW4 hunger. Still to come the final pieces of the South West Four jigsaw. More meaty line-up announcements including our Sunday live headliner, which at the moment is G14 classified. Well not really, but you get the idea…