!!! (CHK CHK CHK) / CRAZY P
WILLY MASON / GREG WILSON / TROJAN SOUND SYSTEM
THE NEXTMEN feat MC WREC / BIGKIDS / THE SKINTS / COSMO (Cosmodelica) / TURBOWOLF
FIGURES (live) / REVERE / BEANS ON TOAST / GOLDEN FABLE
BELAKISS / THE FABULOUS PENETRATORS
plus…
DEATH IN VEGAS / BEARDYMAN / FAT FREDDY'S DROP
CASIOKIDS / FIELD MUSIC / GABBY YOUNG AND OTHER ANIMALS / KING CHARLES / STEALING SHEEP YEARNERS / DUB PISTOLS / VADOINMESSICO / JENNY O. / special guests THE TIME AND SPACE MACHINE
and many more still to be announced…
Dance-punk's finest, California's !!! (Chk Chk Chk) come to the UK to play Standon Calling, their only UK festival show! Their live shows are about freedom of expression, unadulterated punk and pure escapism.
Crazy P bring one of the UK's best dance music shows – a showcase punctuated with brilliant pop, eclectic disco and soulful rhythm funk that's sure to get the crowd moving. A legend in his own right, Greg Wilson is a true DJs' DJ – widely respected as one of the masters of the re-edit, and an exponent of disco and electro-funk sounds. Colleen 'Cosmodelica' Murphy is an eclectic, experimental DJ and producer and all-round purveyor of the psychedelic, the Balearic, and the cosmic.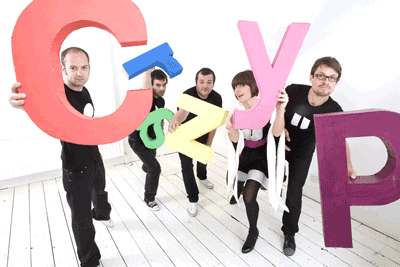 Willy Mason's headline performance on The Lordship stage promises to be special. Trojan Sound System are all about the reggae vibes, a collective of sound system legends like selector Earl Gateshead and Daddy Ad, and vocalists Superfour plus Chucky Banton who are considered some of the world's best reggae party-makers. The Nextmen feat. MC Wrec bring the jump-about party to Standon. Expect anything from dancehall, drum'n'bass and dubstep to reggae, roots, UK funky, indie and leftfield. It will go off!
Turbowolf venture into psych-rock; hotly tipped lo-fi duo BIGkids promise samples, saxophones and sunshine singalongs; reggae and dub upstarts The Skints take the bull by the horns, with an all-singing, all-dancing party; and electronic production duo Figures bring live low-tempo electronic house music. Plus there's seven-piece band Revere, folker Beans on Toast, psych-rockers Belakiss, who toured with Kasabian, Welsh chamber pop duo on-the-up Golden Fable, and slick rock'n'rollers The Fabulous Penetrators.
ALSO AT STANDON
This year's headliners are Death in Vegas, Beardyman and Fat Freddy's Drop. Rock meets electronica as Death in Vegas heads up Saturday night. Richard Fearless's minimal beats meet psychedelic flamboyance and progressive rock stamina meets throbbing basslines. Beatbox, MC, musician and all-round vocal genius, Beardyman joins Standon Calling 2012, promising a non-stop show! And sliding in on Sunday, bringing with them their own brand of party-ready dub-funk-reggae-soul are Fat Freddy's Drop.
The Time and Space Machine, Richard Norris's latest – and trippiest – exploration of the psychedelic side of music, Norwegian synth-poppers CasioKids and engaging wonky electronic pop brothers Field Music are on the bill. Gabby Young and Other Animals returns, wilder, bolder and more irresistible than ever. MTV-tipped King Charles will thrill with his curious glam folk pop breezy sound, while ones to watch Stealing Sheep continue the psych-feel, with harmonic pop. Catch innovative three-piece folk band Yearners, see delicious 'freak'-folkers Vadoinmessico or get lost in singer-songwriter Jenny O.'s infectious melodies.
THEME: JOURNEY TO THE ENDS OF THE EARTH
Standon Calling's theme is conveyed through the music, theatre, arts and fancy dress. And every year the costumes get more ornate. What will you come as? This year the theme is about adventure and the spirit of discovery: Journey to the Ends of the Earth.
The fields of Standon will be transformed into every unexplored corner of the world and your imagination. Watch acrobats swing from the Amazonian branches of the tree bar, discover creatures of the deep in the pool and dance late into the night with fantastical creatures in the Cowshed Club. The next morning take to the skies in a hot air balloon before crash landing at the feet of the giants of Gulliver's Travels. Invent, create and discover yourself in the greatest adventure Standon has ever undertaken!
Heritage Arts Company presents the greatest treasure hunt Standon has ever seen: AN UNEARTHLY CHILD. Collaborating with Rolemop, Meet Alice, Circus Space performers and others to be announced, HAC create an interactive game for adults and children – with every part of the game an enjoyable performance for festival-goers… Nobody does interactive theatre like Standon!
There will be DJ outposts across the site to encourage late-night exploration. Dig It Soundsystem is a big, bad portable bike-pulled soundsystem that has become a favourite at Standon. The Groove Garden is a disco/chillout space centred around a customised garden shed, it creates a summer barbeque feel with a wide-open music policy, games, face-painting and lots more. The ever-popular Rockaoke returns to the Cowshed – indulge your fantasies of being a rock star. And, new this year, Beatbox Workshop comes from some of the UK's most exciting emerging beatboxers – an opportunity to learn the basics, and discover your potential.
The UnderCovers Literary Lounge returns to Standon, this time at the Lordship Pub, with poets, authors and comedians to entertain you. And there will be more literary Twister! Brought to you by Clapton's Ultra Large Format darkroom Analogue Photo Booth is an experiment in mobile portraiture where the sitters produce their own portraits. Pose resplendent in your costumes on the Saturday before the fancy dress competition, or capture that magical festival moment and develop your own prints.
Take to the Standon skies on your very own balloon adventure. Around the World in 80 seconds! Join Standon newcomers Salon present Fresh Perspectives of Science, Art & Philosophy – The Most Fun You Can Have Without Sex. It's an experience like no other, where expert presenters – hand-picked from three disciplines: Psychology, Science and the Arts – share their skills and spill their secrets. If you crave something different, with a friendly crowd and some of the UK's most interesting speakers, this is for you…
Autumn Shift: Performance, Cinema & Calm returns with massage, bellydancing lessons, jewellery-making, sock puppet workshops, a 48-hour film competition, lazy Sunday morning papers, open mic, discussions, nightly cinema, singing workshops, live film score, and many more intrepid happenings! Enjoy all manner of treatments, hairstyling and yoga by the river bank. Or attend the Clare Trenchard Sculpture Classes for some therapeutic art.
The Dog Show is back. This time no human contestants are allowed, although no doubt a few will slip through! There's the swimming pool – Standon is the only UK festival with its own pool! Standon Calling's homage to the Olympic Games will be just a little leftfield – with obstacle courses and fun on the lawn. And that's not all – there's still much more to be announced…