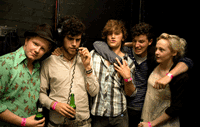 Adding to the international bands, Bilbao BBK Live will also showcase the best of the current Spanish indie scene, also announcing performances by Vetusta Morla and Lori Meyers.
Having recently confirmed RADIOHEAD as the first headliner of the 2012 event, Bilbao BBK Live establishes itself as one of the major festivals of the European festival circuit, attracting the biggest names in music. Previous editions of the event have included headliners such as Coldplay, Pearl Jam, Depeche Mode, Jane's Addiction, RHCP and Suede.
Three Day Early Bird tickets to the festival, which include camping, are available for just £73 until the 24th of January on See Tickets, Ticketweb and Lastminute.com.
More acts will be announced very soon, so stay tuned to our website
Bilbao BBK Live festival is held on top of a hill surrounded by mountains offering spectacular views over the city of Bilbao. The privileged location of the site, its proximity to the city and beach; and a late start of bands, allow festival goers to make the most of the experience. Bilbao, a modern city famous for its architecture, museums and gastronomy is just a stone's throw away from the beach and some of the best waves in Europe.
This is above all a fuss free festival; with an uncomplicated layout, easy access from the city and airport, Bilbao BBK Live has proven to be a huge success with national and international festival goers. The two main stages and band's schedule, guarantees that acts never overlap, so you get everything you have paid for and much more!
More info
Festival: Bilbao BBK Live (www.bilbaobbklive.com/2012)
Dates: July 12th-14th 2012
Where: Kobetamendi, 10 min bus ride from Bilbao city centre
Tickets: Early Bird Three Day Pass incl. camping – £73 (until the 24th January) available on See Tickets, Ticketweb and Lastminute.
Line-up so far: Radiohead, Klaxons, Noah and the Whale, Snow Patrol, Band of Skulls, The Gift, Vetusta Morla and Lori Meyers
Schedule: TBC
Doors Open: Thursday 9th July (16.30pm)
Doors close: TBC