Skunk Anansie Live – Bournemouth O2 Academy
Tuesday 27 August. Review – Graham Tarrant
Celebrating their 25th anniversary together, Skunk Anansie are back on the road touring – it's clear why they're described as one of the greatest live bands the UK have produced as they blew away the Bournemouth crowd at the O2 Academy.
Skin burst onto stage in mesmerising fashion like a rock goddess wearing her spiked hoodie. Opening with 'Charlie Big Potato', she flicked her hood back to rapturous applause from the adoring crowd hypnotised by her energy.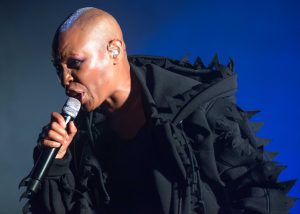 It's tricky to know how Skin should follow such an electric start, but she turned it up a notch further – during the following song 'Because of You', she leapt from the stage, surfing while held aloft by her adoring crowd still singing her cut-throat love song.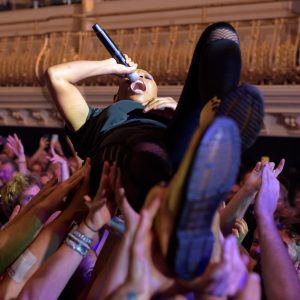 As the first first black British woman to headline Glastonbury in '99, she hasn't aged a day. In fact, she joked that while the audience were exhausted and sweating, she still remained cool and relaxed. Sickeningly, it was true despite her diving from the stage throughout the set.
The band remain as relevant as ever in the troubled divided times we live in, playing classics such as 'Intellectualise my blackness' and 'Yes it's f*ck*ng political', along with a new song tonight 'This Means War'. Along with recent single 'What You Do For Love' , these songs were highlights of the set – which is often rare when fans want to hear the classics from their 25 year career. If there's anything good to come out of the shambles that is Brexit, it's the possibility that the band will continue to be re-energised and write powerful tunes reflecting the disgusting rise of populism, not only in the UK but across the world.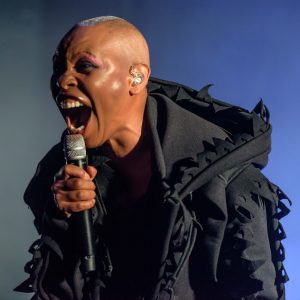 As well as their own vast catalogue, Skunk Anansie played a great rendition of Highway to Hell. Even when screaming above Ace's guitar, her voice remains note perfect, and on softer songs, such as 'Hedonism (Just Because You Feel Good), the tenderness remains.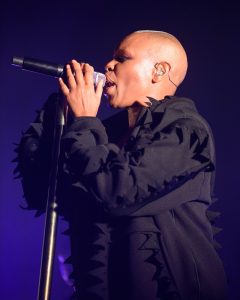 Skin asked the crowd what song should finish the set, and there was only one correct answer – 'Little Baby Swastikkka'. Not to be outdone by the adoring crowd, the singer again joined the audience in the mosh-pit, before surfing from the back of the packed crowd back onto the stage in impressive fashion.
This country has produced few better female voices and live, they are a sight to behold. Having bought their live album [email protected], the band have to be seen to truly bring the sense of awe to life.