Love Saves The Day returns to Bristol's Castle Park in May for a third edition of the cutting edge music festival. Having sold out in both its previous years, months in advance of the shows, Love Saves The Day has expanded to a two date event for 2014 and will once again immerse Bristol in the very best electronic and bass music.
Saturday
Rocking the Main Stage on Saturday will be local hero Eats Everything whose expertly crafted mix of classic 80s and 90s house and contemporary UK bass has seen him receive such accolades as DJ Magazine's 'Best British DJ' and 'Best Breakthrough Producer' awards as well as becoming the highest new entry in Resident Advisor's celebrated 'Top 100 DJs Poll'. Radio 1's Annie Mac is a true champion of the underground and one of the most in demand club and festival DJ's on the planet. Her widely respected Friday night slot on Radio 1 is essential listening and Annie always knows how to work the crowd.
Clean Bandit are one of the most exciting new dance bands in the UK, and have recently scored their first Number One in January with 'Rather Be' feat. Jess Glynne. First appearing at Love Saves The Day last year, we are really proud to have them return to play one of the premier slots on the Main Stage.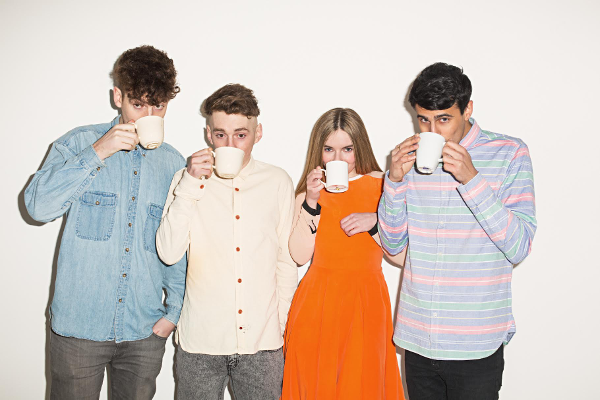 Returning to the fold after a brief hiatus are the mighty Hercules & Love Affair. A collaborative rotating door of personalities, led by the ringmaster of Andy Butler, the new line-up promises some amazing new music and a brand new album this spring, featuring such amazing voices as John Grant, Rouge Mary and Belgian Singer Gustaphe. One thing that we know is whatever the ensemble, H&LV have always put on shows to remember!
Cyril Hahn's expertly executed take on deep house and modern R&B has made him the go-to remixer of the the moment. With influences stemming everywhere from French filter house and hard-core punk through to an affinity with the reverb soaked tones of modern post-rock it's no wonder that this twenty-something wunderkid has made fans of such electronic and indie luminaries as Diplo, the XX, Jessie Ware and his PMR label mates Disclosure
Nina Kraviz sublime combination of deep house and techno has seen her become one of the hottest new names on the scene whilst Craig Richards flies the flag for the tech house fraternity.
Love Saves The Day is delighted to welcome Norway's Todd Terje who is described by Mixmag as the 'King of the summer jams' and will be performing live at the festival as well as Subb-An, Waifs and Strays, Crazy P, Solomon Grey, Moko,Motor City Drum Ensemble, Feel The Real and many more to ensure that Saturday is a relentless aural feast.
Sunday
Sunday will see the mighty SBTRKT headline the main stage at Love Saves The Day. From his early dub-tinged club focused singles to the crossover success of his self-titled debut album, Sbtrkt has never been afraid to push musical boundaries and his forthcoming 2014 album is one that is sure to break new ground in what we understand as live electronic dance music.
Preceding Sbtrkt will be one of the most respected names in music Jamie XX. Outside of his day job in Mercury Prize winning electronic indie outfit the XX, Jamie is a prolific producer and remixer. His signature combination of haunting melodies and low key club percussion provide the backbone for his work. An active DJ career, collaboration with the late, great Gil Scott-Heron, production work for rap heavyweight Drake and a series of remixes for Radiohead are an indicator of exactly how diverse an artist he has become.
Surely one of the most hyped and eagerly anticipated albums of 2014 already is forthcoming from Neneh Cherry with RocketNumberNine. Produced by man-of-the-moment FourTet, with guests such as Robyn featuring, it is Neneh's first solo album in 17 years. Neneh also has a special affinity with Bristol, having been amongst the first to champion the 'Wild Bunch' who later became 'Massive Attack', lending them her studio many years ago that enabled the recording of the seminal 'Blue Lines'. This is going to be a pretty special Bristol show for us all.
Paul Woolford's Special Request moniker was launched in March 2012 via two bold white label 12" singles. The project captures and distils the energy and unruly conventions of UK pirate radio and uses that as a springboard of inspiration for a series of productions that span from heavyweight darkside techno to chaotic, eye of the storm jungle tear-outs. We've long been a fan of Woolford's sets and can't wait to see him perform as the rampant Special Request.
Despite the generations between them, dub production stalwart Adrian Sherwood and fresh-faced dub step producer Pinchhave teamed up to create an incredible clash of heritage dancehall, reggae and modern electronic music. Their set will be highly anticipated as will performances from drum & bass legend Shy FX, bass boy of the moment Dismantle and another of Radio 1's champions of dance music B. Traits. The legendary Greg Wilson will take to the decks at the UK's finest electronic music festival with Gentleman's Dub Club, A Sagittarian, Jus Now, Congo Natty and many others ensuring that festival goers enjoy the very best electronic sounds the globe has to offer.
Love Saves The Day partners with some of Bristol's and the UKs finest clubbing institutions including Just Jack, Futureboogie, The Dance Off, Teachings In Dub, Black Butter, Digital Soundboy, The Blast, Horse Meat Disco and Soul Train.
More names will be added shortly as Love Saves The Day builds upon the legacy it laid down over the past 2 years.
CURRENT CONFIRMED LINE UP (Alphabetical)
SATURDAY 24th MAY
Andy Butler / Annie Mac / Apex / Black Butter / Bodhi / Christophe & Lukas / Clean Bandit / Craig Richards / Crazy P Sound System / Cyril Hahn / Dan Wild / DJ Q / Eats Everything / Eton Messy / Feel the Real / Felix Dickinson / Foundations / Futureboogie / Gotsome / Hackman / Hercules and Love Affair / Horse Meat Disco / Joe90 & Dave Harvey / Just Jack / Kidnap Kid / Kove / Maribou State b2b Pedestrian / Motor City Drum Ensemble / Moko / Nina Kraviz / Origins / PBR Streetgang / People Like Us / Piff / Shambarbers / Shapes / Snakehips / Solomon Grey / Subb-an / The Dance Off / Todd Terje / Tom Rio / Waifs and Strays / 4ours
SUNDAY 25TH May
A Sagittariun / A.Quake / Aba Shanti-I / Breakage / Congo Natty with Nanci + Phoebe / Crack / Digital Soundboy / Dirty Talk / Dismantle / Dubkasm / Durkle Disco / Dutty Girl / Falling Up / Felis / Fire Man Sam / Francis Inferno Orchestra b2b Fantastic Man / Gentleman's Dub Club / Greg Wilson / The Heatwave / Idle Hands / Jakwob / Jamie XX / Javeon McCarthy / John Talabot / Jus Now / Laid Blak / Livity Sound / Ms Dynamite / Neneh Cherry & RocketNumberNine / Pardon My French / Quantic / Sam Binga ft. Redders / SBTRKT / Sherwood and Pinch / Shy FX / Sip The Juice / Soul Train / Special Request / Stylo G / Teachings in Dub / Tessela / The Blast / Trap