After she was forced to pull out from last year's event, WOMAD are delighted to announce that Alice Russell, one of the UK's greatest soul singers of this – or any other – time, will be treading the festival's boards this summer, offering an excellent opportunity to witness a woman whose vocal range is matched by the gamut of emotions that underpin her performances. Also from these shores, Nitin Sawhney ONEZERO is the live incarnation of the polymath's ONEZERO album, a cut-straight-to-vinyl retrospective that revisited key moments from his extensive back catalogue.
Jetting in from the other side of the planet are evergreen WOMAD favourites Fat Freddy's Drop, the seven-piece New Zealand crew whose heady brew of dub and soul (plus a smidgeon of techno) never fails to fire the festival vibe. Another multi-membered band flying in – albeit from the somewhat closer Balkans – is Goran Bregovic whose Wedding & Funeral Orchestra marry their leader's rock-star past with the exuberance of the gypsy brass band tradition.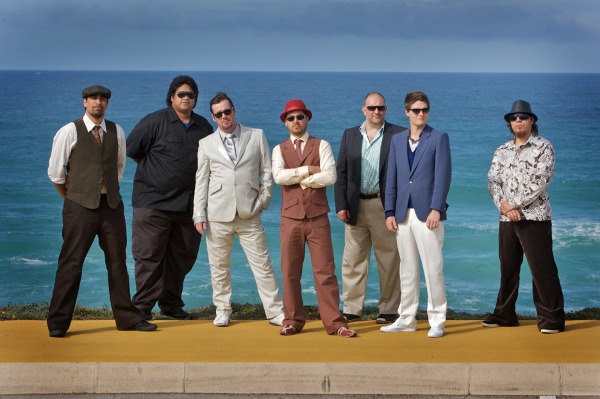 Africa, of course, is always well represented at WOMAD – and Mali, in particular. Bassekou Kouyate and Ngoni ba represent the musically rich country this year. Having graduated from Toumani Diabate's band to become a star in his own right, Bassekou is the world's most celebrated player of the ngoni, the ancient harp lute of West Africa. From the other side of the continent comes the mighty Mulatu Astatke. If you've ever cupped an ear in the direction of the Ethiopiques reissue series (or to the soundtrack of Jim Jarmusch's Broken Flowers), you'll be familiar with this bandleader/composer's lithe and sensual Ethio-jazz. Mulatu's performance promises to be a very special one indeed.
Another venerable elder statesman from the top table of African music makes a hugely welcome return to the WOMAD stage when Oliver Mtukudzi – and his excellent band The Black Spirits – remind us of what a joyful sound those shimmering Zimbabwean guitars can be. Also returning to Charlton Park is the Norwegian singer Mari Boine who melds elements of folk, rock and jazz to joik, the traditional music of her Sami homeland. Mari's records have previously been released on the Real World label, WOMAD's sister organisation; new Real World signings The Gloaming are also Wiltshire-bound, a five-strong folk super-group that, in the words ofThe New Yorker, "moves the music of Ireland in captivating new directions".
Once again, this summer's festival includes some intriguing new, transnational collaborations. These include the mouthwatering partnership between Cuban pianist Roberto Fonseca and Malian songbirdFatoumata Diawara that aims to explore shared traditions, despite their respective homelands being divided by the Atlantic Ocean. Another attractive teaming-up features former Carolina Chocolate Drops songsterDom Flemons and Martin Simpson, one of the finest folk and blues guitarists these shores have ever produced. Both are impeccable players, making this collaboration a must-see.
Of course, WOMAD's reputation isn't just built on shipping over an unending stream of world-famous artists. Every WOMAD event is fuelled by the spirit of discovery, by encountering performers previously unknown and unheard. Accordingly, the headline acts of future years could be found among the likes of…
Kobo Town (Trinidad/Canada)
Delightful modern-day calypso from Port of Spain (via Toronto) and underpinned by roots-reggae rhythm and brass.
Mahsa & Marjan Vahdat (Iran)
Women singers from Iran are hen's-teeth-rare, making the intertwining, undulating twin voices of these two sisters from Tehran an important inclusion on this year's bill.
Anna Cinzia Villani & MacuranOrchestra (Italy)
From the heel of Italy – and performing in the pizzica pizzica style – comes this soulful singer who's every inch the equal of your favourite fado singer.
Ibibio Sound Machine (UK/Nigeria)
Fronted by female singer Eno Williams, this project is a brilliant fusion of West African funk and disco and to-the-minute electro.
Magic Drum Orchestra (UK)
The drum is everything for this 20-piece percussion collective, delivering samba, Afrobeat, dubstep and almost everything in between.
Nuru Kane (Senegal)
Wide-reaching Senegalese troubadour whose one-world vibe is seasoned with plenty of strong North African flavours.
The Good Ones (Rwanda)
Genocide-surviving trio whose music is as powerful as their story. "The raw, emotional results are undeniably impressive," says Mojo magazine.
Salim-Sulaiman with Karsh Kale (India)
Bollywood musical directors and siblings Salim and Sulaiman Merchant join forces with Asian Underground pioneer Karsh Kale to create an epic, widescreen soundscape.
Ethiopian jazz, British soul, Kiwi dub, Balkans brass…. This is just the start. Over the coming weeks, dozens more artists will be unveiled as the line-up of one of the red-letter weekends of the British summer takes shape. And, believe us, it promises to be a classic.