On June 6 and 7, 80,000 people descended on Heaton Park for Parklife 2015, indulging in headline sets from Disclosure on Saturday and Rudimental on Sunday, while Hudson Mohawke, Todd Terje, Jamie XX and the weekend's highlight, FKA twigs, had Summer Festival Guide darting from stage to stage.
SATURDAY
Saturday belongs to Jamie XX. Throughout a perfectly-crafted set, 'Girl', 'Gosh' and 'Sleep Sound', along with the soon-to-be defining track of the summer festival season, 'Loud Places', and older percussive house gem 'Far Nearer' pack the Now Wave tent – one overexcited reveler climbing the tent's rigging, becoming barely visible, to an eruption of cheers as he carefully eases back down.
Earlier, in the Big Top, Everything Everything – dressed in matching red suits – belt through new material, their current single 'Regret' achieving anthemic status.
Disclosure's graduation to main stage headliners comes with a plethora of new material from their imminent second album, 'Caracal', along with a host of upcoming vocal talents. 'White Noise', 'F For you' and 'You & Me' gain as incredible a response as expected, but it's Guy and Howard's newest creations which stand out, as the Lawrence brothers tease, "Parklife, we've got some surprises for you". Lion Babe's leading lady Jillian Hervey – with the longest legs and wildest hair SFG HAs ever seen – comes first, her R&B-orientated vocals perfectly complimenting the slinky synths of an as-yet-unnamed track as she struts across the stage in arm-length silver gloves and nearly knee-high black boots. London-based future R&B vocalist Nao soon follows, her vocals and onstage presence similar to Aluna Francis, before Kwabs' soulful tones command the crowd from a raised platform throughout two untitled tracks. The arrival of American jazz legend Gregory Porter for an on-point rendition of current single and collab 'Holding On' mesmerises the mainly young crowd with his unparalleled ability to hold a note, fusing two musical worlds seamlessly. After a brief stage leave, 'Help Me Lose My Mind' and 'Latch' – the latter is dedicated to Sam Smith who's just recovered from vocal surgery – sees friends on shoulders in a moment of hysteria.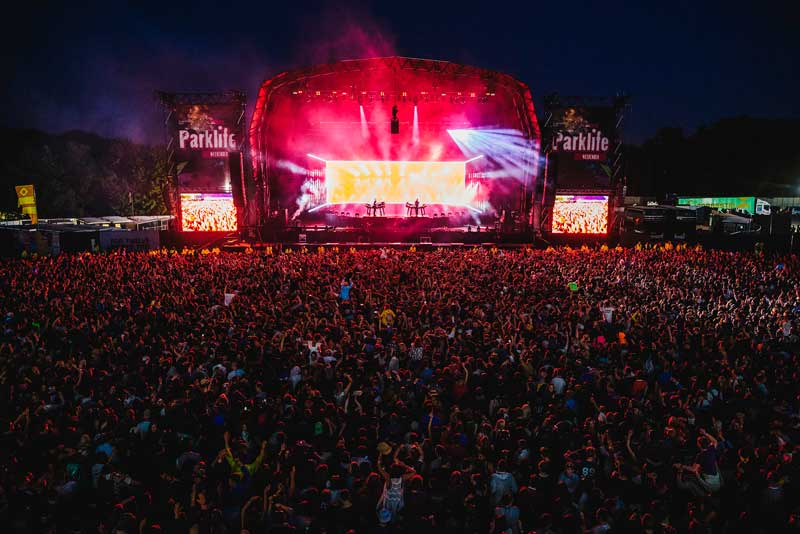 Bidding farewell for the evening, the flocks of thousands head for the shuttle bus appropriately chanting the lyrics to Blur's 'Parklife'.
SUNDAY
As SFG arrive on Sunday, Ella Eyre is playing to a massive crowd to the main stage despite her early afternoon set placement, launching herself across the stage in a leopard print leotard, belting out 'Deeper' and 'If I Go' along her energetic way.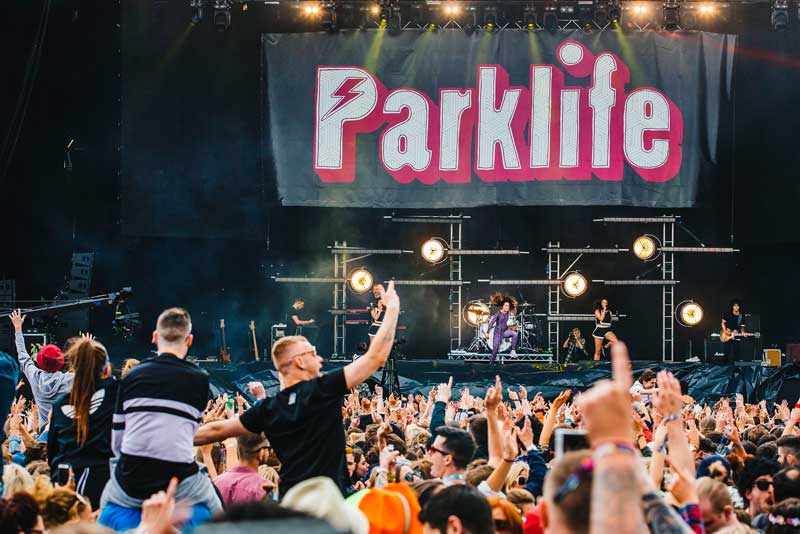 Later, Labrinth arrives – suit and shades on – blasting through his synth-heavy chart hits 'Earthquake', 'Pass Out' and Sigma-collaboration 'Higher', the latter emptying everyone's lungs.
Meanwhile, in an equally busy Resident Advisor tent, Jimmy Edgar and Machinedrum – together they're known as J.E.T.S – pump out thumping techno as green inflatable aliens and neon balloons are slung around in the air; Ben UFO's back-to-back set with Pearson Sound continuing the bass-heavy electronic onslaught.
Oliver Dollar's back-to-back with Jesse Rose proves an early evening highlight, opting for Dirtybird's booty-house with Claude VonStroke's 'Make A Cake', assuring an up-tempo energy from the off.
Over at the MK Area 10 stage, Ben Pearce – of 'What I Might Do' fame – drops a housier edit of Take That's 'Relight My Fire', completely unexpectedly.
Later, in the Big Top, James Bay proves himself as having the potential to command the main stage in a year's time; 'Let It Go' and 'Best Fake Smile's infectious chorus inducing a sense of euphoria.
US-based Sango, sporting a Manchester City sports jacket, opens the Kaytranada stage on Sunday with hip-hop and trap-influenced bubbling synths and bass beats in a tucked away Greek coliseum-like vicinity; even the security guards are bouncing along as they make their way through the crowd amidst a sparse edit of Skepta's 'That's Not Me' and a Cashmere Cat-sounding remix of Drake's 'Through The 6'.
Chet Faker, sporting a topknot for the occasion, packs the Sounds of the Near Future stage with his synth-laden sound. Alone at first, he intricately and passionately delivers electronic instrumentals, before he's joined by a guitarist and drummer. Encouraging us to "use those muscles" before 'No Diggity', a sea of phones are hoisted to record the cover, as everyone's vocal muscles flex while singing along to 'Drop The Game'.
Bristol duo Blonde meanwhile pack the Drop The Mustard stage with their summery house anthems 'Foolish', 'All Cried Out' and 'I Loved You' as part of a new live show, wheeling out guest vocalists – expect them to be as big as Disclosure this time next year.
Todd Terje, with his live band The Olsens, who alternate between saxophone, flute, bongo drum, guitar and keyboard, build into their funky set with zooming laser synths, though it does take a while for the crowd to warm to the sounds. 'Delorean Dynamite' and set closer 'Inspector Norse' soon get them moving though, as the funky bass line kicks in; one Terje fan who's celebrating a birthday screams "this is the best day of my life" while his friend, clearly intoxicated, jokes, "is this Lady GaGa?"
Jungle's well-deserved transition to the main stage sees them play to a massive crowd, the summery weather perfect for their almost 70s sound as the seven-piece perform their biggest hits, 'Julia' and 'The Heat' just as the sun beams down.
Back in the Sounds of the Near Future tent, Hudson Mohawke walks onstage with a new live set up, bringing out Redinho on keyboards and Two Door Cinema Club's Ben Thomas on drums. Drawing on material from his new album 'Lantern' and his and Lunice's collaborative project, TNGHT's biggest hits, intense bass and red strobes match the maximalist electronica of 'Acrylics' and 'Higher Ground', sending the crowd into mass hysteria.
An hour later, FKA twigs, visible only through a cloud of smoke, leaves thousands in awe, as her hauntingly ethereal performance remains compelling from start to finish. Easily the largest crowd of the day, there's a ritualistic sense to her set as she flows through her debut album 'LP1' and new material from her imminent third EP, 'Melissa'. With an incredible vocal from the off, twigs, dressed in double denim with her hair to one side, is joined by a three-piece band who delicately tap their synth pads respectively, producing the intense, almost apocalyptic trip-hop beats of 'Water Me', 'Number' and 'Papi Pacify'. How she was once only Jessie J's backing dancer is unbelievable for her unique talent as a vocalist, dancer and performer. Effortlessly charismatic, the entire crowd's eyes are transfixed on her throughout the hour set as she reaches vocal notes you didn't know existed, all whilst popping her body around the stage. Removing the denim jacket to show off her toned body in a stripped white top, her enigmatic presence is made even more likeable when she speaks, sweetly and humbly. "It's great to be back in England," she delights, "I just got back a week ago." Closing with a faultless rendition of 'Two Weeks' and then 'How's That', it's evident that the summer festival season belongs to FKA Twigs.