Importing music from the four corners of the globe, and all points in between, WOMAD Charlton Park is how UK festival-goers get to hear the widest selection of music on the planet. And, with the announcement of more artists appearing at its 2014 gathering, it just got a little louder.
The latest crop of performers heading to this particular country park in Wiltshire in late July represents another mixture of both 24-carat, A-grade artists and those performers whose music you've yet to hear and fall in love with.Youssou NDour falls into the former camp, a global superstar who first climbed onto a WOMAD stage almost 30 years ago. The Senegalese singer has dominated West African music throughout the intervening decades, and rekindling his special relationship with WOMAD offers another opportunity to treat those ears to one of the planet's most exhilarating voices.
Another exhilarating voice belongs to Bobby Womack, the soul survivor currently enjoying a fabulous, long-overdue renaissance. His most recent record, the Damon Albarn-produced The Bravest Man In The Universe, was an extraordinary return to form, confirming the strength of his powers after all these years, as well as introducing him to a whole new eager generation of acolytes.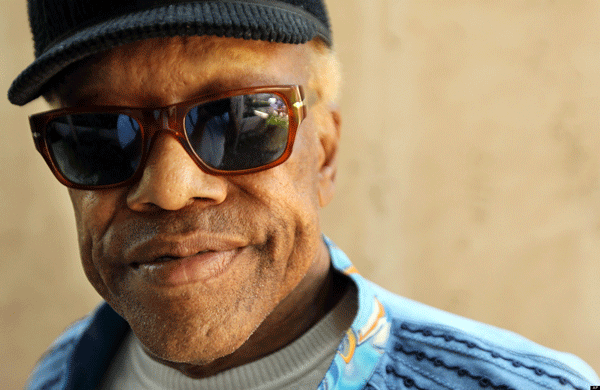 One more veteran showing that advancing years offer no barrier to an ongoing music-dominated existence is Manu Dibango. Now a scarcely credible 80 summers young, the Cameroonian saxophonist continues to blow long, hard and funky. Presenting his 8 Decades show that recalls the high spots of his career, expect the roof to raise several inches when he kicks into his biggest hit Soul Makossa.
Another man bringing his horn to Charlton Park is Trombone Shorty. Born into the New Orleans brass band tradition – and playing his instrument on the city's streets at an impossibly early age – Shorty has, with his band Orleans Avenue, developed his sound into an attractive funk/pop/hip-hop hybrid – when he's not in the recording studio with U2, Eric Clapton or Lenny Kravitz, that is.
The 12-month period between WOMAD's Charlton Park festivals doesn't find the team snoozing the days away in hibernation. This time is spent wisely, scouting across the globe for fresh sonic enlightenment, seeking out the music that you otherwise would never get to hear. We can now reveal that the fruits of those travels will include…
Catrin Finch & Seckou Keita (Wales/Senegal)
Impossibly elegant project that teams the eminent Welsh harpist with this extraordinary kora player from West Africa. Their album Clychau Dibon won fRoots' critics' poll for 2013.
Tunng (UK)
Deftly combining eerie folk with bleeping electronica, Tunng became the quintessential 'folktronica' outfit before stretching their musical wings and collaborating with everyone's favourite desert rockers Tinariwen.
Justin Vali & Ny Malagasy Orkestra (Madagascar)
All-star musical gathering from the Indian Ocean island, led by the legendary player of the valiha (bamboo lute) Justin Vali, a man whose association with WOMAD extends back to the days when he was signed to sister organisation Real World Records.
9Bach (Wales)
Recently signed to Real World (and co-led by frequent Gruff Rhys collaborator Lisa Jen), 9Bach's ghostly folk-rock attractively places them midway between Portishead and Pentangle.
Snarky Puppy (USA)
Outstanding Brooklyn-based collective effortlessly (and joyously) fusing jazz, soul, funk and world to universally pleasing effect.
Debademba (Burkina Faso/Mali)
Young Malian five-piece whose silken-voiced singer instantly recalls the great Salif Keita.
Aar Maanta (Somalia/UK)
Regarded as the voice of a generation of young British Somalis, Aar Maanta's music shifts between alluring slinkiness and show-stopping funk workouts.
Jus Now (Trinidad/UK)
The musical missing link between Bristol and Port of Spain pairs two producers united by bass, despite the thousands of miles between them.
Chloe Charles (Canada)
Toronto singer-songwriter (and, by the way, Julian Lennon's step-sister) who sings, says Rolling Stone, "pop songs with an introverted beauty of surprising clarity".
Orange Hill (Colombia)
Delightful acoustic troupe who play calypso and mento, but who don't hail from Trinidad or Jamaica, but Colombia. An intriguing – and terrific-sounding – cultural anomaly.
숨[su:m] (South Korea)
Curiously monikered female South Korean duo whose multi-instrumentalism calmly masters the transcendental, contemplative folk traditions of their native land.
Vinicio Capossela presenta Banda Della Posta (Italy)
Maverick Italian troubadour fronts this charming collection of veteran musicians. They got their name (which translates as the Post Office Band) on account of turning up to draw their pensions while carrying their instruments.
Imed Alibi (Tunisia/France)
Percussionist and Rachid Taha collaborator whose band's new record (co-produced by Justin Adams) was described by The Guardian as "an exuberant set [that] sounds like the soundtrack for a film about the early hopes of the Arab Spring".
DakhaBrakha (Ukraine)
Self-proclaimed 'ethno-chaos' folk quartet whose performance may well take on extra edge as a response to the political turmoil back home in Ukraine.
Ethno Trio Troitsa (Belarus)
Engaging trio who, in playing around 50 different instruments between them, deftly excavate the rich – but little-heard – folk music riches of their homeland.
Madeeh (Malaysia) – acoustic ensemble present the traditional Bidayuh roots music of Borneo, styles that are centred around a bamboo zither known as a pratuokng.
This handsome selection joins an already stellar line-up that's already been announced and that includes…
Alice Russell (UK) Nitin Sawhney ONEZERO (UK/India) Fat Freddy's Drop (New Zealand) Goran Bregovic and His Wedding & Funeral Band (Serbia/Bulgaria) Bassekou Kouyate & Ngoni ba (Mali) Mulatu Astatke (Ethiopia) Oliver Mtukudzi and the Black Spirits (Zimbabwe) Marie Boine (Norway) The Gloaming (Ireland/USA) Salim-Sulaiman (India) Roberto Fonseca & Fatoumata Diawara (Cuba/Mali) Martin Simpson & Dom Flemons (UK/USA) Kobo Town (Trinidad/Canada) Mahsa & Marjan Vahdat (Iran) Anna Cinzia Villani & MacuranOrchestra (Italy) Ibibio Sound Machine (Nigeria/UK) Nuru Kane (Senegal) Magic Drum Orchestra (UK) The Good Ones (Rwanda) Salim-Sulaiman with Karsh Kale (India)