The announcement of new names for VOLT Festival was timed for Valentine's Day, starting –stylishly- with Bullet for my Valentine. Since the appearance of the band we know that heavy metal exists in Wales and this genre is still among the most popular ones. They know everything about heavy metal that they adopt perfectly in their music by mixing styles of their ancestors and adding aggressive and fast beats with melodic chorus.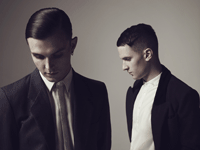 The biggest name in this current list is probably Hurts. The romantic and melancholic British synthpop duo has been popular from the very start. Their new album, Exile, will be out 11th March, so in Sopron the duo can test the fanbase live with their new songs.
Canadian punk rock band, Billy Talent, is on the stage for 20 years now being continuously successful for playing massive rock with a hint of punk pop. This year they are not only touring the world with their big hits but playing new songs from their album 'Dead Silence' released last autumn.
Papa Roach are true icons of nu metal and this time they will show the crowd in Sopron why they belong to rock history. Their gig is probably one of the most awaited events at this year's VOLT, where the biggest hits of a generation will be heard.
French DJ Martin Solveig is an outstanding representative of his nation all around the world by making easy-going, sensual and witty dance music. And he's ready to say Hello to the crowd at Sopron this July.
Dub Fx is not coming to prove anything. He has already shown his unique and outstanding production two years ago at a full-house gig, so it was high time for him to re-visit.
Godfather of techno, Sven Väth, not only makes the audience crazy at underground venues and trendy clubs but this year promises a huge party for VOLT Festival as well.
Fritz Kalkbrenner follows the steps of his techno icon brother by performing at VOLT this summer. The audience and the industry not only knows the German DJ for being the brother of Paul, but for breaking downloading records in online stores and for being a well-known name in the party scene.
Drum'n'bass is back and its most popular name is DJ Fresh who came out with his album Nextlevelism two years ago. The British DJ is not new in clubs. He knows everything about this genre, so we will see what he brings to VOLT: a huge drum'n'bass party or a more danceable night with his well-known tracks.
The Australian Parkway Drive is familiar not only among HC fans but also teen skaters for being heavy and aggressive. It has to be seen and heard with the possible chance of the volume blowing your mind.
Music that comes from Iceland in 2013 is cool. Representing this new trend, Gus Gus will play their sophisticated pop hits this year at VOLT. Their melancholic and frozen-romantic style will probably be very refreshing in the July heat, creating a unique atmosphere at the festival.
Besides the big names, many are interested in the exact location of the 21st VOLT Festival, starting in 4 and half months. The main organizers did not reveal any new information but have confirmed that VOLT will be held in Sopron in 2013 for sure.
For now, check the video for the new names: http://youtu.be/HcrtG0vP4Ls