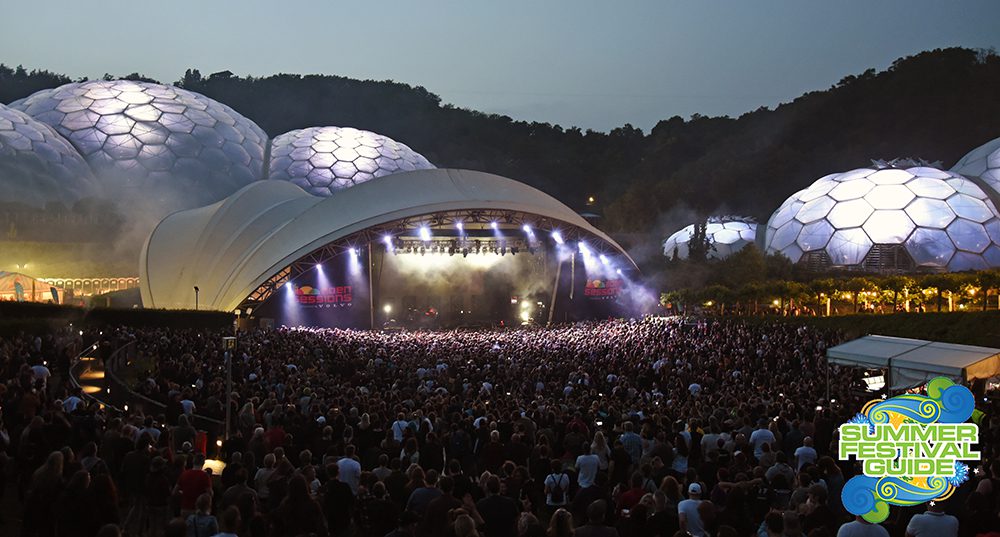 It's one of the hottest days of the year, we're edging up against the solstice, and we've decided to spend the day in a giant greenhouse. Yes, we've finally made it back to Eden Project Cornwall, for The Eden Sessions – a series of gigs held in arguably the world's most beautiful venue. This year so far, Eden has hosted the likes of My Chemical Romance and Noel Gallagher but tonight we're down for day one of the iconic Nine Inch Nails double-header.
Along with your ticket for one of the Sessions, you are able to visit The Eden Project itself on the day of or the day after your event. Given that standard tickets are around the £30 mark, this is a great way to experience the biomes as an added bonus. We take a tour of the Mediterranean biome first, which is full of citrus, herbs and grapevines – it smells absolutely incredible, but good grief is it hotter than the seventh circle of hell today. There's so much to see and learn about, but our favourite occupation is lizard spotting.

The bigger Rainforest biome is actually slightly cooler (owing to the canopy and the humidity, we did learn something) and there are water stops all the way around. We took the treetop walk, found some cooling mists and marveled at giant bamboo. Actually, the best bit was all the black-clad gothic types sweating it out, and having a lovely time taking selfies in the daylight for a change. Dipping out of the biomes into the central café, we recharge with burrito wraps and Cornish Cola (yes, it's a thing) – followed up with ice-cream in the sunshine and a look around the outside garden area. There's a tipi bar (with special commemorative Sessions cups on offer) and a regular bar, either side of the arena.
Heading into the arena area, a banked-sided perfect bowl amphitheatre, it's obvious that everyone is going to get a great view from wherever they stand tonight. With around a 6,500 capacity, it's a smallish venue which definitely makes for an intimate show. Despite the still sizzling heat of the day, the crowd of black tshirts is amassing ready for support act Nitzer Ebb.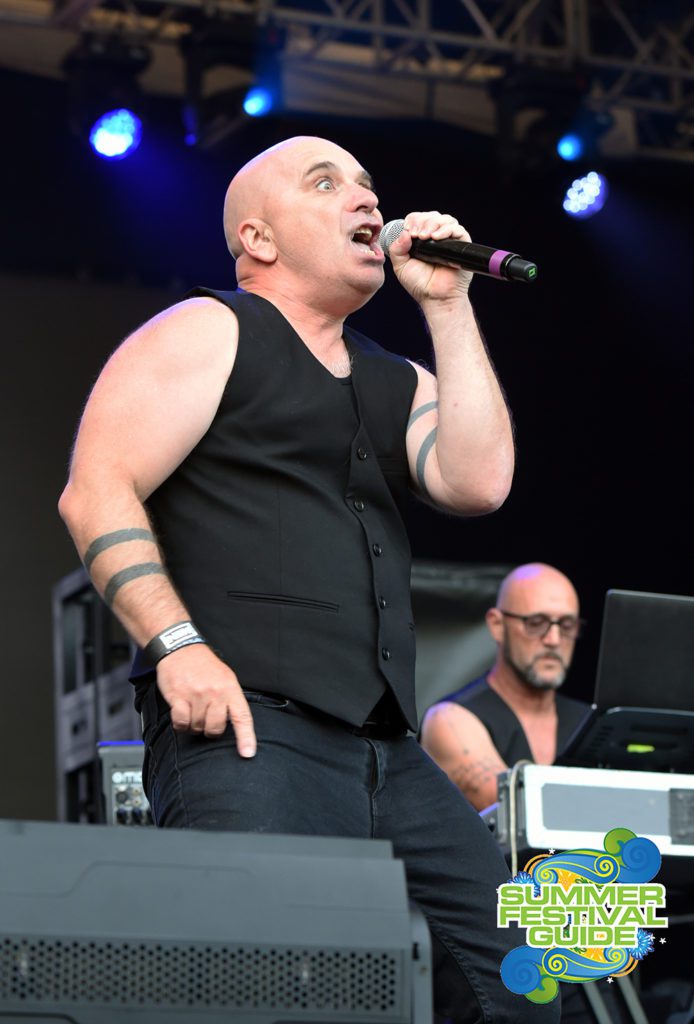 Nitzer Ebb (sans Doug McCarthy), 80's Brit-EDM with a very industrial sound, are raucously good fun – and vocalist Bon Harris' gives a convincing portrayal of dingy-club-basement-rave, in the Cornish sunshine. I think they've managed to secure more than a few new fans tonight.
Nine Inch Nails are hailed in with a wall of smoke so dense that it takes half of intro track 'Somewhat Damaged' to even see the outline of Trent Reznor, but when we do – an almighty roar goes up from the arena. It is wild that a band who sell out huge stadiums all over the world, are here tonight in the sleepy leg of England, but there are some die-hard fans here who have travelled great distances for it.
Reznor and bandmate Atticus Ross take no time at all to bring the fury, the full force of Reznor as a performer – backed by an incredible line up of talent (Finck, Cortini, Rubin), it's already everything we were waiting for. Dressed in a beaten leather jacket and a muscle-hugging black tshirt – it's clear Reznor has left behind the angsty teen pvc-gloves and visible ennui behind, and is giving off big John Wick vibes. The huge lighting rigs behind beat to the heart-stopping wave of sound for 'The Day The World Went Away', and the crowd goes absolutely beserk.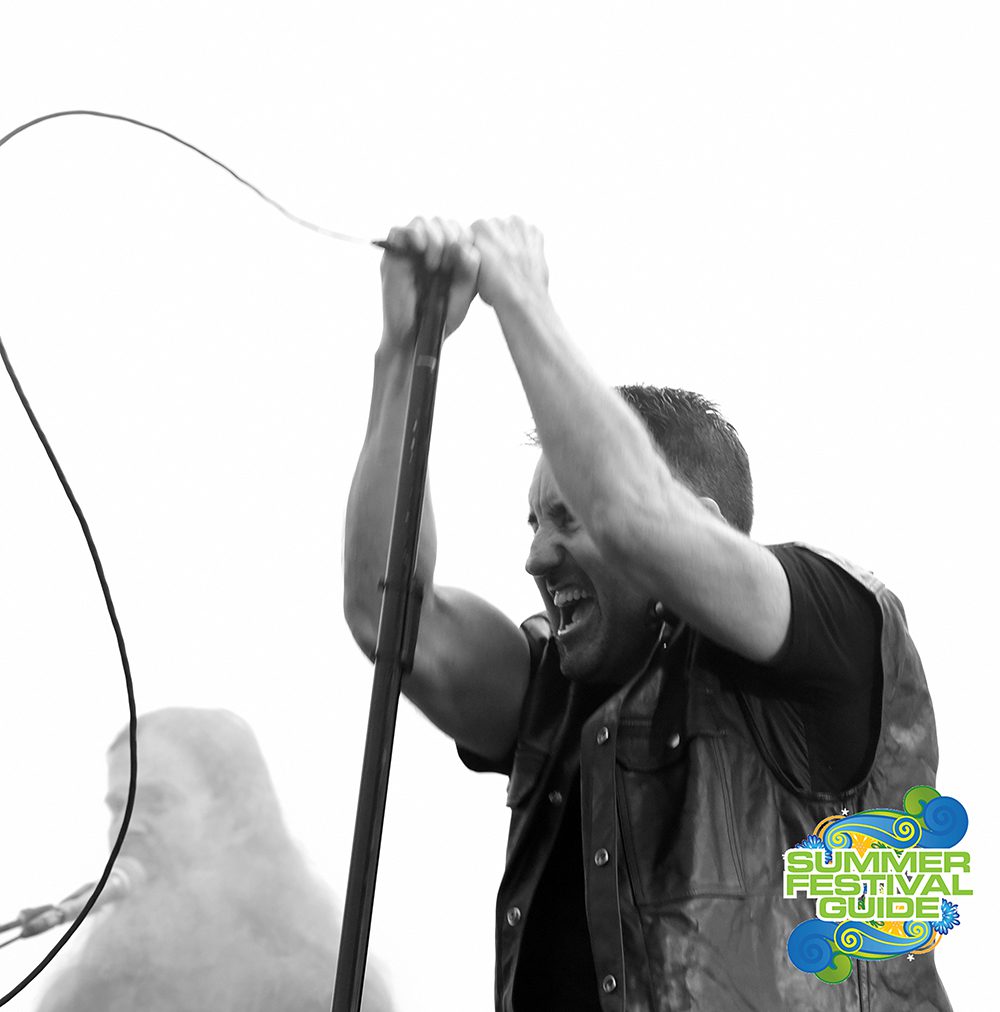 'Mr. Self Destruct' and 'The Frail' are stunningly epic, and we are treated to a rare outing of 'Love Is Not Enough'. 'Wish' buries itself deep into your soul, but it's 'The Perfect Drug' that just has the entire arena bouncing with wild abandon. There's a visceral freedom in NIN's music that allows for chaotic expression, and it's clear this crowd has come to let it out – the nihilistic need for post-pandemic self-destruction.
Grabbing up a guitar, followed by a saxophone, followed by a tambourine, you get a glimpse of the passion Reznor has for music in all forms – and I can't help but giggle that he's basically screaming the iconic lines (you know the ones…) from 'Closer' across the sleepy Cornish countryside. I wonder if he finds the juxtaposition as amusing as I do, this certainly isn't your standard insulated concert venue.
'Copy of A' has the whole arena singing/shouting along, and the show is absolutely relentless, with the band taking hardly any breaks between song after heavy song, Reznor is a machine. However he does have time to quip "We love this place, but does the sun ever goddamn go down?! Feeling exposed up here, there's too much light" – which in retrospect of the following night's weather, might have been a touch too close to tempting fate.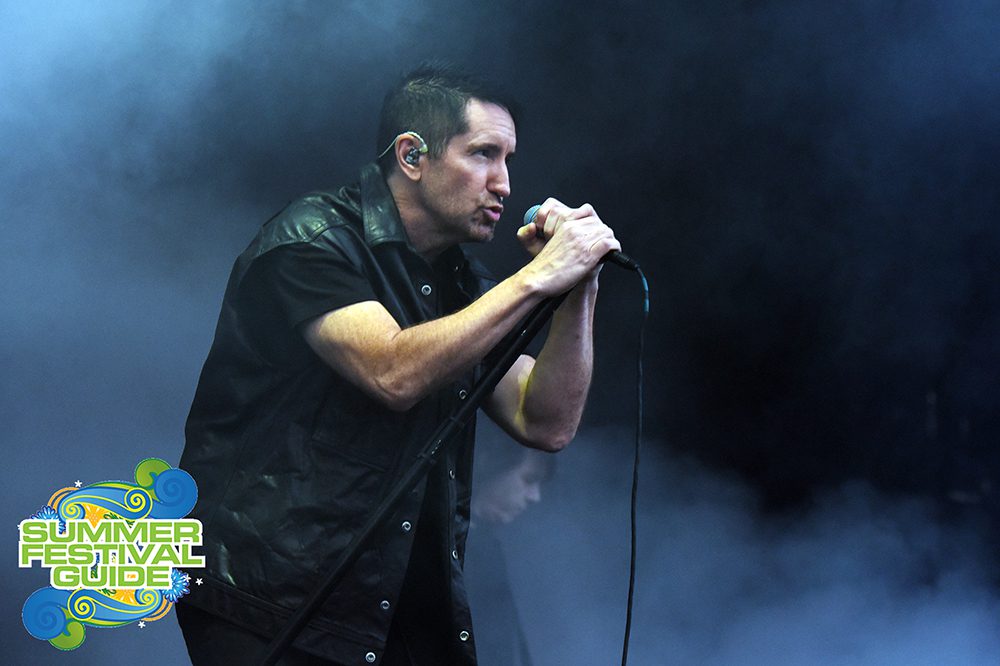 Referencing our dear friend the global pandemonium, Reznor confides "It's been disorienting to come out and play shows, but it's also been fucking great" hitting on the nerve I think many are feeling tonight, before going full grunge cover in homage to late friend and mentor David Bowie, with 'I'm Afraid of Americans' and 'Fashion'.
The night finally descends over Eden, in time for 'Head Like A Hole' to absolute bury us in the ecstasy of pure live music joy. The biomes are lit in time with the music, rippling through blues and purples to pure white matching the stage lights. The encore, 'Everything' and 'March of the Pigs' are amazing, but there may be nothing that comes as close to a perfect concert moment as closer 'Hurt' does tonight. The air is vibrating with anticipation as Reznor lines up those opening lyrics, and then it becomes the most gut punching dirge outro you can imagine. We wish there was more, we will there to be more, but it's over. This one goes down in my personal history of one of the most iconic shows I've ever seen. Both the venue and the music, will be hard to live up to.