From 25 to 29 September, the 7th edition of Paris Electronic Week will turn the French capital into European's electronic music hotspot. PEW is a hybrid and multidisciplinary festival, attracting artists, music fans and enthusiasts to party, visit record shops and attend various other PEW branded events. From 25 to 27 September, the festival will offer a programme of specialised, conferences, workshops and masterclasses focusing on topics surrounding electronic music and cultures. The latter will take place at Gaité Lyrique.
The speakers announced so far:  ​1024 Architecture, AMS Booking, Anetha, Burning Man, Dif Production, Entente Nocturne, Femur, François X, French Burners (Megasame), Horst Festival, Jean-Yves Leloup, Malo Lacroix, Marc Ippon De Ronda, Nuit Parallèles, Nuits Sonores, RAW, Rinse France, Romain Tardy, Spiral Tribe, Surprize, Teki Latex ​and ​Yoyaku.

In this article, we present our five top reasons to visit PEW this September.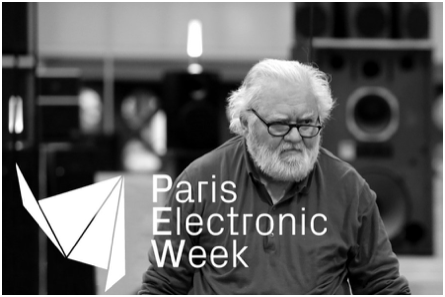 Audiovisual Performance and Stagecraft at the Heart of the Party
25 September, Gaité Lyrique
With music as the main engine, large-scale live events are now increasingly including new forms of art such as vjing, set design and audiovisual performance, and all of this is designed to hold your attention and offer you a 360-degree show. Often left in the shadows, the highly skilled technicians who create these magnificent constructs are nevertheless an integral part of the festival and party process. But how do you make a name for yourself in this world, and what do you need to know about these arcane practices to make a name for yourself?

Tomorrow's Party Becomes an Immersive Exhibition
25 September, Gaité Lyrique
Parties have gone beyond their initial role as an outlet for exuberance and are no longer a simple ode to dance, now being more of a call to discovery. The border between music and art has never been as porous as it is today with new formats where music, sculpture and installations merge. And so, far from being limited to the ordinary, the party now finds its place in institutions that previously would never have hosted 'raves'. But the big question is, how do you attract audiences to this new form of festive artistic expression?
Les Veillées Électroniques à la Gaîté Lyrique
25 – 26 September, Gaité Lyrique
Les Éveilles, a support association for exiles, organizes two exceptional performances at the Gaîté Lyrique, audiovisual and lives, with experimental programming at the forefront of electronic music.
25 September
Jeff Mills will debut his Things to Come live A/V show. Anthony Linell aka Abdulla Rashim and Ali M. Demiral will display their Winter Ashes live A/V show. Kanding Ray will play his DJ hybrid DJ set.
26 September
Monolake will play live as well as Peder Mannerfelt. Murcof and Malo Lacroix will perform a live A/V show.
Event: https://www.facebook.com/events/2390328481212904/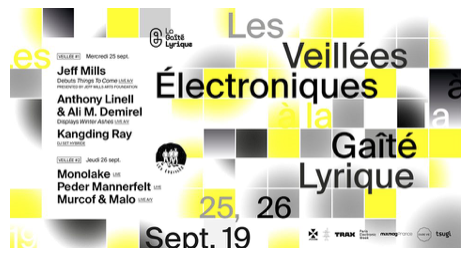 How to Make a Label that Lasts?
27 September, Gaité Lyrique
Former trader, François-Xavier Zoumenou has left everything to focus on his true passion: electronic music. As a key artist on the thriving techno scene, François X has built a reputation and been an important part of the movement. In 2011, he co-founded the Dement3d label with Heartbeat. In 2019 there was another important development with the creation of a parallel project 'Dement3d XXX' where François X plans to allow artists to share house and techno without limiting themselves to the definitions of the genre. In this talk, he will discuss the challenges of staying efficient in a tough and competitive environment, while explaining how to keep things fresh and relevant after more than 8 years of existence.
Everyday Magic – 24 Hours in the Life of a Manager
27 September, Gaité Lyrique
As the previous workshops, two speakers will help you get genuine insight into the top jobs in order to make informed and intelligent choices about your future path to success. How do you manage the follow-up for an artist about to sign a deal? How do you adapt your vision to that of the artist? How to manage negotiations and the relationship with your artists? These are all questions that will be dealt with during this workshop.
More information regarding the programme will be released on August, 21.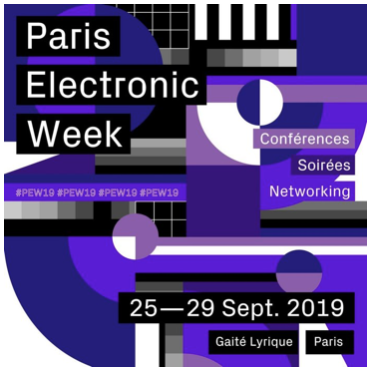 Paris Electronic Week
September 25-29, 2019
https://www.pariselectronicweek.fr/
https://www.facebook.com/pariselectronicweek/
https://www.instagram.com/pew_france/
https://twitter.com/pew_france