BoomTown Fair has announced the first batch of headline artists for Chapter 8 of the fully immersive, genre-spanning festival. The headliners include three acts who have been at the top of the BoomTown wish list since day one and represent the musical foundations of the trailblazing independent festival: UK ska powerhouse MADNESS, reggae royalty DAMIAN 'JR GONG' MARLEY and New Zealand 7-piece dub specialistsFAT FREDDY'S DROP.
Over the 11-14th August, 50,000 citizens will descend on the Matterley Estate, Winchester amid a theatrical narrative of revolution, across nine individually themed city districts with a soundtrack covering all bases of the musical spectrum. Joining Madness in the Town Centre, prepare forFun Lovin' Criminals' block-rocking fusion of hip-hop, funk and punk, British electronic luminaries Leftfield and festival outlaws the Levellersdelivering their political brand of folk-rock. Back by popular demand are 2-tone ska heroes Bad Manners and California ska-punk legends Mad Caddies, keeping energy levels high alongside 10-piece French ska rockers Babylon Circus, Austrian electro-swing pioneer Parov Stelar and the superhuman mouth-driven music of Beardyman.
The Lion's Den has cemented its reputation as the UK's biggest reggae stage, and its Chapter 8 lineup features a suitably all-star cast of reggae, dub and dancehall VIPs. Entering the Den alongside Damian 'Jr Gong' Marley and Fat Freddy's Drop is another of BoomTown's most requested acts and one of the first ladies of dancehall; welcomed back to the festival with arms wide open, Tanya Stephens. Straight out of Jamaica, we proudly host prominent reggae artists and committed Rastafarian vocalists Junior Kelly and Tarrus Riley, plus Inner Circle andMorgan Heritage, iconic bands whose sounds resonate as strongly in 2016 as they have throughout their extensive careers.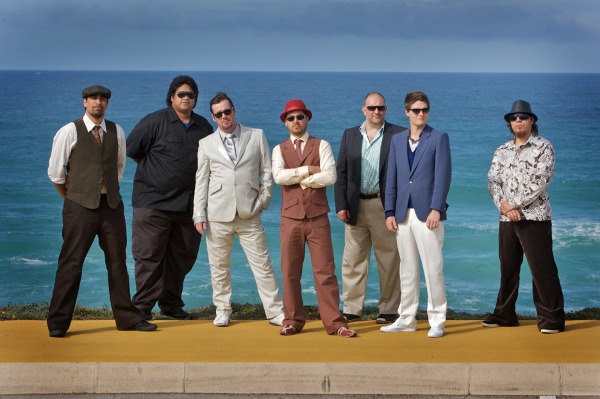 Now firmly settled in its new location, The Old Mines stage will be showcasing the best in folk, world and roots music, headed up by the unique rockabilly-blues sounds of Irish vocalist Imelda May, UK folk favourite and 2005 Mercury Music Prize nominee Seth Lakeman and one of the most respected world fusion bands on the planet, Afro Celt Soundsystem. Reunited nine-piece Catalan collective Ojos de Brujo are guaranteed to turn the Mines inside out with their hip-hop tinged take on flamenco, and off the back of a number of sold out shows across the UK and Europe, US group Nahko And Medicine For The People bring their alchemy of folk, reggae and hip-hop.
BoomTown's Latin district Barrio Loco will be in full-on carnival mode as ever, with the Poco Loco stage rocking to the sounds of New York hip-hop giant Pharaoh Monche and British genre-benders Foreign Beggars, back after smashing the BoomTown Winter Gathering to bits. The all-new Mi Casa stage caters for the house and techno heads, welcoming Detroit pioneers Derrick May and Octave One (live) and UK DJs du jourJackmaster, Skream and Shadow Child.
With the towering Bang Hai Palace on its frontline, DSTRKT 5 will blow minds even further in 2016. Causing mayhem on the Bang Hai stage are takeovers from some of the biggest brands in drum and bass; Critical Music and Ram Records, plus Full Cycle celebrating 20 years in the game with Roni Size and DJ Krust reuniting on the decks. More drum and bass legends feature in the form of DJ Hype b2b DJ Hazard, withCalyx and Teebee bringing their brain-melting six deck show. Representing the cream of the bass music crop on Bang Hai is Bristol boys-done-good My Nu Leng & Dread MC, and garage super-group TQD (Royal T, DJ Q and Flava D).
Elsewhere in DSTRKT 5, three brand new stages will be firing out signals from across the electronic music continuum. The dystopian android vibes of the Robotica stage will be soundtracked by supersonic beats and bass from Koan Sound and Nightmares on Wax, while the revolution HQ stage Sector 6, hosts innovators from both sides of the pond; DJ Craze and Derrick Carter fly in from the USA, and So Solid Crew,Newham Generals and a Deep Medi takeover fly the flag for UK homegrown sounds. Those craving harder and faster BPMs will find sanctuary in Muuti's Scrapyard, where the likes of Angerfist, Dr. Peacock and Radium will unleash hardcore rave carnage.
After the huge success of the Psychedelic Forest in Chapter 7, the area returns with a lineup of scene-leading artists, with the likes of Gaudi,Neelix, Shpongle, Skazi and Hallucinogen showcasing the finest in psychedelic trance, techno, breakbeat and ambient.