The creative minds behind Kendal Calling bring you Forgotten Fields, a ground breaking new festival at Eridge Deer Park in Sussex.
Celebrating 10 years of Kendal Calling, the Cumbrian team are launching a show in the South of England their vision that captures the heart and spirit of the original festival, and condenses it for an intimate audience of just 4000 party goers. Much like its Lake District counterpart, Forgotten Fields brings together unrivalled atmospheric charm and a quality line-up of emerging and established talent that spans the genres, all in a stunning location at a fantastic price. Those 4000 festival fans who snap up tickets will share in the good times this beautiful little festival will offer and cherish them for years to come.
Re-formed, psychedelic rockers, Super Furry Animals return to the fray after a 6 year hiatus and bring a huge back catalogue of incredible tracks to Forgotten Fields. The band are one of the most imaginative and powerful acts the UK has produced and there appearance is sure to be a stand out summer festival moment.
Basement Jaxx will headline the Friday night of the festival, bringing their genre-defining sound to the Main Stage, with hits like 'Where's Your Head At?', 'Romeo', 'Red Alert' and countless others set to feature. Saturday will see the south coast's favourite sons and festival favourites, The Levellers top the bill with a set full of folk-rock sing along anthems.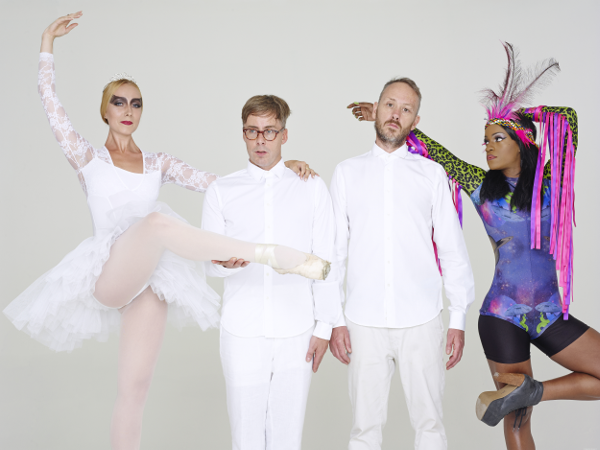 The Horrors look set to provide a suitably immersive performance from across their critically acclaimed back catalogue, hip hop pioneers De La Soul will be showing exactly why they've stood the test of time and Public Service Broadcasting will perform their incredible new album The Race For Space. British Sea Power played the first ever Kendal Calling festival and fittingly perform at the inaugural Forgotten Fields alongside American indie rockers Augustines. Hip Hop turntablist and cut n' paste maestro DJ Yoda & The Breakfast Of Champions will showcase his unique style with many more acts still to be announced across the two main stages.
Other acts performing include Skinny Lister, Sam Brookes, Coco and the Butterfields, Beans On Toast, Wooden Arms, Tom Williams, Get Inuit and many more.
Three other stages will provide a different musical focus. The Gypsy Disco will be a must-visit for fans of Ska, Balkan, Swing and immersive theatre, whilst the House Party stage will provide the perfect setting for ground breaking comedy. Arguably one of the most exciting areas of the festival, The Horizons stage will host the hottest new bands and artists, the type of acts you'll expect to see storming up the festival bills in years to come.
For fans of the finer things in life there is world-class gourmet food available on site as well as a dedicated real ale bar, and those averse to the idea of camping can enjoy a multitude of bespoke accommodation options. There will also be extravagant site art, festival games, fancy dress frolics, boutique stalls and camp fire tales all set in the picturesque English Countryside.
Forgotten Fields is perfect for families and revellers alike, with The Prickleback Urchin Kids Area built for the younger party animals in your group and The Late Night Cinema sitting as the ideal alternative to the wealth of musical options available across the site.
Needless to say, Forgotten Fields looks set to further cement Kendal Calling's outstanding cultural legacy.
Lineup below:
SUPER FURRY ANIMALS / BASEMENT JAXX / LEVELLERS / THE HORRORS / DE LA SOUL / PUBLIC SERVICE BROADCASTING / BRITISH SEA POWER / AUGUSTINES / DJ YODA / SLAMBOREE AND MORE CONFIRMED FOR INTIMATE PARTY
SKINNY LISTER / COCO AND THE BUTTERFIELDS / BEANS ON TOAST / KESTON COBBLER'S CLUB /FICKLE FRIENDS / TOM WILLIAMS / SAM BROOKES / GET INUIT / LAZY HABITS / PHORIA / TOO MANY T'S / WILL VARLEY / JACKO HOOPER / COCOS LOVERS / WOODEN ARMS / TIME FOR T / ISLAND CASSETTES / NATIVE PEOPLE / FIRST FAMILY / ABI WADE / SKIES / MOK / MOLLY WARBURTON / ED PROSEK / GANG / GLASS CITY VICE / VELUDO PLANES / REALMS / THE BEAUTIFUL WORD / HALF CROWN / GARDEN HEART / FISH TANK / THE DUBARRYS / FLAGS / EDEN CIRCLE / THE COMMON TONGUES
REAL ALE BAR / GOURMET FOOD / KIDS FIELD / LATE NIGHT CINEMA / SITE ART
Tickets available to those who have pre-registered – Thursday 26th March 9AM
General Ticket Sale – Friday 27th March 9AM
Ticket prices Tier 1 Early Bird £90, Tier 2 £95, Tier 3 £99, Tier 4 £105
Eridge Park, 7 – 9 August 2015 / #Forgottenfields