One of the loudest hard rock bands of all time, MOTÖRHEAD, are finally coming to EXIT to play hits like 'Ace of Spades', 'Rock Out', 'Killed By Death', 'Overkill' and many others in ravenous rhythm! Motörhead were formed back in 1975 by bass player and singer Lemmy Kilmister and the current line up with Phil Campbell and Mikkey Dee can reflect on Motörhead's 40th Anniversary next year. The band, who were just nominated for another Grammy Award for 'Heartbreaker' from their beststelling current album 'Aftershock' had persistently fought against any classification of their music and frontman Lemmy Kilmister always open the set with: "We are Motörhead. And we play rock'n'roll!"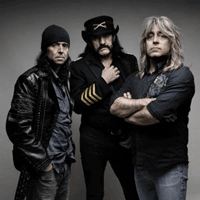 The legendary hard rock band has a huge fan base all over the world and a highly productive career: back in the studio in January 2015 they will start working on their 22nd studio album to celebrate Motörhead's 40th Anniversary, coming right up when they play the famous EXIT festival!
One of the most entertaining rock'n'roll bands in the world, the Californian EAGLES OF DEATH METAL, will perform for the first time in Serbia in celebration of EXIT's 15th anniversary! The band has been successfully playing with the dirty rock aesthetic since 1998. Backed by their witty lyrics, videos and performances, they deconstruct stereotypes that were set by the hard riff sound. The band was formed by the mischievous rock'n'roll duo, the charismatic Jesse Hughes and the multitalented Josh Homme. Albums "Peace, Love, Death Metal" (2004), 'Death by Sexy' (2006) and 'Heart On' (2008) launched them to the very top of the world riff scene, while hits like poput 'I Want You So Hard (Boy's Bad News)', 'I Got a Feelin (Just Nineteen)', 'Wannabe in L.A', 'Miss Alissa', 'Cherry Cola', 'Only Want You' promise nothing short of an explosion of energy at the Petrovaradin Fortress.
Eagles of Death Metal announced a new, long-awaited album set to be released in 2015. Frontmen Jesse Hughes commented on this in a highly recognisable fashion: "Again, [we've] stolen a bunch of songs from the greatest rock bands in the world. So technically, this will be the greatest rock album ever made!"
The rock'n'roll giants will be joined by the local representatives. The new Serbian supergroup ŠKRTICE will perform in front of a world-class audience. The famous Serbian rock'n'roll frontman, Cane from Partibrejkersi, is joined by some of the finest Belgrade musicians. The supergroup's collaboration promises to open a new chapter in rock music.
One of the most influential hardcore/reggae bands in the region, EYESBURN, have been active for an incredible twenty years. Their labour of love is best witnessed by their instantly recognisable sound – which is no small feat. Their mixture of tight guitar riffs and reggae rhythms set them grossly apart from other bands. Eyesburn will once again show at EXIT why they became and managed to stay a symbol of an entire social and music movement in Serbia and in the Balkans.