New to the lineup is hip-hop turntablist and cut and paste pioneer DJ Yoda, explosive Leeds alt-rockers Dinosaur Pile Up, the genre straddling experimental pop of Hot Vestry, 13 piece Latin-Salsa-Boogaloo band Giddy Gringos, elusive duo and AV specialist, Nordic Giants, South Wales indie synth-pop band Man Without Country, Belgian five piece indie-rock group, Balthazar, acoustic-folk troubadour Sam Brookes, fast-rising Scottish teen six piece Sienna, as well as Winters Island, C-HoneyCuts, Pusher and Robinson Boone.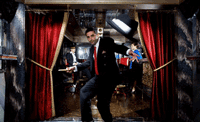 Kendal Calling also welcomes the return of the much loved Jagermeister stage, so lace up your dancing shoes and get down to the finest tunes from the ultimate desert island disco…but in the fields!
Think classic party anthems from the likes of the King of Pop, Sister Sledge, The Trammps, Earth, Wind and Fire and many, many more.
Open each day the Jager Residents will kick start things from 1-6pm with 'The Beat Goes On', setting the pace for the day and spinning feel good music to get your groove on too.
Liam Young and Stu Plimsoles take control for the evening sessions from 6pm-3am, playing sexy rock n roll and good time music.
Friday will also feature special guests Double Agent 7 for a 2 hour take over from 4-6pm with their killer floor fillers from the 50s & 60s, all exclusively on vinyl 45s. Their set cruises through early Rock and Roll, Rhythm and Blues, Do Wop, Rockabilly and 60s Soul.