Latitude is thrilled to announce that the revolutionary solo violinist and songwriter
Diana Yukawa
will perform in the
Film & Music Arena
at this year's festival. She says of her work "My goal is to create music that connects with listeners and to also reach people who perhaps wouldn't ordinarily listen to my kind of music, or more 'classical' and instrumental music. I want my music to evoke emotions… it's really as simple as that." Having collaborated with artists as diverse as Jeff Beck & Paul Oakenfold, and with a string of successful albums to her name, Diana Yukawa is considered to be one of the top 10 classical musicians in the country and will be an unmissable highlight of the festival.
Deeply indebted to jazz, funk and soul, legendary house artist Theo Parrish joins the list of insanely talented performers in a rare live performance with special guests Amp Fiddler, Akwasi Mensah, Duminie DePorres and Myele Manzanza. Influenced by musical giants in his early musical life, such as Miles Davis, Stevie Wonder, Jimi Hendrix, Nina Simone, George Gershwin, Bob Marley, and his uncle, jazz musician Dexter Sims, Theo showed he possessed a true and unique talent. Credited with bringing a dormant underground music scene to life, Theo has delivered his unique and dynamic sets in venues worldwide and has gained the attention and respect of DJ's, producers, dancers and listeners everywhere. Latitude is hugely excited to welcome him to the festival in 2014.

Latitude 2014 media partners Total Film will present 'Palo Alto', the 2013 film based on a series of short stories from the Hollywood heartthrob James Franco and directed by film-maker royalty Gian-Carlo Coppola; as well as a Question & Answer session with British Independent Film Award winner Peter Strickland who will be talking about his latest film 'Duke of Burgundy'.
Also in the Film & Music Arena will be a screening of Florian Habicht's overnight success 'Pulp: A Film About Life, Death and Supermarkets', a concert movie following frontman Jarvis Cocker and his bandmates as they prepare to mark their 25th anniversary as Britpop royalty with a concert in their native Sheffield. Songs will be sung, stories will be told and pies will be eaten, because the only way to fully understand Pulp is to hang out in the town that birthed the band. An infectious merging of mutually delighted spirits, Florian Habicht's collaboration with Jarvis Cocker fixes the triumphant 2012 concert billed as UK pop rock band Pulp's last ever within a loving portrait of the town where it all began.
In keeping with White Mink's classically vintage guests in the Film & Music Arena, the Brighton based production company proudly presents The Bee's Knees to this year's festival. Specialising in Charleston, authentic jazz and eccentric dances from the 1920s – 1940s, the quirky flapper troupe have been performing, teaching and DJing at vintage parties, theatres, cabaret, community and corporate events, festivals and private functions across Europe and the UK since 2004. Joining them are the pin-up vintage styled beauties Elle & The Pocket Belles, who will sizzle on stage performing original songs, putting their own swinging spin on contemporary hits; as well as singing classic jazz and swing numbers from the 1930's right through to the 1950's. The statuesque Elle and her pint-sized Belles perfectly embody the class and glamour of this Golden era; and are sure to get the Latitude audience toe tapping and 'in the mood'. Taking the party from day to night will be veteran party starter DJ Chris Tofu, a musical pioneer and founding father of Electro Swing. He'll be bringing his complex blend of musical eccentricity and genius to Latitude this summer showcasing his vast tech-savvy talent in the Film & Music Arena. Making their debut at Latitude is Swing Patrol; one of the most experienced Swing teams in the world with a community of over 700 dancers, the troupe will give festival-goers a master class in this fun and high velocity dance.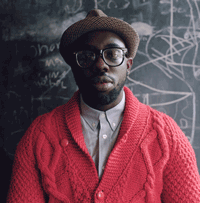 Fronted by London-born Nigerian singer Eno Williams, Ibibio Sound Machine is a clash of African and electronic elements inspired in equal measure by the golden era of West-African funk and disco and modern post-punk and electro. Evocative Nigerian poetic imagery set against an edgy Afro-Electro soundscape by producers Max Grunhard, Leon Brichard and Benji Bouton give the band a unique space within the current wave of modern Afrocentric sounds sweeping across the globe. The perfect openers on the Obelisk Arena on Saturday!
The ultimate sound of the summer Ghostpoet will perform in the iArena; oozing that cool London jazz vibe Ghostpoet, AKA Obaro Ejimiwe, has previously featured in the Guardian's New Band of the Day and been nominated for the Mercury Music Prize.
Joining the line-up of emerging talent on the Alcove is the sensational singer-songwriter James Bay, whose raw vocals and unique acoustic talent work in magical unison to captivate audience, stripping pop melodies back accentuating his pure musical abilities. Having already gained a great reputation at Communion's monthly night at Notting Hill Arts Club in London, James has supported the likes of Tom Odell, John Newman and Kodaline, building a loyal fan base both in the UK and the US. Also added to the bill is Danish vocal sensation Majke Voss Romme, aka Broken Twin. Majke's haunting compositions and beautiful vocals are already making waves in the world of music, similarly compared to Sinead O'Connor Broken Twin first burst on the scene in 2012 and has since then worked with Tindersticks, Tricky, and Kate Bush.
The full additions include:
FILM & MUSIC ARENA
DIANA YUKAWA
THEO PARRISH
WITH SPECIAL GUESTS
AMP FIDDLER, AKWASI MENSAH,
DUMINIE DEPORRES AND
MYELE MANZANZA
TOTAL FILM
PRESENTS
PALO ALTO
(FILM) AND
PETER STRICKLAND (Q&A)
PULP: A FILM ABOUT LIFE, DEATH & SUPERMARKETS
WHITE MINK PRESENTS THE BEE'S KNEES, ELLE & THE POCKET BELLES
,
DJ CHRIS TOFU AND SWING PATROL DANCERS
MUSIC
IBIBIO SOUND MACHINE | GHOSTPOET
JAMES BAY | BROKEN TWIN
FARAWAY FOREST
WELLCOME TRUST
PROF. PAUL DOLAN, PROF. SOPHIE SCOTT, KERRY DAYNES AND TOM ZIESSEN
PROF. BARBARA SAHAKIAN AND DR. ROBIN CARHATT-LEWIS
DR. ROLAND ZAHN, DR. GEOFF WARBURTON AND PROF. ROBIN CHOUDHURY
DR. VAUGHAN BELL, DR. CHARLES FERNYHOUGH, JULIAN BAGGINI AND DR. CATHERINE PENDERGRASS
PROF. DAVID SPIEGELHALTER OBE | DR. SANDRINE THURET AND DR MORGAINE GAYE
A R HOPWOOD icw DR. JAMES OST | ZOE CORMIER
LITERARY ARENA
MILES HUNT | THE HUMBLE QUEST FOR UNIVERSAL GENIUS | MR. BINGO | WHAT NEXT?
ELIZABETH PISANI | EMMA CARR
PANDORA'S PLAYGROUND
THE URBAN PLAYGROUND PRESENTS THE INNER CITY
LEEDS MET PRESENTS OFFLINE
UEA DRAMA AND VAGUELY AMUSING PRODUCTIONS PRESENT THE QUESTION
POETRY ARENA
JANICE LONG | JEMIMA FOXTROT | DEANNA RODGER
NEW VOICES: CHARLOTTE HIGGINS, TOMMY SISSONS, BEN NORRIS ANDCARMINA MASOLIVER
COMEDY
ELLIOT STEEL | MATT RICHARDSON | TOM PRICE
WATERFRONT STAGE
THE CUT PRESENTS MOLIÈRE'S SGANARELLE
SHED OF STORIES
KATIE ANTONIOU
LIVE ART HOUSE
HANNAH PIERCE
DESIGN
ISOBEL BLACK PRESENTS THE WALL

ROSIE JENKINS, JO SYMMONS & BEN POWELL
PRESENT SECRETS HOUSE