Flying in from Helsinki, Finland for an exclusive one-off performance, love-metallers HIM make their debut at Knebworth this summer. Last year's "Tears On Tape" saw the triumphant return of HIS INFERNAL MAJESTY after a three year gap, with many citing it as their greatest work since 2003's breakthrough "Love Metal" album. Anyone fortunate enough to catch them on their subsequent tour would have witnessed a band genuinely savouring their every moment on stage, as they showcased their unique fusion of forlorn balladry and heavy, synth laden sounds.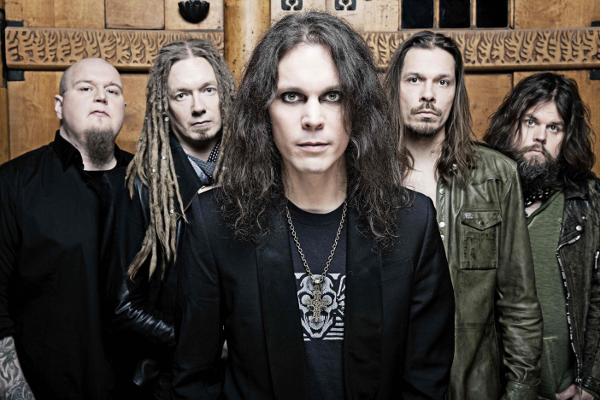 Possibly the last opportunity to see them in the UK before they start work on their next album, don't miss the chance to see hits such as "Buried Alive By Love", "Funeral Of Hearts", "Wicked Game" and "Wings Of A Butterfly".

Not content with already performing on the APOLLO stage on the Saturday, thrash legends ANTHRAXare taking advantage of a day off on the Friday to give those in BOHEMIA a special treat they will never forget. Scott Ian and co will be stomping their way through their classic "Among The Living" album in full, in a sweaty, heaving tent. "Among The Living", "Caught In A Mosh", "I Am The Law", "NFL", "Indians" – the list goes on, the hits don't stop – this will be simply unmissable. Says Ian:

"We love to play these songs and people love to hear them so we're really fucking excited to be doing this special show the day before our main-stage performance at Sonisphere Knebworth playing (for the first time ever) just the Among The Living record for you, our UK faithful!
It's gonna be sick. See you soon my friends. Cheers, Scott"

With four albums under their belts and a fifth on the way, COMEBACK KID are undeniably a staple of the modern hardcore scene. Having performed on all four corners of the globe, including some of Europe's premier festivals, this is a well oiled machine to say the least, with a reputation for incredible live shows.

"Can't wait to get back to the UK and be able to play Sonisphere! Last time I had the opportunity to see the Prodigy was at a festival in Serbia but I missed them because I had to spend the night in jail" confesses Andrew Neufeld. "Let's hope I can make it to see them this time!"

Expect chaos in BOHEMIA as COMEBACK KID belt out anthems such as "Wake The Dead ", "Defeated" and "Should Know Better" at their only UK festival this summer.

One of the pioneers of the NWOBHM, Belfast's SWEET SAVAGE join the line up at the request of one Mr Lars Ulrich. Formed in 1979, the band had called it a day by 1985, but reformed 90s after a new surge of interest in the band off the back of Metallica's cover of their song "Killing Time".

Having played at last year's SONISPHERE festival in Spain, OCTOBER FILE make their way to Knebworth this year. Blending punk, hardcore and industrial metal and lacing it with a political edge, expect a ferocious set from the Wallingford four-piece. "October File are stoked to playing an awesome festival with some great bands already announced, put on by great people and a great organization" says Bassplayer Steve Beatty. "See you in the pit."

Brilliantly catchy, EUREKA MACHINES come armed with huge, lavish power-pop perfection. Formed by Chris Catalyst (occasional guitar/bass wrangler for The Sisters Of Mercy, Mariachi El Bronx and Ginger), the four piece feel their most apt description is the promising: 'Imagine if the Beatles and the Beach Boys met Motorhead, jammed with the Cardiacs and created the best band you've never heard. Until now.'

Many teenagers dream of being rockstars when they grow up, but for brothers Mikaiah and Anaiah Lei the dream became a reality before they could even apply for a driving license. Recording their first album aged just 15 and 12 respectively, the duo who make up THE BOTS have taken their garage punk across the world, supporting the likes of Refused, Bad Brains and Tenacious D, as well as at numerous high profile festivals.

After rocking the Strongbow stage at the 2010 SONISPHERE, Pontypridd's STRAIGHT LINES return this year to rock Knebworth once more. Armed with a new EP, this Welsh Quartet come armed with big riffs, bigger melodies and an exhilarating live show. Says the band: "Straight Lines are very happy to be returning to their favourite UK festival. We've all attended the last 3 Sonispheres and are very much looking forward to playing this year, instead of being the super drunk people on the other side of the barrier.. well, for at least the duration of our set. See you in the pit!"

London rockers ZICO CHAIN join the line up this year. Having held their own supporting giants such as Velvet Revolver, Halestorm and supporting SONISPHERE headliners IRON MAIDEN at the O2 last year, the trio should have no problem dazzling the crowds at Knebworth.

BLACK DOGS are about to take the UK metal scene by force and SONISPHERE is not going to know what hit it. This unstoppable pack of northern bastards deliver a raw and intense live show that's got the industry taking notice in a big way. With backing from Radio One's Rock Show and support slots with the likes of Hatebreed, Stray From The Path and Bring Me The Horizon to boast, it's only a matter of time before the rest of the world sits up and takes notice.

Recently seen supporting Alkaline Trio, and performing at last year's VANS WARPED TOUR, Transatlantic quartet LOVE ZOMBIES bring their infectious power pop to the SATELLITE stage on the Friday to spread some California sunshine.

Flying the flag for traditional metal, STORMZONE (who you may have seen recently supporting Saxon) come armed with wailing guitars, galloping bass and huge choruses. "We have toured with many great bands over the years and performed at a lot of European festivals, but being given the opportunity to rock the stages at Sonisphere is definitely the highlight of the Stormzone career so far." They proclaim. "This is what being in a band is all about!!"

Math rockers SHRINE look set to devastate the crowds with their technical, dynamic assault on both mind and ear. Blending the aggression of hardcore, the grandeur of post rock and the synchopated characteristics of math rock, the Brighton four piece are impossible to pigeonhole and are definitely ones to watch. Says SHRINE:"We are so stoked that we will be playing this years Sonisphere Festival along with some of our favourite bands!"

Coming all the way from New Plymouth, New Zealand, RIVAL STATE make their first UK festival appearance at SONISPHERE. Variously labeled rock, punk, grunge and everything in between, these Kiwis specialize in loud, catchy music with a hard edge.

Formed in the home counties, THE WILD LIES peddle in hard rock, fused with intricate, grinding riffage, colliding with stadium rock chorus melodies. If you like stomping riffs, ear melting solos and choruses to make the walls sweat, don't miss their Saturday set at SONISPHERE.

Also joining the line up are London melodic metalheads THE RAVEN AGE and EMPIRE KILL.

The current lineup for Sonisphere 2014 is:
Friday

APOLLO STAGE:

THE PRODIGY
LIMP BIZKIT
HIM
BAND OF SKULLS
GARY NUMAN
ANTI-FLAG
THE DEFILED

BOHEMIA
ELECTRIC WIZARD
ANTHRAX (PERFORMING AMONG THE LIVING)
65DAYSOFSTATIC
ATARI TEENAGE RIOT
BAM MARGERA'S FUCKFACE UNSTOPPABLE
DEVIL YOU KNOW
COMEBACK KID
YASHIN
CANTERBURY
LOSTALONE
HOUNDS

JAGERMEISTER & SATELLITE STAGE
CARNIFEX
BRUTALITY WILL PREVAIL
TRC
LITTLE MATADOR
MAX RAPTOR
MALEFICE
STRAIGHT LINES
EMP!RE
BLACK DOGS
LOVE ZOMBIES
SHRINE
GLASS CITY VICE

Saturday

APOLLO STAGE:
IRON MAIDEN
DEFTONES
FRANK TURNER & THE SLEEPING SOULS
ANTHRAX
GHOST
BABYMETAL
TESSERACT


SATURN STAGE:
SLAYER
CARCASS
THE WINERY DOGS
CHAS & DAVE
ALESTORM

BOHEMIA & OTHER STAGES:
THE SISTERS OF MERCY
NEW MODEL ARMY
DOG EAT DOG PLAYING ALL BORO KINGS
SEBASTIAN BACH
THE VIRGINMARYS
RECKLESS LOVE
BLITZ KIDS
VOODOO SIX
JAGERMEISTER & SATELLITE STAGE
BLEED FROM WITHIN
THE SAFETY FIRE
STAMPIN GROUND
EUREKA MACHINES
GLAMOUR OF THE KILL
THE HELL
BROKEN HANDS
THE LOUNGE KITTENS
ZICO CHAIN
FORT HOPE
RIVAL STATE
COLLIBUS
STORMZONE
THE RAVEN AGE
THE WILD LIES
EMPIRE KILL

Sunday

APOLLO STAGE:
METALLICA
ALICE IN CHAINS
MASTODON
AIRBOURNE
DEVIN TOWNSEND PROJECT
GOJIRA

SATURN STAGE:
DREAM THEATER
DROPKICK MURPHYS
REEL BIG FISH
KARNIVOOL
PROTEST THE HERO
BLACK SPIDERS


BOHEMIA & OTHER STAGES:
THERAPY? (Performing Infernal Love)
GALLOWS
THE BRONX
CHIODOS
TRUCKFIGHTERS
KERBDOG
BO NINGEN
THE CADILLAC THREE

JAGERMEISTER & SATELLITE STAGE
RAGING SPEEDHORN
TRASH TALK
SILVERSTEIN
ANTI-NOWHERE LEAGUE
BEASTMILK
DREGEN
SWEET SAVAGE
ONLY CRIME
THE BOTS
ITCH
PALM READER
THE HYPE THEORY
KROKODIL
THE ONE HUNDRED
OCTOBER FILE

Comedy Line Up:
MAT REED – FIN TAYLOR – ALFIE BROWN – NOISE NEXT DOOR
JOHN HASTINGS – JOHN ROBERTSON – ANDREW O'NEILL – MATT REES PAT CAHILL – ALFIE BROWN – MAT EWINS – ROB DEERING
JIM SMALLMAN