SONISPHERE welcomes DEFTONES to the superb bill for their only UK appearance of 2014. Groundbreaking and highly influential, the alternative metallers have been setting new standards in exciting rock performance since the seminal album 'Adrenaline' came out in 1995. With a reputation for being one of the most dazzling and uncompromising bands on the planet, DEFTONES have, throughout the years, been garnering praise, success, and too many accolades to mention, selling millions of records and winning the adoration of their peers. With classics such as 'Back To School', 'My Own Summer (Shove It)', 'Change (In The House Of flies)', DEFTONES are poised to set KNEBWORTH ablaze with a show to die for. Says drummer Abe Cunningham:

"Greetings to ALL!!! We are absolutely stoked to be part of Sonisphere's return and of course to have a chance to once again play a show with Iron Maiden, especially on the hallowed grounds of Knebworth. Until then…!!!!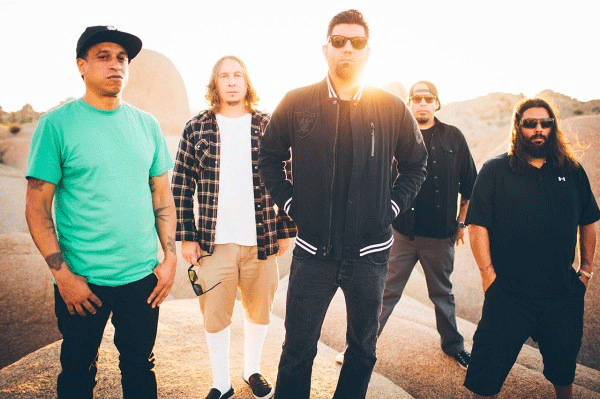 FRANK TURNER has a work ethic like no other, climbing his way up from the dive circuit to the arena limelight, claiming widespread praise and critical plaudits along the way. Outside of his own live shows, Frank has also broken into mainstream consciousness with the honours of performing at the Olympic Opening ceremony, and more recently, appearing on TV's Celebrity Mastermind. With SONISPHEREheadliners IRON MAIDEN as his chosen specialist subject, Frank – who boasts an Eddie tattoo – won the Mastermind challenge with his superior knowledge of the metal legends. It does not take much imagination to appreciate the delight he has on learning he will share a stage with his heroes for the first time:

Says Turner:

"I'm excited to be playing Sonisphere this year, and super excited to be playing the same stage as the first band I ever fell in love with – Iron Maiden; it's definitely going to be my festival highlight for 2014."

Turner will be appearing at KNEBWORTH with his band as FRANK TURNER & THE SLEEPING SOULS, having recently completed an incendiary UK arena tour in support of fifth album 'Tape Deck Heart'.

Hot off the success of their recent UK Tour with Less than Jake, Californian Ska-punk pioneers REEL BIG FISH come to KNEBWORTH armed with a hyper-kinetic live show, juvenile humour and ironic covers of new wave pop songs. With a fun filled attitude and massive dancefloor fillers such as 'Sell Out' and 'Take On Me', their set will undoubtedly prove once more that REEL BIG FISH is one of the most dynamic and accomplished bands of the genre, as they take to the SATURN stage for a Sunday Ska Punk Party.

PROTEST THE HERO have carved an identity for themselves that is thought of as profoundly revolutionary within heavy music and 2014 has already seen them complete a hugely successful UK headline tour, including a sold out show at London's Electric Ballroom. The band effortlessly balances high-minded artistry with wit and whimsy, substantive viewpoints with wanton tomfoolery, and masterful musicianship with true song-craft. SONISPHERE can't wait to see them spread the magic of their spider-fingered arpeggios, walloping bottom-heavy brutality and dynamically theatrical vocals as showcased on their fourth album 'Volition'.

Says the band:

"Europe knows something about doing festivals right. We are blown away every time we come over in the summer and take part in the fun. One of the highlights this summer is going to be Sonisphere! We are just finishing a UK leg of a tour and the turn outs have been great so I can only imagine what it will be like at Sonisphere."

Avast, ye landlubbers! Fans of the sonically adventurous will be delighted to see ALESTORM joining the festivities with their very own brand of True Scottish Pirate Metal. With a treasure chest of keytar laden, pirate themed, fist pumping folk metal, these scurvy dogs will have their most epic voyage yet as they sail the sea of SONISPHERE's SATURN stage on the Saturday for a rum fuelled set of metal fun.

Since forming in 2001, Stoner/Psychedelic rock gods TRUCKFIGHTERS have released an impressive four albums, seven EP's and a film depicting their lives named simply 'Truckfighters' in 2011. With Josh Homme being one of their biggest fans, TRUCKFIGHTERS released fourth album 'Universe' earlier this year and are an exciting addition to the festival.

2014 is full of exciting promise from Ireland's KERBDOG. Having released two albums in the 1990's to critical acclaim, disbanding and later reforming to sell out the London Garage on a special one off live appearance, 2014 will see the band release their first new material in seventeen years, and resurrect their electric live performance. KERBDOG say it best themselves:

"We would have crawled naked across broken glass to play Sonisphere. To be invited to what is one of the greatest rock festivals on the planet as we release a new live album is a gift from the Gods. The Fans are in for an earth-shattering gig that will level buildings. End of."

Having landed support slots to The Stranglers and appearing alongside Billy Talent at the 2013 UK VANS WARPED TOUR, hotly tipped UK outfit MAX RAPTOR, who blend punk and rock to startling effect, are also confirmed to appear at SONISPHERE, where their hard-edge and angry sounds as shown on their debut album 'Mother's Ruin' will resonate through the festival.
Says the band:

"Just had the awesome news we'll be playing Sonisphere 2014…. We used to go to a grubby rock club in Burton on Trent and listen to Maiden and now we're playing the same festival as them. Absolute dream come true."

Bringing the kind of American punk rock that has drawn comparison to Black Flag for its hard hitting melodies and rhythm, ONLY CRIME will treat festival goers to a truly special show. With a line up led by Bill Stevenson (Descendants) and Russ Rankin (Good Riddance) the band looks set for a big 2014 with a new album in the pipeline and SONISPHERE is looking forward to sharing it with them. Checking in from the studio, the band said:

"We know it's been awhile since we have been overseas. We have been working hard on the new record and are so excited to finally get back over there and give it all we've got."

Returning to SONISPHERE is one of the UK's most anticipated new bands, BLITZ KIDS. The outfit has been garnering praise from the likes of BBC Radio1 with their brand new album 'Good Youth' and single 'Sometimes'. On the brink of big things, audiences would be wise not miss their appearance.

Says the band:

"It's a great honour to be playing at Sonisphere Festival for its big comeback to the UK! It feels like we're part of a big welcome home party. We played a few years ago on the smallest stage, and to be asked to play on the Bohemia Stage this year is a fantastic opportunity to step it up a few gears."

SONISPHERE is excited to welcome Camden Town born and raised punk/rap artist ITCH to the weekend for the first time. After fronting critically acclaimed, ground breaking band The King Blues for seven years, lyricist ITCH took his unique brand of poetry full force into the solo act he is today. Recent album 'The Deep End' sees his unstoppable ferociousness cemented in record and is sure to make an unforgettable live experience.

"I'm so excited to be playing Sonisphere, it'll be my first time there.
It's an honour to be playing the same bill as metal gods such as Chas and Dave" jokes ITCH.

British electro/punk rockers HOUNDS join the bill after releasing their debut EP as a cover mount with Metal Hammer. Having proved their live credentials on tour with Stone Sour, as well as at appearance at SONISPHERE 2011, and citing THE PRODIGY's Liam Howlett in the list of people they've worked with, HOUNDS shouldn't be missed. Says the band:

"We can't wait to bring the noise to Sonisphere this summer, we have been locked in an Air Raid shelter for months writing and recording our debut album so we feel like caged animals. The stage ain't gonna know what hit it…."