Emerging first from this guitar-fuelled tempest are metal giants and 2014 Grammy Nominees* for Best Metal Performance, Killswitch Engage, bringing their seismic roar back to Download in a European Festival Exclusive. That's right; 50 countries, 750 million people, 90 official languages, a reported 600 music festivals: one European festival performance from Killswitch Engage in 2014: and it's at Download.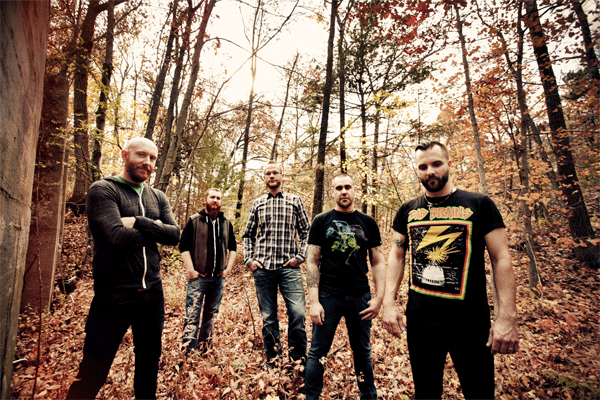 Today also sees The Pretty Reckless, set to drop new album "Going to Hell" in March, join the 2014 line-up. The New York four-piece known for its swaggering grunge-pop is fronted by former Gossip Girl Taylor Momsen, who will sashay into Donington with filthy on-stage antics and filthier on-stage ensembles. The organisers of Download Festival are still awaiting the rider request for Duct tape.
Momsen commented: We're so excited to play Download again, it was one of the highlights of touring our last record and we can't wait to bring Going to Hell to Donnington.
The craziest genre-mutating ragga-metal party in the world, Skindred, will also be crashing ashore at Download 2014, where Donington devotees will get a first live taste of incredible new album Kill the Power which, in an outrageous twist of fate, is out today! (Monday January 27th)
Expressing his excitement about returning to the festival, Skindred's lead singer Benji Webbe called on the Download faithful to adopt the band's iconic signature crowd celebration, the Newport Helicopter: The last few years have been an epic time for Skindred. The band has gone from strength to strength collecting more and more friends and fans along the way. This Download announcement has excited us more than ever, as we once again return to the home of ROCK. We shall bring and take to another level the energy and excitement that we are world renowned for. So bring a spare t-shirt and let's get the Newport Helicopter flying higher than ever before.
And if that triumvirate of rock titans doesn't rev your engine, there's plenty more fuel in the Download tank.
South African grunge monsters Seether announced recently that they will be dropping a new album in 2014 and Download will be the UK's first glimpse of the new material.
Adding a bit of dark wave theatricality to the line-up is gothic-metal-multimedia-storytelling-project, September Mourning, inaugurating a whole new art form into the hallowed Download canon.
Of course no Download announcement would be complete without its compliment of battle-hardened rock legends from across the pond; American Head Charge add to Donington's already impressive Industrial roster, The Used ride in to the UK on a tsunami of soaring choruses, Joe Bonamassa will be shredding his soul-melting blues guitar for the first time at the festival, and 90's firebrands Crazytown and Quicksand also make their Download debuts.
Another gracing Donington for the first time is classic metal supergroup Kill Devil Hillfeaturing Vinny Paul and Rex Brown of Pantera fame.
Getting even heavier, outspoken hardcore tyros Emmure and King 810 will also be raining down some good old fashioned American mayhem on Download, with Emmure's Frankie Palmeri saying: Once again we have been invited to be a part of one of the most prestigious music festivals of all time. We can't wait to step on stage and connect with our fans at such an amazing event. See ya there.
Showing these Download rookies the way will be sharp dressed Texan deathcore bruisers Upon A Burning Body who wowed crowds when they made their Donington debut in 2012. Fresh out the studio from recording album number 3, prepare to have your face melted when they once again take to the hallowed Donington stage.
Contrary to their name influential home grown Prog rockers Anathema will be welcomed back to Download with open arms fresh from recording their first studio album for three years in Norway, with the band looking forward to hooking up with their fellow Prog heavyweights:
What can you say about download that hasn't been said already? It'll be an honour to play there again and anathema can't wait. We have our newest and most exciting material from our 2014 new album to perform too. An intense Setlist, world famous festival, and our mates Opeth on after us! Bring it on!
Download 2014 will also play host to a wide range of the very hottest rock and metal from mainland Europe, including Dutch metal screamers and Donington rookies, The Charm, The Fury, Japanese berserkers Coldrain, Swedish power-metallers Sabaton and freewheeling Danish alt-rockers New Politics.
Caroline Westendorp from The Charm, The Fury said: We are super excited to be returning to the UK to play Download Festival, the festival is always filled with so many bands that we take influence from and we cannot wait to give the fans a show to remember!
But Download isn't just about being as culturally diverse as the British Museum's Halloween Party, with local superstars of tomorrow Malevolence, Polar, Heart in Handand Lyger all appearing at this year's festival.
Heart in Hand reflected on becoming part of a select group to make the transition from Download fan to performer: Having all been to the festival in our younger days, it's an amazing feeling for us to now be a part of the musicians making up the bill this year. Genuinely all very excited in our camp to play such a legendary festival and then enjoy the whole weekend once the pressure's off a bit!