The Summer Fesitval Guide can reveal that Limp Bizkit will make a special guest appearance at this years Sonisphere UK which returns after a break away from Knebworth.
Also joining them is thrash legends Anthrax, Cranifex, Chas & Dave, Devin Townsend Project, Dropkick Murphys, Silverstein, The Virginmarys and Voodoo Six!
The inimitable LIMP BIZKIT return to Knebworth as special guests to THE PRODIGY. One of the biggest bands to emerge from the Nu-Metal scene of the 90s, LIMP BIZKIT's insanely catchy and infectious rock has amassed them millions of album sales and the accolade of fastest selling rock album ever with "Chocolate Starfish & The Hotdog Flavored Water". However, it is the live environment in which they truly shine – their upcoming sold out tour of the UK bears testament to that – and the prospect of mega hits like "Rollin", "Nookie", "My Generation" and "Gold Cobra" will provide the perfect warm up to the Friday night headliners at this exclusive festival appearance.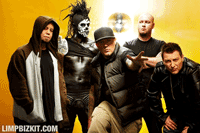 TV has soap operas, literature has Shakespeare and Thrash… well Thrash hasANTHRAX. For 30 plus years, ANTHRAX have headbanged, stomped and moshed their way to the top end of the metal food chain, selling in excess of 10 million records, enjoying multiple Gold and Platinum albums and Grammy nominations, firmly cementing their position as one of THE BIG 4. Fast, furious and above all, fun, it just wouldn't beSONISPHERE without ANTHRAX, who have graced the stage of every UK SONISPHEREto date, and continue the tradition to dose out the metal thrashing madness at their only UK festival of 2014. Scott Ian explains how it went down:

Phone rings…
Me: Hello.
My manager: Do you want to play the 40th anniversary of Knebworth; Sonisphere Festival with Iron Maiden?
Me: (filling my pants with poo) Yes!

"It's one of those phone calls you only dream about. I'm so excited for Anthrax to be a part of the biggest and best Sonisphere ever! Can't wait to destroy Knebworth again!"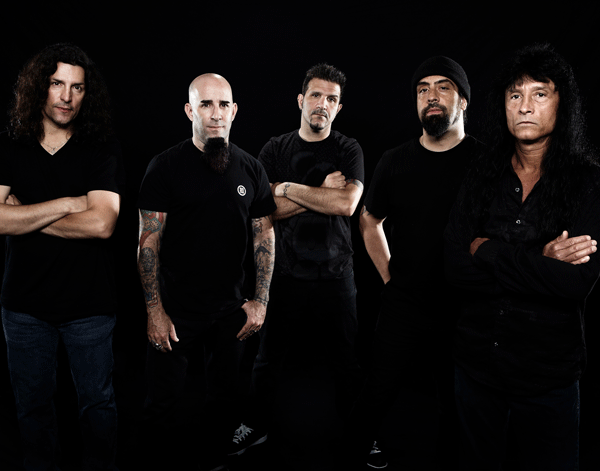 Death metal has long been the most maniacal and viscous form of rock, but as each year passes, it becomes increasingly difficult to find new contenders to carry the torch and entice and surprise an audience that isn't shocked or impressed by much. Fortunately for us, there's CARNIFEX, who join this year's line up for their first ever UK festival appearance. Last seen in the UK on the NEVER SAY DIE tour, where they punished audiences with their extremely brutal and superfast intensity, these San Diegans should enjoy a welcome return as they dish out the deathcore destruction at their first major UK festival.

"Carnifex is very excited to be a part of Sonisphere for the first time." Says vocalist Scott Lewis. "We plan on bringing a massive set filled with your favourite Carnifex songs and tracks from the new album, you won't want to miss it."

In stark contrast to the chaos of CARNIFEX, SONISPHERE continues to uphold its tradition of keeping the line up wide, varied and with the odd cheeky surprise by welcoming CHAS & DAVE to the bill. The last time the legendary duo graced the stage at KNEBWORTH was in 1979, opening for Led Zeppelin. Since then, their love of genuine Rock'n'Roll, proudly cockney vocals and exuberant good humour has seen them become a household name across the country. Thirty-five years later, CHAS & DAVE's appeal has never been greater or more varied, with audiences getting younger and new bands citing them as a major influence. The ultimate party hosts, the promise of a good ol' knees up and sing along at KNEBWORTH will ensure the kind of magical moments festivals were invented for. Say the duo:

"We went down well at Knebworth in '79. Not surprised we got a return booking!"

Truly one of a kind, DEVIN TOWNSEND is a natural born visionary, artist and entertainer and one of the most uniquely insightful musicians of the 21st Century. Over 20 years, he has given the world metal faves Strapping Young Lad and the best puppet show the world has ever seen in Ziltoid The Omniscient, not to mention the incredible works recorded under his own name. In 2012 he brought these all together for the first time for Devin's Retinal Circus at a sold out London Roundhouse for the most ambitious show of his career. Now he brings the DEVIN TOWNSEND PROJECT to SONISPHERE for his biggest UK performance to date. The man himself checked in to tell us:

"Amidst a year of relentless writing and planning, we are fortunate enough to be invited to a select few shows, and among the most cool is undoubtedly Sonisphere UK! It's an institution that is really exciting, among bands we absolutely love. We can't wait to take a studio break and come entertain you there. Thank you Sonisphere for the opportunity! =)"

Celtic punks DROPKICK MURPHYS make their way over from the state of Massachusetts for their SONISPHERE debut. Arguably one of the biggest genuine punk bands out there, the 'MURPHYS continue to surprise industry pundits by outdrawing high profile mainstream acts as headliners on major tours around the globe. With anthems such as "Johnny, I Hardly Knew Ya", "Rose Tattoo" and "I'm Shipping Up To Boston" – which provided the soundtrack to Hollywood smash The Departed –DROPKICK MURPHYS will no doubt have fists pumping and glasses raised high.

"We are psyched to see the Dropkick Murphys added to the list of amazing bands at this year's Sonisphere in historic Knebworth" says bassist Ken Casey. "We look forward to giving the equally legendary Sonisphere crowd a Dropkick Murphys show for the ages. See you in July!"

In 2011 SONISPHERE proudly boasted THE SISTERS OF MERCY's first festival performance in 20 years. The result was a rammed to the rafters BOHEMIA, as Andrew Eldritch and his not so merry men gave spectators a late night feast of THE SISTERS' unclassifiable blend of rock, pop, punk, dance and psychedelia. A rare occurrence,SONISPHERE is honoured and privileged to welcome back THE SISTERS OF MERCYfor their only UK festival of 2014. Says the band:

"We had such a good time playing Sonisphere in 2011 (for the Sisters' first UK festival in 20 years) that we're coming back, to celebrate 40 years of gigs at Knebworth. Christ, that's even older than us. We're looking forward to seeing you all (even though you might not see us)."

Post hardcore mob SILVERSTEIN join SONISPHERE 2014. Since their formation in 2000, the Canadian five-piece has become as close to a household name as you can get in the post-hardcore scene. After 5 full length albums, 3 EPs, a live album, mini album, and numerous 7" singles and collections, SILVERSTEIN have sold more than 1 million albums worldwide, played more than 1600 shows in 42 countries, and have been a staple on many festivals and tours.

"We are delighted to announce that we will be returning to the U.K. for a performance at Sonisphere." Says drummer Paul Koehler. "This will be our only 2014 appearance, and we look forward to sharing the stage with some incredible bands!"

In 2011 THE VIRGINMARYS appeared on the SONISPHERE line up as an unsigned three-piece from Macclesfield. Fast forward three years and they are now considered one of this country's brightest rock hopes. Tours with the likes of Slash, Skunk Anansie, Eagles Of Death Metal and Queens Of The Stone Age led to a deal with Double Cross/Cooking Vinyl who released their debut album last year, which in turn saw them earn the honour of Best Breakthrough Act at the 2013 Classic Rock Awards. Also enjoying huge success at radio in the USA, THE VIRGINMARYS progress shows no sign of slowing down, and we look forward to welcoming them back.

"Ace to have Sonisphere back in the UK and great to be a part of it again" chime the band. "Bring it on!"

Last but by no means least, London classic metallers VOODOO SIX join the 2014 line up. Releasing their latest album "Songs To Invade Countries To" in May of last year,VOODOO SIX spent the remainder of 2013 doing what any band with a new album would do, touring the hell out of it. However, the five-piece were in a slightly more enviable position than most, having the good fortune to play 28 shows in 18 countries to 300,000 people with SONISPHERE headliners IRON MAIDEN.

"We are very proud to be asked to play at Sonisphere UK". Says bassist Tony Newton."It is the 40th anniversary of live events at Knebworth, and will be a great celebration of rock music with a fantastic line-up. To be included in this event is a huge honour, and we will play our part in making it a memorable weekend".