The Summer Festival Guide 2014 is excited to reveal the next additions to the Download Festival lineup including Bowling for Soup, Black Label Society, Opeth, Bad Religion and more!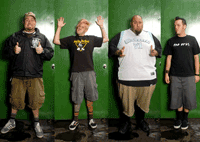 Leading the armada are pop-punk legends Bowling for Soup, who have chosen to celebrate their 20th birthday at Donington, wisely putting faith in Europe's biggest Rock Festival to bring the party.
Lead singer Jaret Reddick said: We are really stoked to be coming back to Download this year…first and foremost, our little band turns 20 this June, so what better way to celebrate! Music, beer and Portaloos! Also, it's a great opportunity to show our amazing UK fans that, although we don't have plans to tour any time soon, they will still get to see our pretty faces once in a while. Can. Not. Wait!
Celebratory Birthday circle pit, anyone…?
Elsewhere on site, two of this year's most massively anticipated spring album releases will be followed with huge live performances; Black Label Society, led by notorious shredder Zakk Wylde, and Swedish prog-metal mad scientists Opeth will both bring never-before-seen sets to Download 2014, making the crowds at Donington amongst the first to experience the new material in the flesh.
Forming the L.A. regiment of today's new Download battalion are Celtic-punk seven piece Flogging Molly and Download Festival virgins Bad Religion – making their Donington debut 35 years after they first started their melodic punk crusade against tyranny and hypocrisy.
Lead singer Greg Graffin was keen to acknowledge the UK, and in particular Donington's place in music history: Our UK fans are among the most dedicated and appreciative audiences the world over. We consider every trip to the UK a special treat, and the tradition of Donington will make this appearance all the more special. Bad Religion is steeped in tradition, so we greatly look forward to it!
Also joining them will be PHA and the Illegals, the latest project from Pantera and Down Frontman, Phil Anselmo.
Powerman 5000 are another act who will receive their Download Festival baptism in 2014, with lead frontman Spider One joining big bro Rob Zombie at the coalface of Donington's grizzly industrial underworld.
There will be less pond-crossing and more M1-gridlock-negotiating for the return of home grown Metalcore 5-piece Bury Tomorrow this June, in a set that will feature the likes of massive new single, Watcher and more great tracks yet to be revealed from impending album Runes, which lands on May 26th.
Vocalist Dani Winter-Bates commented: We're absolutely stoked to be invited back to play Download Festival. It was one of the staple points of last year for Bury Tomorrow! So we can't wait to get back to Donington and smash it!
The BossHoss, who have been purging pop songs of their innocence and churning out badass Country Trash Punk Rock for the past decade will also appear at Download 2014. Sascha Vollmer aka Hoss Power from The BossHoss said: We had a blast playing at Download in 2011 and the energy there totally blew our minds! We can always rely on a kick-ass party at our UK shows, so we're more than ready to come back and have another good old riot with you crazy bunch of rock and roll maniacs!
More? Ok, well listen up – today's announcement also confirms another handful of awesome appearances from classic North American metal caballeros Skid Row, Tesla and Danger Danger as well as Jill Janus' thrash-influenced Huntress, filthy blues-rockers The Graveltones and newcomers Anti-Mortem.
Huntress-in-chief, Jill Janus said: Huntress is honoured to play Download Festival again! We had a killer show last year, and will bring the fury to UK music fanatics once more.
Spread it, shred it, behead it!
Larado Romano of Anti-Mortem said of the announcement: Anti-Mortem is extremely excited and beyond ready to play Download this year, it will be the biggest festival we've played to date and our first as a group in the U.K. Watch out UK, we'll be kicking ass Oklahoma style and our rage is American made!
On his latest recruits, Download promoter Andy Copping said: This is shaping up to be the most diverse Download yet – a real tableau of the past, present and future of rock and metal. You can see that in our headliners; Aerosmith, Linkin Park andAvenged Sevenfold, and in today's announcement where we combine such renowned acts as Bowling for Soup and Opeth withnewer acts like Bury Tomorrow.