Sonisphere 2014 is proud to announce the first wave of bands who will be joining headliners The Prodigy, Iron Maiden and Metallica at Knebworth House on the weekend of 4th – 6thJuly, 2014.
Australian rockers Airbourne have amassed a legion of fans over their decade-long existence, with a high-octane live show featuring lead singer and guitarist Joel O'Keefe's outrageous showmanship. Songs such as 'Stand Up For Rock N' Roll', 'Runnin' Wild', 'Too Much, Too Young, Too Fast', and recent single 'Live It Up' from Roadrunner Records-released third album 'Black Dog Barking', showcase a band that wears its hard-rock heritage proudly on its sleeve channeling the spirit of Thin Lizzy, Def Leppard, Judas Priest and AC/DC into a thrillingly updated version of good time rock & roll.
Joel O'Keefe says, "Us four guys are seriously fired up and chomping at the bit to bring the 'Black Dog Barking' Tour to Knebworth. With monumental metal juggernauts Iron Maiden and Metallica coming to shake Knebworth to the core along with Bruce Dickinson also announcing it will be the last concert of the 'Maiden England' tour this is a rock'n'roll event in time that can't be missed. We are deeply honored to have the green light for an Airbourne/Knebworth assault, to get out there on Knebworth's hallowed ground in front of that sea of heavy metal maniacs and give them every ounce of blood sweat and energy we got… And afterwards we'll grab a case of ice cold Trooper ale's and watch the best heavy metal bands of all time! See ya there!"

Seminal American rock group Alice In Chains were the first of the '90s Seattle bands to find a global audience, and their influence on the world of rock and metal is indisputable, with over 25 million albums sold during the course of their career. After a decade-long hiatus they returned in 2009 with the astonishing album 'Black Gives Way To Blue' and in 2013 their latest album 'The Devil Put Dinosaurs Here' was released to huge critical and commercial acclaim around the world and saw them play a major UK tour, including their biggest-ever headline show at Alexandra Palace in London, to rave reviews. Sonisphere 2014 will be their only UK festival appearance.

Lead vocalist and guitarist William DuVall comments, "We're very excited to be playing once again at Sonisphere, particularly as this year has us joining our longtime friends in Metallica. It should be a fun ride for everyone – both on and off the stage."

Infamous Swedish doom-rockers Ghost are one of the most talked-about bands of recent years, their ghoulish stage presence – led by Papa Emeritus – ensuring their stage shows are ever-memorable affairs. But it is their hauntingly atmospheric, but always melodic, music that has won them a devoted audience and with the release of their second album 'Infestissumam' and its follow-up covers EP, 'If You Have Ghost', that audience has grown ever-larger still. Ghost's performance at Sonisphere 2014 will be their only UK festival appearance this year and is sure to be a must-see event.

A Nameless Ghoul announces, "It is an honour to be playing at the unholy ground that is Knebworth, where so many classic rock concerts have taken place throughout the years."

French progressive-metallers Gojira will also play their sole UK festival of 2014 at Sonisphere. Having toured with the likes of Trivium, Lamb Of God, Machine Head and Metallica over the years, Gojira are a formidable live act, combining brutal death metal with enormous technical skills to create their own unique sound, most recently on their 2012 album 'L'Enfant Sauvage', released on Roadrunner Records.

Joe from Gojira states, "We are super excited to return to the UK to play the Sonisphere festival at legendary Knebworth this year. We can't wait to come and kick your British asses!"

Perth-based Australian five-piece Karnivool are at the forefront of modern prog-rock, creating elaborate melodic soundscapes and delivering devastating live shows. Their Sonisphere performance is another UK exclusive for 2014 and will see them performing songs from last year's critically acclaimed third album, 'Asymmetry'.

Drew Goddard (guitarist) says "We can't bloody wait to get back to play Sonisphere UK 2014. Sonisphere Knebworth was actually the first European Festival we ever played a few years ago, so it will be nice to come back and kick some grass and have people know who we are!"

The mighty Mastodon return to Sonisphere, following their 2011 performance, as yet another exclusive addition to the 2014 bill. Formed in Atlanta, Georgia in 2000 Mastodon have released five studio albums to date, culminating with 2011's 'The Hunter' which was voted album of the year by Kerrang, Metal Hammer, Rock Sound, Classic Rock, Terrorizer and Thrash Hits and saw them play a sold-out show at Brixton Academy. Their performance at Sonisphere will be the first chance for British fans to see them play tracks from their forthcoming sixth album, due out in the spring.
"We are super excited to be playing Sonisphere Knebworth again!!!" they exclaim. "We had such a good time at the last one, this one will be even better!! We look forward to seeing you there!!"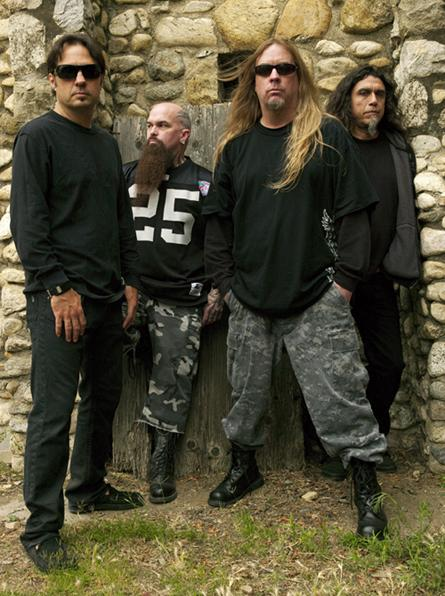 Thrash-metal gods Slayer need no introduction as they bring their ferociously demonic live show back to Sonisphere, following their 2011 performance as part of the Big 4 line-up alongside Metallica, Megadeth and Anthrax. With their 11th studio album due for release in 2014, Slayer will be delivering their brand of skull-crushing heaviness louder and heavier than ever before.

As guitar-god Kerry King says, "Great to be back at Sonisphere this year!! Always a giant party!!!"