Festival newcomer Ringmaster Festival, are pleased to announce the second installment of additions to this years line up. On September 28th 2013 the first Ringmaster Festival will take place on the Whitbourne Estate near Worcester, for a concoction of music and food, meeting a vintage circus theme.
New additions to the line-up are Ghostpoet, who headlines the Mabel Stark stage, along with Johnny Borrell & Zazou, We Are The Ocean, Dutch Uncles & Dinosaur Pile-Up who also join the bill.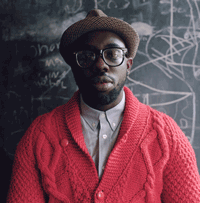 Others acts joining the line-up are The Blackout, who will headline the Red Baron stage, Arcane Roots and in keeping with the festivals new music ethos newcomers, Waylayers, Chronographs, Meadowlark & Mike Dignam, amongst others are set to play this years festival. The Red Baron stage will also play host to a Special Guest before The Blackout.
Set in the stunning Hereford & Worcestershire countryside borders, a place usually home to cattle, this years Ringmaster Festival will, for one day, be home to 6 big top tents, with the look and feel of a vintage circus (circa 1934) but with a focus very much on music.
With a shared vision and ethos of celebrating creativity in all forms whilst supporting the next generation running through from the festival founders and all the extended staff Ringmaster will be donating a share of £5 per ticket to their two chosen charities, Barnardo's & Longlands Care Farm. There will also be a focus on being 'green', with the festival using local food produce and only allowing a certain number of vehicles on site, to reduce long term damage to the fields.
Other acts confirmed for this year are; Maximo Park, who headline the BIG ELI tent, with Mystery Jets, Deaf Havana, Swim Deep, Theme Park. Canterbury, The Xcerts & Blitz Kids join play the Red Baron stage, with Tall Ships, Chloe Howl & Fossil Collective being some of the names on the Mabel Stark stage.
Ringmaster also welcome, Isolated Atoms, Dolomite Minor, The Darlingtons, Lloyd Yates, Mike Marlin, Midnight Special, Katey Brooks, The Watermelons and Liz Lawrence to this years line up.
For full line up and stage information please visit: www.ringmasterfestival.co.uk