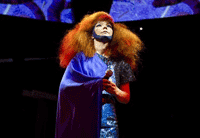 On 6th and 7th September, Berlin Festival will once again take take over the historic Tempelhof Airport and the organisers are now thrilled to reveal that this year's edition will see Icelandic pop icon Björk headline the festival on Saturday! The exceptional artist has been crossing genre boundaries with albums such as Debut, Homogenic or Vespertine, and keeps on influencing myriads of acts across the globe. With her current, app-based album, Biophilia, Björk, once again, proved to be one of the true pioneers of pop music. At Tempelhof Airport, she will play her only show in Germany as well as the final concert of her Biophilia tour.
With Oddfellows, Tomahawk will release their first album in seven years. Alternative rock sounds galore will spread across the airfield on Friday. DJ Shadow, the man who released the first album solely based on samples, has also been added to the line-up. He will get behind the decks at Club Xberg on Friday. Delphic took their electro pop sound to the next level with their sophomore album, Collections, which they will perform at Tempelhof Airport on Saturday.
AlunaGeorge will take to the stage with their their debut album, Body Music, on Friday putting forward a sound that mixes 2Step, R&B and pop. Irish folk band Villagers will play songs off their second album, Awayland the same day then on Saturday there will be a special show from Die Orsons, who caused a stir with their track Horst & Monika at the German Bundesvision Song Contest last year.
We're also adding to Club THF's line-up with the Berlin-based DJ duo Tale Of Us supporting Ellen Allien on Saturday. With his debut EP, DJ and producer Ben Pearce from Manchester reached number one on the Deep House Charts. On Friday, he'll join John Talabot behind the DJ booth at Club THF.