On the same stage the night before, Friday 14th, Bat For Lashes will be the first to perform with their epic contemporary pop.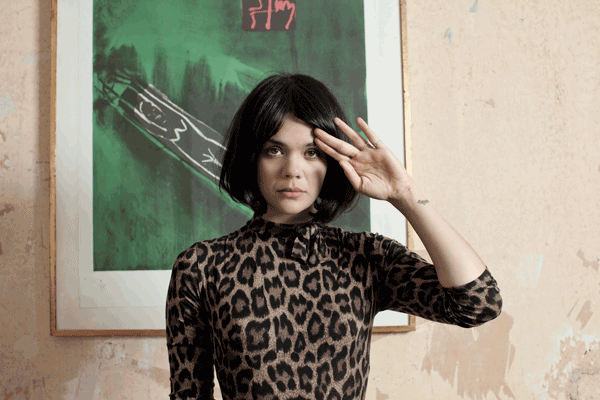 =The SonarCar stage will present the showcases of the most important european labels and platforms on the current electronic dance scene: 50Weapons (Anstam, Benjamin Damage, Phon.o, Bambounou), Rush Hour (San Proper, Antal), Radio 2 / Life and Death (Clockwork, Vaal), Classicworks (Nehuen, Cardopusher) y Suara (Coyu, Edu Imbernón).
At the same time, SonarSound Tokyo also gets more artists added to it's line-up, among them are Alec Empire and Pinch, as well as new representatives from the Japanese scene.
Sonar by Night adds more new names to its program, in addition to those already announced: Kraftwerk (3D show), Pet Shop Boys,Diplo, Raime, Major Lazer, Derrick May, Maceo Plex, Skrillex,Baauer, Nicolas Jaar, Darkstar, Soulwax, Two Door CinemaClub, Seth Troxler, Karenn, Delorean, Laurent Garnier andPaul Kalkbrenner, among many others.
With more artists still to be confirmed, here are the latest additions:
Jurassic 5 (US)
Bat For Lashes (UK)
Skream (UK)
Luciano (CH)
Alizzz (ES)
Thug Ladies (ES)
Kimerly & Clark (ES)
Alvin Risk (US)
50Weapons presents:
Anstam (DE)
Phon.o (DE)
Benjamin Damage (UK)
Bambonou (FR)
Rush Hour presenta:
San Proper (NL)
Antal (NL)
Radio2 Inthemix presents Life and Death: 
Clockwork feat. Avatism (IT)
Vaal (IT)
Suara presents: 
Coyu (ES)
Edu Imbernon (ES)
Classicworks presenta: 
Nehuen b2b Cardopusher (ES)
Jurassic 5 are undoubtedly one of the most important groups in recent hip hop history. The Los Angeles band reunite this year, six years after their last album and is guaranteed to be a triumphant return to the stage of all its original members who will experience Sonar by Night. DJ Nu-Mark, Cut Chemist, Chali 2Na and company are undisputed masters in the art of beats and rhymes whose countless hits are already part of the collective memory in lovers of the genre and indeed music fans in general. What a treat…
Bat For Lashes, the project by the charismatic Natasha Khan, a British singer-songwriter (with Pakistani origin) of enormous talent, and one of the most interesting voices on the international scene. Khan will present her most recent praised work "The Haunting Man", a formidable collection of contemporary synth pop at what will be her very first Sonar performance.
Beyond being one of the pillars of dubstep, Skream has now become a more mature musician and dj, capable of mixing (like few others), all genres of today's dance music with a master's touch. His session at SonarPub on Saturday falls between two heavyweights Justice and Laurent Garnier, where he is sure to surprise more than a few. 
Luciano has had an extensive career in some of the worlds best dj booths, demonstrating his versatility, with a style that in recent years has moved between minimal techno and percussive house. He is therefore the perfect man to close Saturday night at SonarClub.
Meanwhile, young Alvin Risk will show us his skills on the decks, which have earned him the right to include himself as part of the new breed of young producers and djs in American electronica. Not surprisingly, he will play just ahead of the Skrillex performance, the most visible face of the new revolution on U.S. dancefloors.
Also joining the Sonar Night, national maximalist and synthesizer magician Alizzz, the versatile and audacious Thug Ladies djs, as well as Barcelona dj duo Kimberly & Clarke, with a moombathon session.
The Sónar Pass, the 2-Night Ticket, the individual tickets for Sónar by Day and Sónar by Night, and the professional accreditation are now ALL on sale via www.sonar.es.
Today's Top Rated European dance music labels at SonarCar
SonarCar, the bumper cars stage, returns to Sónar by Night as a meeting point with a reputation to surprise. It will showcase some of the most important labels and major European collectives in the current landscape of electronic dance.
50Weapons, Modeselektor's label, has demonstrated a finely tuned taste in the selection of its catalogue. It's showcase presents four of their latest signings: young Welshman Benjamin Damage, veterans Anstam y Phon.o, and one of the most promising artists in French electronica, Bambonou.
Rush Hour is synonymous with work of the highest quality. Number one record store and distributor, for several years it has been one of the most reliable operations on the continent. The Dutch brand will present San Proper 'live' and a session by one of its founders,dj Antal.
The musical programming of Italian public broadcaster Radio 2advocates the modern and daring, as the sound of the Life and Death label output who will present two of their most prominent artists at Sonar by Night: Clockwork feat. Atavism and Vaal.
Based in Barcelona, Suara have earned their reputation across the continent among lovers of quality techno dance music, resulting in some their most important flag bearers like Coyu (founder) or Edu Imbernon continuously playing on both sides of the Atlantic.
Finally, Nehuen and Cardopusher have been chosen to close Saturday night at SonarCar. Two lovers of old drum machines; they are responsible for a new national movement of house and techno with the Classicworks analog flavor. Sonar visit Japan from 5th – 8th April: The 6th and 7th being the 6th edition of SonarSound Tokyo, with the 5th and 8th of the same month being held as the 1st edition of A Taste of Sónar Osaka.
The festival in the Japanese capital also includes new names; among those who standout are Alec Empire (powerful musician and noise lover and founder of the legendary Atari Teenage Riot) and British DJ and producer Pinch (influential cornerstone of dubstep and its derivatives from his Tectonic label). 
Also, the festival adds new and relevant representatives from the Japanese scene, such as agraph, DJ Nobu, Madegg, Soichiro Tonaka and nisennenmondai.