We're very excited indeed to announce that recent UK singles chart toppers Rudimental will be making their Bestival debut this September. Hailing from London's east end, the four-piece are going to be smashing out the certified drum and bass bangers for the mainstage crowd, including 'Feel The Love' which has propelled them into the heart of the big league. Prepare to bounce when the beats drops.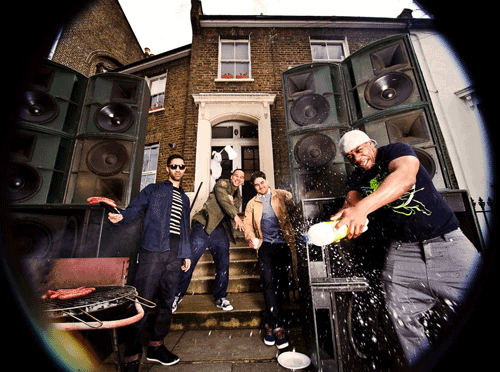 Fresh from her recent trip to Los Angeles, where she's been writing and recording songs for her forthcoming third album, Kate Nash who has caused a stir with her latest offering, 'Underestimate The Girl', a no-holds-barred dive into punk spirit will also be making her way across the Solent to join us once again.
dan le sac, whose much anticipated debut solo album 'Space Between The Words' is set to be released imminently, will be making a very welcome Bestival solo appearance to showcase his musical psyche, embracing everything from electro-pop to psychedelia, all accompanied by an impressive array of vocal talent. Also revelling in his solo ambitions dan le sac's regular sparring partner Scroobius Pip will offer up a slice of his acclaimed 'Distraction Pieces' long-player that has seen him smash his punk, rock and hip-hop influences into a pleasing new whole.
Plus there will be sleek modern action with soulful vocals and garage stylings from criminally young sibling duo Disclosure. Supporting the release of their eponymous debut album that's due to drop the week they play Bestival, Stooshe will be cranking up the in your face R&B factor. Clement Marfo & The Frontline will add gargantuan pop hooks, sweet neo-soul vocals and a rush of energised rock dynamics to their grime and hip-hop core. And Jeremy Warmsley and Elizabeth Sankey AKA Summer Camp are set to demonstrate their 80s inspired synthpop sunshine, delivering what can only be described as bliss drenched moments of pure pop joy.
A perennial Bestival favourite, The Correspondents will be mixing up the heady flavours of dance music, all sensationally seasoned with frenetic frontman Mr Bruce's unique vocals. But wait! If you can't hold on until September to experience The Correspondents, then you're in for a treat as we have a brilliant free track from them for your delectation that you can download here.

And that's not all, as there's lots more live action with critically acclaimed, Americana tinged pop from multi-instrumentalist James McCartney, melodic guitar based behaviour from Meteor-winning Irish rockers The Coronas, off beam folk from Beans on Toast, dark melodies from the very hotly-tipped Brightonian quartet Two Jackals, warm, inviting, melodic vintage synth-driven loveliness from Lucky Elephant, Californian Psych-pop from Sleepy Sun and four-headed multi-instrumental mayhem from Gush.
An undisputed legend of reggae, we're over the moon that on Friday evening Bollywood will play host to David Rodigan MBE Presents Ram Jam. With sets from the master himself and Shy FX & Stamina MC, Top Cat feat Sir Coxsone Outernational, B Traits, The Nextmen & MC Wrec, General Levy and Congo Natty in what is destined to be a heavyweight session featuring the best of classic and brand new music spanning the worlds of reggae, dub, D&B and dubstep.
David is also very pleased to announce the addition of his Ram Jam Chicken Shack at this year's festival, located near the Bollywood tent, selling the very best in Caribbean food with a twist!
Says David Rodigan MBE – "Delighted to be returning to Bestival, but this year with my own Ram Jam tent and special guests. Plus we're bringing our Ram Jam Chicken Shack, so its music for your mind and food for your soul, Rodigan style and fashion! Time to bring the signal!"
We're ecstatic to be able to unveil the full line-up for Jaguar Skills & His Amazing Friends , as he takes over Bollywood on Sunday night with glitchy electro dubstep from Zomboy, part rap, part punk, part rave-up rawness from Murkage, who will be playing live, bass heavy brilliance from three times DMC champion DJ Cable and electro and house bangers aplenty from [email protected].
Says Jaguar Skills – "Ninja's…everybody knows I love playing Bestival…and this year is set to become my favourite year ever. Rob da Bank and his team have kindly given me full control of the line-up on the Sunday for the Bollywood tent. So join me, Murkage (Live), Zomboy, DJ Cable and [email protected]' as we bring an aural assault of every tempo to your eardrums. HoooOOOO!"
And, charged with keeping the dancelfoors bouncing day and night at Robin Hill, we have even more superfly selectors coming to the party including the expansive breaks, dub and glitch sounds of San Francisco's Bassnectar, grime, house and soul styles from Alexander Nut, reggae greats played correctly by the incomparable DJ Derek, sing-along sickness from the Hip Hop Karaoke crew, hip shaking house from The Good Guys, fist pumping goodness from Soft Rocks who will be taking things beyond the guiltiest of pleasures and atmospheric techno from Ben Hoo. Plus there will be Continental Drifts' main man Chris Tofu, UK Bass action courtesy of Low Fro, legendarily eclecticism from Michael Cook, non-stop party flavours from Bestival heroes Sombrero Sound System and crazy funsters Dick and Dom will be dropping their 'Rip It Up' DJ set. No, really! We also advise you to keep an eye out for the Police Rave Unit dropping classic cuts across a spectrum of dance music, whilst keeping it legal on the mic!
Finally, we're very pleased indeed to be able to announce that controversial author and public speaker, David Icke will be conducting one of his world-famous talks in the Ambient Forest. Notorious for his contentious views and conspiracy theories, his vast array of hypothesis and philosophies aren't always as outlandish as you might think and we heartily recommend keeping an open mind and checking out what he's got to say.
Tickets are selling like hotcakes, so if you want to guarantee yourself a slice of the greatest show on earth you need to get your skates on! And do keep on checking in at www.bestival.net, and our Facebook page and Rob da Bank's Twitter for loads more info and cool stuff!
All The Acts Announced So far:
Live Performances From: Stevie Wonder / Florence + The Machine / New Order / Sigur Rós / The Xx / Friendly Fires / Nero / 2manydjs – Live / Soulwax / Justice Live / Two Door Cinema Club / Hot Chip / Miike Snow / Bat For Lashes / Emeli Sandé / Orbital / Frank Ocean / SBTRKT / Warpaint / De La Soul / Roots Manuva / Major Lazer / Sister Sledge / Gary Numan / The Horrors / Spiritualized / Death In Vegas / Doom / Ben Howard / Michael Kiwanuka / Sub Focus / Azealia Banks / Alabama Shakes / Dan Le Sac / Scroobius Pip / Saunderson Feat. Inner City Live / Gallows / Kate Nash / Rizzle Kicks / Totally Enormous Extinct Dinosaurs / Earth Wind & Fire Experience Feat Al Mckay / Buraka Som Sistema / Sage Francis / Grimes / Bellowhead / Django Django / Little Dragon / Gold Panda / Adam Ant & The Good, The Mad And The Lovely Posse / The Cuban Brothers / Top Cat Featuring Sir Coxsone Outernational / Chairlift / Disclosure / John Foxx And The Maths / Summer Camp / Iceage / Ren Harvieu / John Talabot / Lianne La Havas / Delilah / Alunageorge / First Aid Kit / Gesaffelstein / The Correspondents / Daughter / Zulu Winter / Ane Brun / Friends / King Khan And The Shrines / The Japanese Popstars / Chas & Dave / Dub Pistols / Kindness / Factory Floor / Charli XCX / Errors / Lucy Rose / Skepta / Sunless 97 / Sleepy Sun / Congo Natty / King Krule / Toy / Dirty Beaches / Drums Of Death /Jessie Ware / Jeffrey Lewis & The Junkyard / General Levy / Lucky Elephant / Slagsmålsklubben/ Jaipur Kawa Brass Band / Field Music / Jinja Safari / Kawa Circus / B.Dolan's Church Of Love & Ruin / James Mccartney / The Coronas / 02:54 Porcelain Raft / Milagres / Three Bonzos And A Piano / Prince Fatty / Liz Green / Forest Swords / Willis Earl Beal / Murkage / Alt-J / The Staves / Jake Bugg / Skinny Lister / Josh Kumra / Ryan Keen / Stay+ / Jamie N Commons / Nina Nesbitt / Bigkids / Gabrielle Aplin / Kwes / Gush / Diagrams / Fiction / Turbowolf /Mary Epworth / Wet Nuns / The Other Tribe / Beans On Toast / Misty's Big Adventure / This Is The Kit / Stealing Sheep / Clock Opera / Young British Artists / Patterns / Ghost Outfit / L.A. Salami / To Kill A King / Dingus Khan / Crowns / Killaflaw / Barker & The Red Clay Halo / Parma Violets / Gorgeous George / Subgiant /Heath:Ward /Laurel Collective / Ahab /Gecko /Model Society / Tom Williams And The Boat / Daytona Lights / Two Jackals / Biederbeck / Valentine Gray / Charley Macaulay / Sky Sphere / Blackhouse Crow / The Lovely Eggs / St Spirit / Charming / Alonestar / Shepherds / Cherishport / Seán Mcgowan / A Way Of Life / This Way Up / The Widowmaker/
DJs Sets From Rob da Bank and Friends: Annie Mac Presents / Four Tet B2B Caribou / The 2 Bears / David Rodigan MBE Presents Ram Jam / Jamie xx / Skream And Benga Feat Sgt Pokes And Youngman / Dirtybird Showcase Feat. Claude Vonstroke, Justin Martin & Eats Everything / François K / Brodinski / Moodymann / Gilles Peterson / Redlight / DJ Yoda / DJ Derek / Bassnectar / Maya Jane Coles / Scuba / Kavinsky / Julio Bashmore / LTJ Bukem / / Shy FX And Stamina Mc / Plastician / Matador / Greg Wilson / Doctor P / The Nextmen / Hip Hop Karaoke / MC Wrec / Pearson Sound / Adamski / Borgore / Flux Pavilion / Max Cooper / Gemini / Krystal Klear / Pangaea / Reggae Roast / Billy Daniel Bunter / Pariah / Trolley Snatcha / Krafty Kuts / Warm & Electric Minds / Scratch Perverts / Koan Sound / Camo & Krooked / Giles Smith & James Priestley (Secretsundaze) / Mosca / Numbers Showcase: Oneman B2B Jackmaster, Deadboy, Spencer, Redinho / B Traits / Ben Ufo / PBR Streetgang / Jaguar Skills & His Amazing Friends / Drums Of Death / Blawan / Frank Tope / Leo Zero / Dismantle / Gutterslut / Melé / Girl Unit / Zomboy / The Good Guys / Luv*Jam / Dr Alex Paterson / Chris Coco / Pete Gooding / Phil Mison / Mark Jones / Duff Disco / Sonnyji Presents Bang Bhang / Danny Whitehead / Mixmaster Morris / Police Rave Unit / Sombrero Sound System / Rev Milo Speedwagon / Graeme Fisher (Balearic) / DJ Cable / Foamo / Shepdog / The Shellac Collective /Flying White Dots / DJ Charge / Pathaan / Mojo Filter / Fear Of Theydon / Tythe / Sink The Pink / George B / Kaf-Tan / Soft Rocks / Michael Cook / Chris Tofu / Ben Hoo / [email protected] / Low-Fro
Mr Motivator
Brainfeeder Presents Thundercat, The Gaslamp Killer, Teebs, Lapalux, Jeremiah Jae, DJ Kutmah
Channel One Sound System