The renowned Kapela Ze Wsi Warszawa and Cool Kids of Death will present their new releases, UL/KR, Pablopavo andPraczas bring their debuts to Gdynia.
Yeasayer are the surprise announcement of this turn. Although their next release comes out in a bit, the Polish audience will have a chance to listen to the new material before the official date. A few months ago, the New Yorkers announced working on a "demented" record, described as "an Aaliyah album if you played it backwards and slowed it down". Has the direction taken in the studio changed, or maybe was enhanced by other shades, is to be determined on July 4th.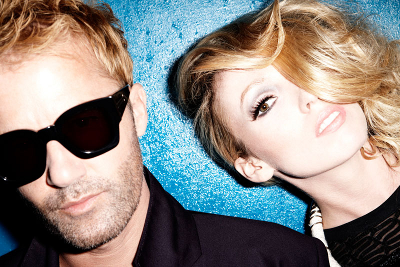 Joining Open'er are The Ting Tings "Sounds From Nowheresville", the follow-up to ultra-catchy "We Started Nothing" took long to be made. Allegedly, the album was inspired by Berlin electro scene. However, two months ago, the band delivered a semi-acoustic, semi-electronic LP, setting boundaries from the successful debut. Katie White and Jules De Martino now focus on promoting their album, and we are waiting for their next concert at Open'er. This one to remember, from 2009, was a perfect combination of both the band and the public in their best of moods. We're counting to see it again in a dozen weeks.

Soldiers Of Jah Army are one of the most popular American reggae bands. Their success in Europe, much later than in their home country, was achieved thanks to Gentleman, who invited the band to tour along him. They gained notoriety with "Peace In a Time of War" in 2002, but their breakthrough came with "Get Wiser", where they defined their style and commitment to the roots of the genre, presented with freshness. The last one, "Strenght to Survive", was released earlier this year. – The musicians truly understand the Jah philosophy, tackling the subjects ever-present in reggae: peace, love and humanity.

Also added to the line-up are the cream of the crop of the Polish scene.Fisz Emade Tworzywo are Open'er's regular guests. This time, Bartek and Piotr Waglewski will appear onstage to enliven the songs from their first three records and the material somewhat reaching back to their beginnings, and surely to their youth fascinations with a special MEDLEY project. Kapela Ze Wsi Warszawa (Warsaw Village Band)who have crossed both musical and national their return to Gdynia are Cool Kids of Death. Ten years in the field, they were able to withstand all storms of Polish music market. Although dubstep duo Pablopavo and Praczas appeared previously at Open'er in different line-ups, this will be their first appearance together. Two talents of urban music on one of the most important albums of last year live at World Stage! UL/KR'seponymous debut is one of the most commented debuts of last months. A little over 20 minutes of music with no counterparts made UL/KR the darlings of local blogosphere. If it was reviewed by Pitchfork, Best New Music would be a formality. There are things in their music so new you didn't even know they existed.