Meet the line-up: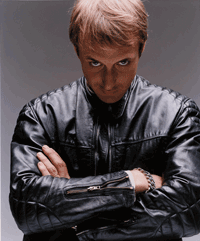 There's no other festival in the world where David Guetta feels more at home like at Heineken Balaton Sound. No wonder, he already played stunning shows at the event for the last 4 years and is more than happy to return.
Berlin Calling star Paul Kalkbrenner is never short of creative energies – unlike the character he plays in the famous movie). He has been already headlining the biggest parties of Germany and Europe, so it's high time for him to come and play at the lakeside event.
Sander van Doorn has always dealt with a wide range of electronic styles and already earned many awards with his powerful trance productions – clearly regarded as anthems of the scene.
You love family reunions? Not really? Just check out how the Kalkbrenners do it at this year's Heineken Balaton Sound. You have the chance to listen to the live version of the biggest techno hit of the last few months, Sky & Sand, thanks to Paul Kalkbrenner and his younger brother. Fritz Kalkbrenner has always been involved in the German e-music scene and created his own sound, a style that's close to his brother's productions, but mixed with hip-hop, house and even soul elements.
Another great performer of the Balaton event will be Gareth Emery, a world famous trance DJ and producer and a regular at the biggest international e-music parties. Also in the line-up Maceo Plex, the American musician and producer, who nowadays lives in Spain and is mainly experimenting with deep house elements. You might know his earlier works as well, as he produced tech house and techno tracks under the names Meatrik and Mariel Ito.
Besides Björk we are happy to host another Icelandic super production at this year's Sound, namely Gus Gus, playing a sophisticated and welcoming style of electronic music. And let's not forget about Feed Me, a truly entertaining, fresh and eye-catching side project of Jon Gooch, aka Spor, representing the British drum'n'bass, dubstep and electro house scene.
Nina Kraviz is a remixer, singer-songwriter and a resident DJ of Moscow's most popular club, the Propaganda. She is surely used to play for full houses and most probably experience the same this summer in Zamárdi. Crazy P is another great asset in the line-up, an electronic production, also using live instruments (drums, guitars) as a key part of the show. They will arrive to Lake Balaton, presenting their new album, When We On.
Tensnake, aka Marco Niemerski is a true messenger of disco's rebirth. The Hamburg-based DJ-producer is very popular in the German underground electronic scene, inspired by house, the disco era and the 80's electro-funk craze. Last but surely not least, we are pleased to announce Dapayk Solo, aka Niklas Worgt, representing the Berlin club scene and experimenting with many styles (like drum'n'bass, house) before arriving to the world of minimal techno in the mid-2000's. And rightly so, as Groove magazine awarded his debut album with 'the best of the year' title, while Niklas became the producer of the year.
If you like what you've just read, please don't forget that early bird tickets are only available until 15 April. Of course you can also buy your ticket afterwards, but it surely makes sense the think ahead.
More information and tickets: www.balatonsound.com