THE TEMPER TRAP, BRITISH SEA POWER, THE LOW ANTHEM, GUILLEMOTS, KING CHARLES, THREE TRAPPED TIGERS, LITTLE COMETS and more will join the already-announced MYSTERY JETS, VILLAGERS, 65 DAYS OF STATIC and GET CAPE. WEAR CAPE. FLY! amongst many more on the bill for this year's Truck Festival!
Here's new Truck organiser Ralph Broadbent: "I think this line-up captures the spirit of Truck over the last 15 years – everything that's great about music all in one place, with some of the most creative and independent acts out there, and at £69 for the weekend, it's really affordable!"
We hope you'll agree, this is as good a selection as you'll see anywhere trooping in for Truck's 15th Anniversary on July 20th & 21st at Hill Farm, Steventon. Early Bird tickets have sold out but Weekend tickets are indeed still only £69; they are available now at www.truckfestival.com.
THE TEMPER TRAP
Closing the main stage on the Saturday will be The Temper Trap; these Australians sport an international Top 10 hit single, Sweet Disposition, and a 2011 BRIT Award nomination for 'Best International Breakthrough Artist'; this year they're following up that breakthrough with a much-anticipated new album, 'The Temper Trap'. The new album was recorded at the famed Sound Factory in Los Angeles, with producer Tony Hoffer (Beck, M83,Phoenix) and we look forward to seeing their ambitious live show on the back of a truck…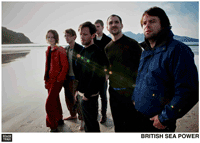 BRITISH SEA POWER
It's an amazingly long time since BSP graced Hill Farm, which is surprising because they are almost the perfect band for the festival. In an unrelated comment, frontman Yan recently claimed: "I was a big fan of World's Toughest Trucker on UK Channel 5, which finished a couple weeks ago – especially old dog Rookie who came third. You can probably still see it via the Watch It Again M8! function?" Perhaps he's cryptically expressing his excitement to be back playing at Truck Festival. We'd better do a risk assessment for use of twigs and branches on the stage…
Oh my God, THE LOW ANTHEM!
We are delighted to add this talented and creative band; they embody the DIY spirit of Truck Festival, self-releasing their break-out 3rd album "Oh, My God, Charlie Darwin", screen-printing the covers themselves and heading out on the road to promote it. Last year, as well as following up with "Smart Flesh", produced by Mike Mogis of Bright Eyes, they dished out a free album for fans under the alter-ego "Snake Wagon". The epic sweep and rustic roots of their music will sound great on the back of a truck at Hill Farm, that is for sure!
GUILLEMOTS
Fyfe Dangerfield & co recently played instore at Truck Store and mentioned that they had somehow never played Truck Festival, and the new organisers instantly moved to correct that! As well as having mass appeal and hit albums, the band are constantly evolving and putting out interesting music, which makes them a perfect band for Truck too. Drummer Greig Stewart has close links with the Oxford area so we're glad to welcome him along to Truck to play – finally!
And that's not all:
KING CHARLES has toured with Mumford & Sons, Noah & the Whale and Laura Marling, but has a style and bohemian panache all of his own, "part of that tradition of uniquely English, psych-inflected pastoral whimsy", and our scouts saw it for themselves at a recent Oxford show. His debut album comes out in May. We also welcome VADOINMESSICO, an elusive collective from London with accordions, harmonies, and even a remix by Crystal Fighters. Mysterious! and FEDERATION OF THE DISCO PIMP: Maybe you've listened to ex-Red Dwarf man Craig Charles' funk show on 6 Music, in which case you'll have heard these guys: Scotland's premier exponents of modern funk, alright! and this just in: LITTLE COMETS will be bringing their hard-touring guerilla-gigging bandwagon all the way from Tyneside, for one night in July!
The much-requested London noise-rockers THREE TRAPPED TIGERS will be closing the Barn on Saturday which will doubtless be a very special occasion. Before them, just in case you missed it, we have announced the line up for the Alcopop Records and Big Scary Monsters takeover (4-9pm Saturday, The Barn). They will be bringing with them: JOHNNY FOREIGNER, TALL SHIPS, BRONTIDE, TALONS, GUNNING FOR TAMAR & MY FIRST TOOTH. Sweeeeet! These labels, and bands, represent what the Barn stage is all about and no doubt the famous cowshed will be heaving throughout!
Of course, there are many more artists still to be added, including many local acts; we are accepting
BAND SUBMISSIONS
until
1st April
2012. After this date, no further submissions will be considered. To apply, bands can send an email with links to 2-3 recordings on Soundcloud or Youtube to:
[email protected]
. We ask them not to send MP3s or other audio files or large photos as attachments (these clog the inbox), and please don't try to send us physical packages- we haven't got anywhere to put them!
We've also launched a new website with all kinds of information about the festival at www.truckfestival.com. Tickets can be purchased there for this year's 15th Anniversary back-to-basics truckstravaganza! Tickets are also on sale at Truck Store, Oxford and will soon also be available at Remade Guitars, Abingdon.