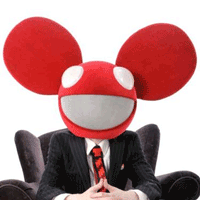 The achievements of MUMFORD & SONS since the release of debut album 'Sigh No More' has been a success story rarely matched in recent times. A story, written and mapped out on the road. From a live adventure across India, to sold-out arenas in America and Australia, and from the festival fields of Europe, to impromptu parks on the Railroad Revival Tour in America, each and every town and city that has welcomed the band has been treated to a jubilant performance, regardless of the size of venue. With countless acknowledgements across the Grammy's, Brits and Mercury Prize, the music of these multi instrumentalist marvels is real, authentic and simply stunning .
Now this band of brothers is preparing to unveil album number two and hit their spiritual homes on the road once again. A little wiser, a lot more experienced, but ready to take their electrifying live show to the masses. RockNess is thoroughly delighted to announceMUMFORD & SONS as the first of this year's headliners.
Intense and inspiring, to witness a DEADMAU5 live show is to experience shock and awe. A dazzling spectacular of technical wizardry and kaleidoscopic visuals that has seen the Toronto-born behemoth (aka Joel Thomas Zimmerman) garner acclaim from both critics and fans alike, and continue his ascent as one of the very biggest names in electronic music. Famed for his brand of progressive dance that has been shaking enormodomes across the planet, the Grammy-nominated, Billboard-topping superstar DJ and producer is seriously hot property and his RockNess headline assault will be a major festival highlight of 2012.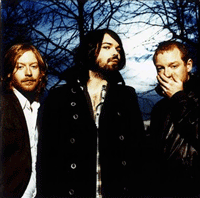 As one of the very best live bands around, BIFFY CLYRO are at the top of their game. A decade long assault on the globe's live music circuit and a five album-strong catalogue heavy on blistering, fist pumping anthems has seen to that. The trio's unique sound, brought to glorious fruition on platinum selling albums 'Puzzle' and 'Only Revolutions' is well honed – a mix of off-kilter tempos, thumping guitar riffage and soaring vocals – and has steered the Ayrshire trio's well earned rise to rock glory.
Now with studio album six well under way, BIFFY CLYRO are heading to Dores to unleash their seriously big sound in the band's first ever Scottish festival headline slot. Unmissable!
Speaking about the announcement, Simon Neil, Ben Johnston and James Johnston of BIFFY CLYRO said ''We are thrilled to be returning to RockNess in June, and this time we'll be headlining. The location is amazing and the enthusiastic crowd made for a memorable experience in 2009, so we're counting down the days until our return in 2012.''
As one of the UK's most critically lauded new artists not to mention biggest domestic successes, ED SHEERAN's rise to the top has been stratospheric. A triple platinum album, three sold out tours and a clutch of award wins and nominations – including four that sees him leading the way at this year's Brit Awards, SHEERAN is hot. This one man, DIY phenomenon blurs timeless song writing with bang current hip hop, and he counts various collaborations including those with grime rapsters Wiley and Wretch 32 to his credit. ED SHEERAN's RockNess appearance follows hot on the heels of a much anticipated and soon-to-begin three month US tour.
Annually topping the wish list of fans as their must-see live act at RockNess, it is with huge excitement that Gaspard Auge and Xavier de Rosnay, aka JUSTICE, will be bringing pummelling levels of intensity to the festival. The prospect of the French house duo – whose electrifying live shows have all who witness reaching for the superlatives – hitting up Dores is sure to generate elation.
The now seminal debut album 'Cross' saw JUSTICE widely revered as chief dance floor crusaders. Now with the release of long awaited second album 'Audio, Video, Disco' – an inspired push-pull friction of lush prog rock decadence underpinned with brutally executed beats – the dance floor is theirs for the taking once again.
In what will surely be the most fun journey of the summer, THE ROCKNESS EXPRESS makes its exciting debut this June and marks the Year of Creative Scotland. This specially chartered train will depart from London Euston, picking up festival goers at Birmingham, Derby, York and Newcastle, before delivering the up-for-it party people to their final destination of Inverness.
Expect a full scale shindig on board THE ROCKNESS EXPRESS with top music, surprise guests, the best of Scottish food, cocktails, games and goody bags. What's more, RockNess Expressers will get priority access on site before anyone else arrives AND a private party! If that isn't enough, the unbeatable price of £225 is sure to impress. For this, revellers will get a VIP weekend ticket with campingPLUS travel from any of these UK destinations (only £16 more than a VIP ticket on its own), and be boosting their green credentials while having heaps of fun at the same time. All aboard!
Packing a punch of originality, METRONOMY have creative vision and style in spades. Originally championed by Erol Alkan, this Devonshire electro pop four piece founded by Joseph Mount deliver a proper live electro proposition that's as authentic and compelling as any rock band. Latest album 'The English Riviera' was one of 2011's defining albums and Mount is also the prestigious remixer-of-choice for acts including Gorillaz and Franz Ferdinand, while collaborations with Florence & The Machine and Roots Manuva reinforce his musical crossover credentials.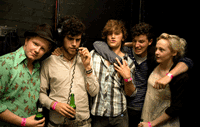 With their shiny, radio ready melodies, NOAH & THE WHALE have moved into mass appeal territory with very good reason. Riding on a wave of euphoria generated by three consecutively impressive albums, including most recently 'Last Night on Earth', expect a brilliantly breezy set from these nu-folk popsters led by charismatic frontman Charlie Fink.
WRETCH 32 is one of the UK's most talked about new hip hop artists. Smash debut album 'Black and White' incorporates diverse aspects of the hip hop genre from old school American funk through to contemporary grime and dub step, and guests include Example, Ed Sheeran and Chipmunk. WRETCH 32's phenomenal success of 2011, which spawned consecutive top five hits including 'Don't Go', 'Traktor' and 'Unorthodox' looks set to propel further with album number two due for a 2012 release. And he can cut it live too, vocally, instrumentally and visually…as the RockNess audience will bear witness to this June!
FRESH / LIVE aka DJ FRESH is one of the most influential figures of the UK's drum 'n' bass movement. Having cut his teeth on the illegal rave and pirate radio station scenes of the 90's, he went on to found the label BC Recordings and the genre's most popular website Dogs on Acid as part of the drum 'n' bass collective Bad Company. Fast forward to a prolific solo career punctuated along the way with remixes for Pet Shop Boys, DJ Shadow, Pendulum, Grooverider and Apollo 440, plus the co-founding of the seminal Breakbeat Kaos label, and the output of FRESH / LIVE is as impressive as it has ever been.
Topping the NME Cool List for 2011, accorded third place in the BBC Sound of 2012 and championed by the industry's mightiest star makers, twenty year old Harlem rapper AZEALIA BANKS, is without question, the hottest new name in music. Thrust into the spotlight with '212' – her brilliant, bouncing, dripping-with-attitude debut, BANKS exudes wit and energy while her music walks a tightrope between fruity humour and outright controversy. Early stage position advised!
Following his barnstorming beat boxing onslaught last year, RockNess is over the moon to welcome back the stupendously talentedBEARDYMAN! As one of the planet's foremost exponents of all things outrageously insane yet brilliant, Dores will need the next five months to prepare.
DEATH IN VEGAS are back. Richard Fearless is back. And sounding like a man with purpose. New album 'Trans Love Energies', recorded in Andrew Weatherall's Shoreditch studio is a house inspired electronic rhythmical treat. Weird and wonderful lyrical medleys, supremely well crafted psychedelia and sometimes plain spooky vibes, expect bodies to move en masse come June.
Next up…cue disco-tastic fanfare…it is with monumentally huge excitement for RockNess to proudly announce that CHIC featuring NILE RODGERS, the funkiest band on the planet, are heading to Dores!
Founded by the legendary NILE RODGERS, these peerless purveyors of booty shaking beats, whose roll call of all time dance classics include 'Good Times', 'I Want Your Love', 'Le Freak', 'Dance, Dance' Dance' and 'My Forbidden Lover'…to name just a few…promise to deliver what will surely be one of the summer's defining feel good sing-along, disco dancing moments.
Staying on a disco vibe, albeit the underground deep house version, ETIENNE DE CRECY (aka Motorbass, Super Discount and La Chatte Rougee) is the epitomy of the original 'French sound' and one of the best house music makers ever. A key figure behind the French capital's rise as a leading dance music hub during the 1990s, the quality of DE CRECY's output remains fierce and well deserving of the respect he continues to generate.
Having recently put out only his third EP, albeit one on Joe Goddard from Hot Chip's Greco-Roman label, and continuing to rack up countless fans including RockNess favourite Annie Mac, Orlando Higginbottom aka TOTALLY ENORMOUS EXTINCT DINOSAURS's star is rising. Bouncing in true one-man-band style between laptop, keyboards, drum machine and live vocals, don't be surprised if the speakers literally and metaphorically get so hot they catch fire (again) by the boundary breaking brilliance of this new talent.
Last time he descended on Dores the party-o-meter went off the scale, so RockNess is extremely pleased to announce the return of the brilliant BUSY P for more outrageously good music and vibes. As owner of the sublime Ed Banger Records, home to Justice, Feadz, Uffie, Sebastian and Mr Oizo to name a few, BUSY P's parties are legendary as RockNess will once again witness!
A string of releases played out by the likes of 2 Many DJs, Boys Noize and Erol Alkan has brought the work of French maestroGESAFFELSTEIN recognition and acclaim as one of electronica's undisputed hottest forces. Now aligned to Brodinski's Bromance label,GESAFFELSTEIN makes perfect art soundscapes for purveyors who like their beats on the deeper, darker side but still with enough danceable allure. Also joining the bill is Newcastle born DJ, musician and Ed Banger friend RITON. With a new album due for release in 2012 with Surkin and AlunaGeorge, following hot on the heels of his recent output at the end of 2011 on his label Riton Time, expect an artist on suitably impressive fine form.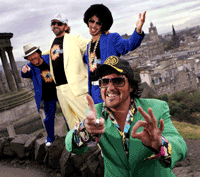 And RockNess just wouldn't be complete without the irrepressibly entertaining and absolutely magnificent THE CUBAN BROTHERS, heading back to Dores for a weekend long mix of madness and mayhem.
Last but certainly by no means least, RockNess is thrilled to reveal the homegrown electronic heroes from The Scottish Highlands who complete this first announcement for 2012. Operators of the biggest club night in Inverness and winners of 'Club Night of the Year' at Scotland's ICA Awards, FILTH djs Ross Lyle and Andrew McGibbon are on fire . They are joined by POLYMATH aka Martin Gowans. This talented rising star whose own tech house productions have featured on the playlists of Radio 1's Kissy Sell Out, Tiga and Wolfgang Gartner will be right at home at RockNess. Completing the trio of talent is COUNT CLOCKWORK, Khalid Hussain & Louis Buick. This duo are the freshest, young talent to come out of Inverness in recent times with support slots to Dem Slackers and Dillon Francis under their belts plus a forthcoming Fake Blood gig. Having reached the shortlist stage of MTV's Brand New for 2012 and with a track featured on NME.com, the future is bright.
Speaking about RockNess 2012, Festival Director JIM KING commented, "I'm so happy with the list of acts we're announcing today that I now just can't wait for the first tent peg in the ground and for the party to start.
It was only a matter of time before we got lucky and were able to welcome Biffy Clyro back to Loch Ness. Since their debut they've gone on to become one of the biggest rock bands in the UK and on home turf you know they're going to produce something extra-spectacular.
Mumford and Sons. Wow. I am over the moon they agreed to play our show. They could have played anywhere but they chose The Highlands. It's going to be special.
The Mau5 needs no intro. He was close to appearing last year but the good news for us is that the live show has just got bigger and better and he follows in some hallowed steps at RockNess as a true electronic headliner, something you can't experience anywhere else in Scotland. His show is just so good and he's already got plans to make this one of the best shows we've ever seen. I promise you will not have seen a main stage production like this. It's massive!
Justice is the act everyone has been asking us to book since we started the festival. French house music holds a special place at RockNess and these guys are simply the best.
There's so much quality across the rest of the bill from Ed Sheeran who's arguably the biggest rising star of the last twelve months with Wretch 32 on to absolute legend Nile Rodgers who brings his seminal band Chic to the main stage in what will be for me a highlight of the festival. The only question remains is can he out funk and out dance the Cuban Brothers.
This announcement is just the start. We have heaps of great bands and DJs still to be revealed and the comedy headliner this year is an absolute corker!
So, I'll call it first then…. Mon the Biffy! Mon the 'Ness!"
TICKETS GO ON SALE 9AM THURSDAY 26TH JANUARY. FOR DETAILS ON TICKET AGENTS GO TO WWW.ROCKNESS.CO.UK
3 day weekend camping – £159
3 day weekend non camping – £149
3 day weekend camping / non camping student ticket – £145
3 day VIP weekend camping ticket – £209
3 day VIP weekend non camping ticket – £199
3 day Disabled weekend camping – £79.50 – please email [email protected]
3 day Disabled weekend non camping – £74.50 – please email [email protected]
The RockNess Express – £225
Additional travel packages available.