Taking place in the beautiful green oasis of the 'Three Lake Valley' in Katowice from 3rd to 5th August, OFF is a boutique music festival with an ethos of supporting art and music.
Says festival artistic director Artur Rojek "We didn't expect to win at the Festival Awards Europe, but it means so much to us. We are really excited about this years festival and we hope to make it extra special as a thank you to all the fans, artists, friends and sponsors who have supported us during the last 6 years.
This years event will also include pre parties on 2nd August giving festival goers the Chance to enjoy some of the cool party venues around the city. Matthew Herbert will perform at One Pig, Alva Noto at Katowice Centre of Culture, Diamond Rings and Sleep Party People at the Hipnoza Club.
Tickets for the 2012 OFF Festival are available now from only 32 EUROS!
Iggy And The Stooges
Ladies and gentlemen, we're proud to announce that Iggy and The Stooges will perform at the OFF Festival! Pleas of their loyal fans have not gone unheard. They're coming so that we can try to outscream Iggy during "Raw Power," "I Wanna Be Your Dog," and "Search and Destroy." They're coming to show the youngsters playing the OFF Festival stages how it's done. Iggy and The Stooges – pioneers and punk-rock legends, synonymous with on-stage antics and the sheer vital force of rock and roll. Oh, how we want to be dogs right now – announcements like these truly deserve a howl of joy!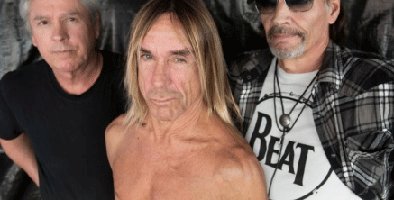 Suicide
Ministry and Nine Inch Nails are good bands. Depeche Mode – same thing. But only at a Suicide concert will you see and hear the wellspring of inspiration for these bands. Punk aggression mixed with the inhuman coldness of the synths and the haunted, terrifying vocals of Alan Vega – Suicide's visionary output is mandatory listening for any punk rock fan, and seeing them live might be a scary experience. In Vega's own words: "Someone once said that Suicide was the most punk band in history, because even the punk hated our guts." Are you sure you're up for it?
Death In Vegas
Heirs and continuators of bold experiments of bands such as Neu! or Throbbing Gristle, only that their volatile mixture of techno, rock, and psychedelia has conquered the hearts of critics and connoisseurs of underground noise but also took dancefloors by storm. They went on hiatus in 2004 after releasing "Satan's Circus" because Richard Fearless felt he needed to play some rock and roll in New York. Now he's in London, heading Death in Vegas again. In 2011, the band released their new album, "Trans Love Energies." Which basically means that during their show you'll feel that energy, fall into a trance, and love it…
Black Face
Chuck Dukowski, one of the founding members of hardcore pioneers Black Flag, plus Eugene Robinson, the singer from Oxbow, the flagship of Californian noise avant-garde. Can we really create a better recommendation than that for the new band created by both these gentlemen? Well, they surely created one – their debut single, "I Want to Kill You." The title speaks volumes about the band – they really sound like they're trying to kill us.
Iceage
This crew from Copenhagen debuted only a year ago with they wickedly intense album "New Brigade" – a hardcore punch thrown from the dense, smoky abyss of noir rock. They're often compared to Fucked Up, who invited Iceage to join them on tour. During their shows, the band is a real live wire. That was made clear last fall when they played a few clubs in Poland and will be on full display for all the fans to see during their performance at the OFF Festival.
Colin Stetson
Colin Stetson is a Canadian jazzman who plays a huge bass saxophone. That's not enough for you. The list of artists he collaborated with includes Tom Waits, Arcade Fire, TV on the Radio, Feist, Bon Iver, Laurie Anderson, David Byrne, LCD Soundsystem, and The National. Still not enough?! He's latest album, "New History Warfare Vol. 2: Judges" was nominated for the prestigious Polaris Music Prize and was included in Pitchfork's "The Top 50 Albums of 2011" list. The magazine's reviewer admitted that the album "sounds like nothing else I've heard."
Tickets
Four Day OFF Pass – 32 EUROS
Pass for all concerts (2nd-5th August 2012 – no camping)
Four Day OFF Pass + Camping – 41 EUROS
Pass for all concerts (2nd-5th August 2012 – including camping)
Pre Party – 18 EUROS
Pass for all concerts on 2nd August only. Matthew Herbert (One Pig) + Alva Noto (Katowice Centre of Culture), Diamond Rings _ Sleep Party People (Hipnoza Club). Please note that the capacity of the Hipnoza Club is limited and entry is on a first come first served basic.
Buy tickets here http://off-festival.pl/en/2012/shop.html
Travel and accommodation
There are regular cheap flights to from the UK and Europe to Katowice with Wizz Air, Ryan Air, Lufthansa and KLM.
Arriving at Katowice/Pyrzowice airport – take the bus marked "Lotnisko" to the Katowice train station (Dworzec PKP) and then transfer to one of the below lines.
Buses from Katowice train station (Dworzec PKP):
– to the Muchowiec airport (OFF Festival grounds) – lines 0 and 50.
– to the Trzy Stawy bus stop (shopping center, 500 meters from the festival grounds) – lines 10, 110, 672, 674, and 910.
Katowice has a broad range of accommodation, from cheap hostels to luxury hotels, but you can also live the festival life 24 hours a day at the OFF Festival Village, providing you with a place to stay, take care of sanitary needs, and grab a bite to eat. The Festival Village at OFF Festival Katowice 2010 will open August 5 at noon, and close on August 9 at 3:00 pm. A stay at the Festival Village costs 4 € (16 PLN) per person, per day.
Check out this documentary about Off Festival below: