The Parlotones, Dog is Dead, Blood Red Shoes, Ren Harvieu, Mull Historical Society, Stooshe, Here We Go Magic, The Minutes and Lonsdale Boys Club joining summer's most finely tuned festival bill.
T in the Park secures the biggest bands from across the globe whilst consistently promoting the best new and breakthrough talent and providing the ultimate platform for all to appear as part of the festival. This year is no exception with an array of 'ones to watch' in 2012 set to wow the 85,000 strong crowd per day over the weekend of 6th – 8th July.
Hip-hop trio, Hilltop Hoods are one of Australia's leading live acts and the most significant hip-hop group to ever emerge from this territory. Six studio albums in (including three No.1's), the band's sound has been embraced far beyond hip hop's underground and their fearless and innovative ethos has guaranteed their place at the top of the Australian music industry and now beyond.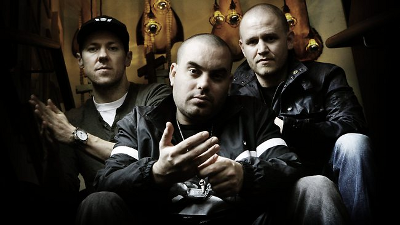 New York indie-pop band Fun. achieved massive success when their hit single We Are Young (featuring Janelle Monáe) hit the top of U.S. Billboard Hot 100 chart, becoming the first rock/alternative song to do so since Coldplay's Viva la Vida. Their acclaimed second album Some Nights is crammed with catchy pop gems with a hip-hop twist, and is produced by legendary Grammy-winning producer Jeff Bhasker (Beyoncé, Kanye West).
West London indie-pop singer-songwriter King Charles became the first ever Brit to win Nashville's International Songwriting Competition in 2010 after wowing a prestigious judging panel including Tom Waits, Jeff Beck and Kings of Leon. Having supported Mumford & Sons on their sold-out US tour, his hotly anticipated debut album Lovebloodis set for release next month, and he is fast emerging as one of the UK's most exciting young lyricists.
South Africa's multi-platinum selling The Parlotones are musical heroes at home and are set to make their mark on the rest of the world with their fresh and stylish take on African doo-wop and folk. They wowed the crowds with a sensational performance at the FIFA World Cup Kick-Off Celebration Concert, sharing a bill with the likes of The Black Eyed Peas and Alicia Keys. Their album A World Next Door To Yours is South Africa's biggest selling rock album of this decade, and the band are set to release their latest record Journey Through the Shadows next month.
The Nottingham art-pop five-piece Dog Is Dead have been tipped for big things. Following widespread acclaim for their recent gigs, which have included touring with Bombay Bicycle Club, the band earned a new following when they performed in the final episode of Skins Series 5. Harmonious indie-pop with jazz and disco influences, their hotly anticipated debut album is scheduled for release this autumn.
Blood Red Shoes are back with their third album In Time to Voices, an edgy, hook-laden record which has seen the band enter into ambitious new territory and is being hailed as their most mature and thrilling release to date. The Brighton punk-rock duo made their T in the Park debut in 2008 and are sure to receive a warm welcome back.
Ren Harvieu's stunning voice evokes some of the great divas of bygone years. Discovered after posting a song on Myspace, her cool contemporary take on vintage blues sound and old-fashioned swing has caught the attention of industry tastemakers, and she was named in the BBC's Sound of 2012 poll.
Hailed by Rolling Stone for his "tuneful and plaintive pop gems", Mull Historical Society, aka Colin MacIntyre, made a big impact when his single Barcode Bypass was crowned "Debut Single of the Year" by NME. Now firmly established as a major British song-writing force, Mull Historical Society is back in 2012 with a new album City Awakenings, and ready to showcase their sparkling, whimsical new tunes to the T in the Park crowd.
London ladies Stooshe have stormed onto the music scene and into the charts this year with smash hit single Love Me, featuring US rapper Travie McCoy. Nominated in the BBC's Sound of 2012 poll, there's sure to be many more hits to come from their forthcoming debut album Swings and Roundabouts.
As well as the talent, New York four-piece Here We Go Magic have quite the tale to tell. During a particularly difficult show last year they spotted two men in the front row who, in their words, were 'dancing around like maniacs'. These two 'maniacs' turned out to be none other than Radiohead's Thom Yorke and legendary producer Nigel Godrich, resulting in Godrich's decision to produce the band's third album, A Different Ship – the band's most remarkable and captivating album yet.
Dublin trio The Minutes' debut album Marcata is packed with raucous anthems, melding primal garage rock 'n' roll with elements of blues and gospel. Renowned for their exuberant energy, it's sure to be a high octane set at T in the Park, as they wow the crowd with their sing-along tunes.
Featuring reggae club promoter Charlie, New Zealand export Topher, and DJ Loz, together the Lonsdale Boys Club deliver a new wave of beat-driven guitar greatness. With nods to Gorillaz, Outkast and old school disco, they'll bring the funk to the festival fans at T in the Park.
There's a lot to see at T in the Park this summer and fans can expect to discover some hidden gems amongst the well-known music maestros. With 3 amazing days (Fri 6th-Sun 8th July) filled with the best live talent, the Slam Tent open for Friday night fun for the very first time, and the opportunity for fans to start their T in the Park journey by checking into the campsite on the Thursday, T in the Park 2012 is all set up to be the ultimate festival four-day weekend, on a massive scale.