Usually by this time of year, some of us have already had the pleasure to hit one of the many festivals on offer in the United Kingdom, however COVID-19 changed that completely as the music festival industry was forced to shut down in order to comply with government restrictions and keep people healthy and safe.
As restrictions have slowed started to lift, there is some light at the end of the tunnel however as some music festivals have announced they will be going ahead in 2020.
Check out the list here of music festivals in the UK that will be going ahead!
Red Rooster Festival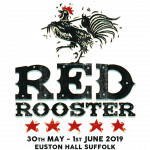 Where: Euston Hall estate in Suffolk
When: Friday 3rd – Sunday 5th September 2020
What: Red Rooster will be one of only a handful festivals to take place in 2020. Set amongst 10,000 acres of stunning parklands & pleasure grounds at Euston Hall estate in Suffolk the 7th edition of the 5,000-capacity festival will proceed with appropriate social distancing. The UK's premier roots festival will now have three outdoor stages celebrating the best in Cajun, Soul, Rock n Roll, Blues and Country.
More Info: Red Rooster
We will continue to update this page as we learn of which festivals will go ahead.