Goodwood Racecourse has confirmed the three top acts who will DJ at the legendary Three Friday Nights events, which see an evening of high-octane horse racing followed by a DJ set in the most incredible setting. 2013 arguably boasts Goodwood's most exciting line-up to date, with three huge names from the music world transforming the picturesque Parade Ring into an amazing arena of eclectic mixes.
The 2013 acts and dates are:
Friday 31st May – Rudimental
Friday 14 June –
Andy Cato (Groove Armada)
Friday 21 June – Trevor Nelson
As one of the world's most beautiful and highly regarded racecourses, Goodwood has truly reinvigorated horse racing by juxtaposing a classically British sport with the current passion for live, outdoor music events. After an exciting evening of horses thundering down the straight, the usually sedate Parade Ring turns into one of the most glamorous dance floors in the UK, complete with spectacular laser show. Now in its third year, the West Sussex venue, just over an hour from London, has seen the likes Mark Ronson, Mike Skinner and Boy George take to the decks and thrill the countryside with the sound of music. Last year over 20,000 guests soaked up this unique experience at the sell-out nights and organisers anticipate even larger crowds in 2013. .
May 31st will see Rudimental, the East London music quartet, mixing it up in the Parade Ring and kicking off the first of The Three Friday Nights. The revolutionary revellers have busted out of East London's underground music scene with a bang and have received their first ever BRIT nomination for Best British Single 2013, 'Feel the Love'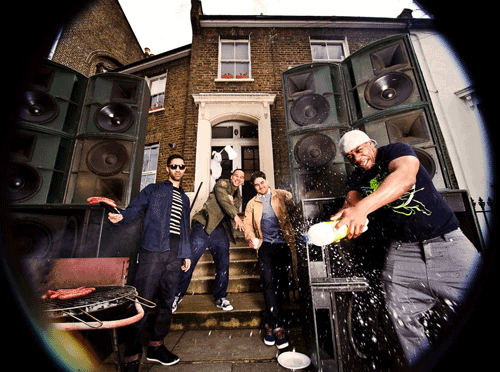 June 14th will welcome one half of the amazing duo Groove Armada, Andy Cato, to spin the decks in Goodwood's Parade Ring. Groove Armada established themselves as one of the worlds most-loved and biggest selling dance acts storming the charts and headlining festivals all over the world.
Wrapping up the last of the fantastic Three Friday Nights event on June 21st will be Trevor Nelson. As a pioneer in the UK urban scene, Trevor continues to DJ around the Globe completing his 10th year residency at Pacha in Ibiza.
Nelson's skills have always been in his mixing – perfecting exactly when to drop a classic into his set of new tracks throughout his 17 years on BBC radio. Join Goodwood Three
Friday Nights and Trevor Nelson where he will be dropping some classic tunes from his Number 1 selling album 'The Trevor Nelson Collection'
Goodwood Racecourse Managing Director, Adam Waterworth said: "We're thrilled to be celebrating the 3rd year of Three Friday Nights event at Goodwood. We love the mix of the adrenalin of horse racing combined with the world renowned DJ's we have signed. I am confident that this year will be our best year yet."
Goodwood ensures that it provides the more 'pampered' festival experience -offering a selection of bars, boxes and restaurants for guests to enjoy throughout the event. Free buses and coaches run from the Racecourse taking visitors back to major local towns and transport hubs, and Southern Trains run an extra, 'late night' service back to London ensuring that no-one has to sleep in a stable.
Tickets for all Three Friday Nights are on sale now. There is also limited availability of a pass for all Three Friday Nights, for the incredible price of £60. Buy tickets and hospitality online at www.goodwood.com or by telephoning 01243 755055.
Three Friday Nights forms part of 19 exciting days of racing offered at Goodwood over the season, from May to October. As if to prove it's not just about horses, other highlights include Glorious Goodwood, which is and family favourite August Bank Holiday Weekend where organisers recreate a 1950s summer holiday vibe, complete with an old-fashioned funfair, replica beach front and live music widely acknowledged as the 'sporting and social highlight of the summer', Glorious Goodwood is a quintessentially English event, where Champagne and strawberries are in abundance,