CAMP BESTIVAL 2019 REVIEW
Graham Tarrant
Camp Bestival is often described as the ultimate family festival, for kids big and small, from 8 months to 80, and it's easy to understand why.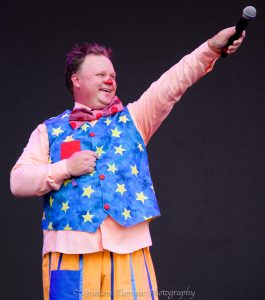 For the little ones, children's TV royalty Mr Tumble, entertained with his catchy singalong and slapstick set, Mister Maker brought his favourite shapes and moves, and Shaun the Sheep came with his own Vegetable Orchestra and farmyard frolics.
There was so much else for the whole family – from Rak Su showing why they won the X Factor, to Lewis Capaldi who will surely be a headliner in in future years due to size of the crowd, Scottish charm and melancholic hits.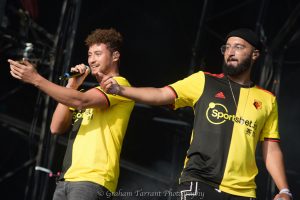 Dads squeezed into their now ill-fitting t-shirts to sing along to Ash, Shaun Ryder's Black Grape and the Human League. Shed 7 made the fateful mistake of uttering the words no fan of revival music likes to hear, namely "Here's a song of our new album'– the audience shivered despite the sun, wanting more of their 90's gold.
Nile Rodgers, Chic, and Sister Sledge rolled back the years with their timeless disco hits and good times. During Sister Sledge's slot, they tested who truly was the greatest dancer and no one could hold a candle to young Rupert's smooth moves in front of a sell-out crowd.
As well as the main stage, there was also such a wide mix of entertainment for all other family members across the site. From Napalm Death's ear-splitting head-banging set in the Big Top, Vengaboys arriving on their party bus, Mr Motivator's energising session for the fitness bugs, to The Cuban Brothers hilarious (if somewhat inappropriate) funky acrobatics and breakdancing on stage.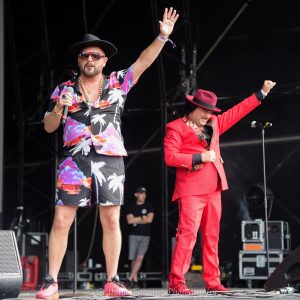 The theme of the weekend was Superhero's and Jess Glynne came on stage with pyrotechnics to her No. 1 hit 'Hold Me Hand'– dressed as her own idol, Cher.
Spectacular fireworks over Lulworth Castle brought the weekend to a close.
After leaving the magic of the festival, the outside world feels very Black and White – without the colourful fields painted with a bright hullabaloo of sequins, glitter, inflatable, and colourful flags, everything feels beige in the surrounding fields of Dorset.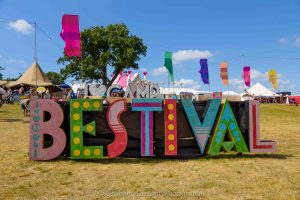 In addition to the music, Camp Bestival brought even more enchantment across the site this year.  There was so much else to see, that you could visit for the weekend and have a great time and not even visit any of the main stages. The Wild Tribe area offered drumming circles, leafy adventures, and an escape from any technology and computer screen, Sleep Retreat provided free yoga workouts to recover from the hedonistic previous night, and a feast of food stalls where you could eat something different for the next month, provided you didn't venture to the world's biggest bouncy castle afterwards.
This is all without mentioning the Caravanserai, which can only be described as a festival itself within a festival. Aerial performers hustled high above the quirky mix of ramshackle caravans, Wurlitzers, carnival DJ's and Victorian fairground rides among other curiosities and oddities.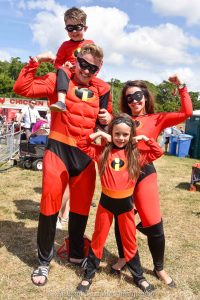 Fortunately, the sun shone on the crowd all weekend and the superhero theme was warmly received, with all family members getting into the spirit and squeezing into costumes.
Full credit must go to Rob Da Bank and Josie's superhuman effort for coming back again this year and hosting the incredible party in the south.
Roll on next year's Camp Bestival – let's hope the party continues for many more years to come.
Review and photos: Graham Tarrant